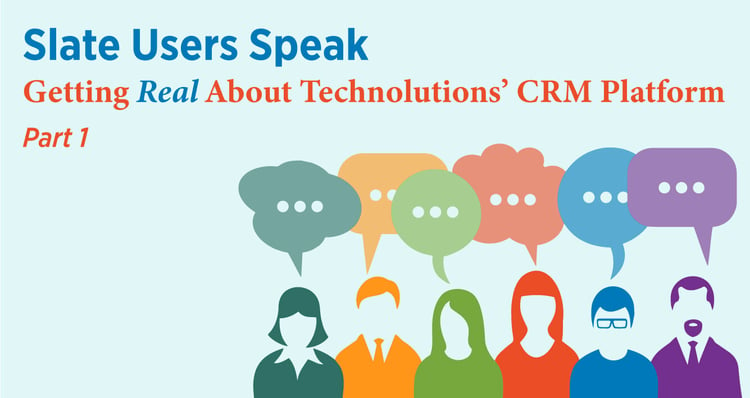 Weathering the challenges of 2021 and beyond requires serious enrollment management. And enrollment management lives or dies based on the the team you have in place, and the technology they rely on. So, let's take a look at the platforms that can help your team do a better job.
Back in a 2019 post, we asked the question — is Slate all that? That post, in which we discussed the features and benefits of Technolutions' banner EdTech platform, is among our most-read posts ever.
With Slate now used by over 1,300 colleges and universities (up from 950 institutions in our 2019 post), the answer, it seems, is clear… Or is it?
Recruitment competition is fierce and getting fiercer as the student population declines and generally adjusts to the travel-resistant phase we are in. With the right platform in place, an institution has the ability to segment student audiences and create messaging and content that speak directly to each audience. Oh, and track the results so you can improve over time -- no small thing.
With the Slate buzz growing, so too has the online discussion and questions about integration, ease of use, and customer support. What does this rapid growth mean for the quality of their ongoing user support? Does Slate's comprehensive range of features offer more complexity than it does value? How does Slate fare in the nuanced world of domestic vs. international student admissions?
To dig deeper, we spoke to a variety of Slate users in universities across the US, including admissions directors, associate directors, specialists, and one CRM manager/power user. Our Slate users ranged from seasoned pros, now on their fourth or fifth admissions cycles with the platform, to new adopters, with just a single admission cycle under their belts. We are grateful to our interviewees for sharing their valuable time and perspectives with us.
Some themes that emerged across universities were surprising, others, less so. Spoiler alert: if you aren't yet a Slate query master, you're not alone.
For current Slate users, we hope there is validation and inspiration to be found in the experiences shared by your fellow institutions. And for those contemplating Slate, consider this two-part series a comprehensive alternative to those lengthy product review forums you've been combing. Read on.
No matter the learning curve and challenges some of our interviewees reported, all our users could agree that Slate has put them leaps and bounds ahead of whatever systems they had in place prior to the integration. "It was like Christmas to us," reported one user about the recent Slate rollout at her institution, a small public liberal arts college in upstate New York.
For those users that migrated from other CRMs such as Salesforce, Slate's focus on the specific needs of the higher education market has been refreshing. For others using Slate to replace a homegrown, patchwork CRM system (or no CRM at all), the experience has been transformative.
"Slate allows us to easily, quickly, and effectively do things that we used multiple systems for in the past," said one user from a large, public research university who cited the "incredible advance" of automated, by-the-minute application review updates for her institution, which formerly required a once-per-week manual update.
Other users likewise praised the "Slate Reader" tool for application review, as well as the platform's lead management and communications functions. "Slate is our primary way to target different audiences with different messaging. We've never had the ability to do that before, so it is very exciting," commented one new user.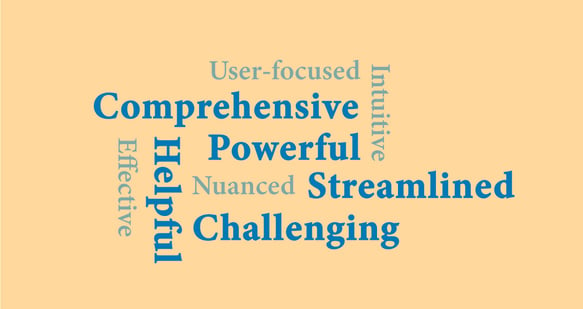 Slate in one word.
All About Integration
The road to tech implementation never did run smooth, and unsurprisingly, all of our users cited the Herculean undertaking of a systems transition in their experiences with Slate.
Implementation timelines for users ranged from nearly 3 years (for widespread adoption across domestic, graduate, and international admissions), to a mere 6 months. Slate's recommended timeline? 18 months.
Those quick adopters reported a cohesive internal admissions team and Slate support as keys to their success. However, if you're looking for a similarly speedy integration in 2021, proceed with caution.
"Slate was much smaller at the time of our implementation 4 years ago and a lot more responsive than they are now," reported one user who has noticed a shift in Slate's ongoing technical support structure since they began using the platform at their large public research university. This change in Slate's customer support process, from a single account manager assigned to support their individual institution to a diffused ticketing system with long wait times has been a recent frustration.
Training and Support
When it comes to ongoing Slate training and support, the majority of daily admissions users do not communicate directly with Slate support and instead rely on a limited pool of internal team members, including select IT staff and a handful of designated admissions "power users" (typically in domestic admissions), to get their questions answered.
For a CRM Manager who is often on the receiving end of cross-departmental support requests, Slate's comprehensive functionality can make offering internal support that much harder: "The biggest question I get from users is, 'Can Slate do this?' It's a catch 22. Yes, Slate can do this, but as a team of one, I can't do this within your timeline."
An often-forgotten support resource that this CRM Manager recommends? Your fellow Slate users from other institutions.
"In a competitive world where we're all competing for the same students, we still share the ideas and values of helpfulness. Slate brings a sense of community, of helping other universities get started, especially for people who don't have a technology background. This isn't talked about enough," she said, praising the support of the online Slate forums and Slate Knowledge Base, as well as her state's Slate user group which gathers monthly to share resources and puts on an annual conference for local Slate users.
Queries about Queries
Reports and analytics in enrollment management are central to program expansion and meeting enrollment goals year over year. Yet the Slate challenge reported by users over and over again? Queries.
"You need to be a power user to really use the reporting structure. And if you're not really comfortable with queries and database management, you will be lost," said one international admissions director.
For many, the inability to build queries is a source of frustration, as is relying on another team member to generate simple reports. "I don't like waiting in line for an answer that I know is in there," said one new Slate user whose small public liberal arts college uses an internal ticketing system fielded by two IT staff members to resolve Slate requests. "I want to do it myself. My learning curve is definitely in that area," said another user.
For teams who have managed to get regular reporting up and running, the insights have been invaluable both for team management and for communicating with upper-level stakeholders. Noted one data-fluent user, "We get weekly reports on where our applicants are in the pipeline which inform us of whether we need to distribute certain messaging to encourage certain actions (i.e. submitting a test score) or re-assign internal workloads from one region to another."
Coming Soon...
Join us next week for Part 2 as we take a look at Slate specifically through an international admissions lens. Plus, reviews from users on Slate's cost and value to their institutions.
Are you a Slate user? Facing challenges with queries? Have implementation and customer support stories to share? Connect with other Slate users in the comments below. And now might be a good time to share this post with your internal Slate users. Help them feel seen.