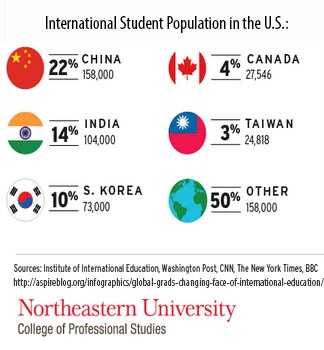 You've probably heard this: Content is King. In the digital marketing age, this line is talking about the power of great content to draw customers. For example, if the Netflix library shows you the type of movies you like, you are likely to subscribe to the service.
And speaking of subscribers, a note to all of our loyal readers: Intead's Recruiting Intelligence Blog will take its annual summer hiatus and be back to your inbox the first week of September. We hope you have a great summer.
Now, our intrepid blogger Emily shares her take on how great content can be created and used to attract international students. Be sure to wear your creativity cap as you read. What engaging, sharable content can your institution produce?
The power of digital marketing analytics is that they tell us which digital content is most valuable to our efforts to attract international students. The content drawing the clicks and converting clicks to applications is what we are looking for. And then there is the content that is shared. Free marketing provided by your followers!
The culture of today's university seekers is one of sharing. Almost everything they do is shared via the Internet. With 1.44 billion active monthly users on Facebook, students aren't the only demographic getting involved here.
Sometimes the data you collect is engaging itself. Take, for example, this eye-catching infographic from Northeastern University: statistics on U.S. education "as an export." This content is an entertaining and interesting way for students to see what others are getting out of the U.S. market. Shareable, you think?
Being creative with data and thinking up ways to make content visually appealing and sharable is key and it works around the world. Sending prospective students standard, administrative emails with all text and full of links to your webpages…well, not so much.
The tech-savvy generation preparing to enroll in degree programs is interested in statistics. Fun and visually appealing statistics, that is. And they are interested in other international students' experiences.
What you want are memorable ways for prospective students to engage with your university and share your content. Take a look at these simple, interactive games Intead developed as promotional content for Fresno State University to help English as a Second Language learners figure out some common American expressions: Fresno State Game (may take 30 seconds to load depending on your connection speed).
There are many ways that content can be convincing and compelling. Campus photos that visualize, "how I would live here," help digital visitors imagine themselves there, in the classroom, on the campus, shopping for food, and eating with friends. Study abroad creates excitement and trepidation. Great visual content can engage and support both of these feelings.
Stories from your current students about their experiences help prospective international students actually see, rather than read about, your institution. Short interviews, clips from campus life and brief city tours give students living far away an opportunity to see what their lives might be like in a new environment. Offering short videos with students from different classes and majors can help potential students find something they can relate to and share.
Bottom line: Don't underestimate the power of word of mouth marketing to build your brand. Great content can work really hard for you. And the analytics will prove it.
Do you have examples of content that has worked well for your institution? Share a link with us and our readers in the comments section below! Maybe you will win Intead's coveted Award for Creative Engagement.