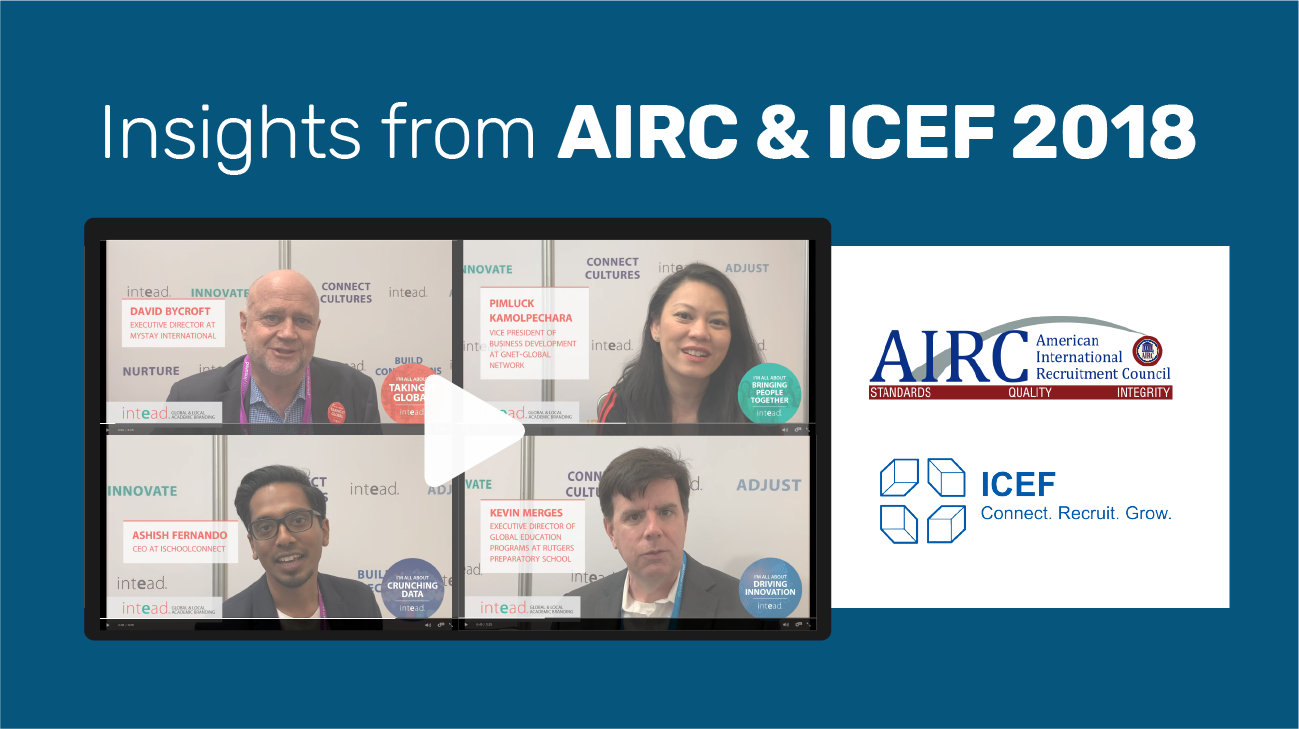 This week, we are just returning from the whirlwind Florida adventure that is the annual AIRC and ICEF conferences. This is our 9th year taking this trip, connecting with colleagues, sharing ideas, presenting new data and working together to drive innovation.
There was much discussion around emerging digial marketing techniques, assessment of our current global political situation and the students who are at the heart of it all. As with all higher ed conferences, we find ourselves loving the swirl of new ideas, invigorated, encouraged and looking to share our experience with all of you.
I invite you to have a quick read through some of the insights from the two conferences and scroll down to enjoy a brief video we produced with several industry friends and colleagues who each have a deep and unique expertise in areas including: launching global brands, innovating, connecting people around the world and crunching data.
This year, we were thrilled to see a lot of dear friends including ICEF CEO Markus Badde who presented with Intead at our very first AIRC conference 9 years ago. This year, we offered everyone a quick personality test: we handed out buttons and our friends at both conferences had fun choosing how they wanted to decorate their lanyards. Which one would you choose and what does that say about who you are?

The Marketing Buzz: There was a lot of talk about taking your prospective students through micro-conversions and how an effective marketing plan guides them along the path from inquiry to application and enrollment. At AIRC we ran a full day workshop on creating a comprehensive global recruitment plan. The handouts included a booklet of worksheets (photo above) that take academic leaders through the process of selecting regions and primary audiences that make sense for your academic institution. They move you through marketing channel decisions to customer persona, messaging and targeted content development, and media planning.
This set of worksheets is available to our Intead Plus members (along with some free consultation with our team).
The Political Buzz: Of course, the big news from the conference was the US State Department, long a naysayer in the use of education agents, showing up and sharing their change of heart. Now, joining the US Department of Commerce (a long-time supporter), the State Department considers agents a welcome recruitment channel. This will take time to implement and truly move forward. Let's have a look at State's control of student Visa rules, shall we? Nevertheless, a big step forward.
AIRC Session: Leveraging Your Communication Channels
Intead Director of Marketing Strategy Patricia Tozzi and Hillary Dostal, Director of Global Initiatives at Northeastern University gave a great presentation to a full room on how to leverage your communication channels. Micro-conversion tactics were discussed quite a bit here. Slides will be available to Intead Plus members next week.

ICEF Session: Design Thinking
We moved on to Miami Beach and flexed our creative muscles. Ben and Patricia gave an incredibly quick seminar on Design Thinking using the issue of international student culture shock as the problem to address. The packed room (photo below, right) broke down into 3 groups and after some discussion, each group had a few minutes to present their best creative ideas. The energy in the room was fantastic.
ICEF Session: Agent-University Compensation Structure
We wrapped it up by sharing our most recent research conducted with AIRC. In the photo below (left), AIRC Executive Director Mike Finnell reviews some of the data and prompted some great dialogue with the universities, high schools and agents gathered for the presentation. Last month, Mike and Ben gave a 1-hour webinar on this data that will be available on the Intead Plus members' portal soon.

How Will You Drive Your Global Plans Forward?
We learn so much every time we go to these events and we welcome connecting with our colleagues from around the world. Take a moment to hear from just 4 of them and what they are doing to take their recruiting to the next level. Fair warning, this is a quick hit video capture from the ever bustling ICEF conference -- you'll hear the hubub in the background. We are grateful to our colleagues for taking a few minutes to share their ideas with everyone.
Until next year in Miami! Enjoy:
Intead Insights at ICEF Miami 2018 from Intead on Vimeo.