Yaeri Kim, our summer guest blogger, uses this article to introduce webtoons, the intersection of traditional comic strips with internet technology. Webtoons' popularity in Korea makes them an exciting way to infuse a new digital engagement tool in your digital and social media marketing campaigns.
What is a Webtoon?
A webtoon, a new type of comic, combines two words, "web" and "cartoon," and is an animated comic strip by amateur or professional artists that is published once or twice a week via the Internet. Initial webtoons, such as Romans Comics became popular in 2003 (Figure 1 and Figure 2). Today the webtoon has become a powerful media form in Korea.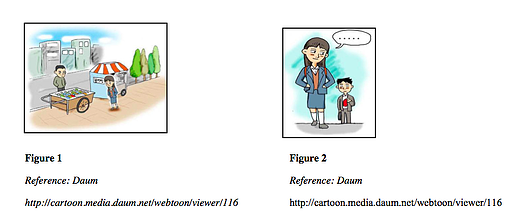 Why is a Webtoon an Effective Marketing Strategy?
1. Webtoons are highly accessible to smart phone users.
A webtoon is created for the Internet and personal electronic devices. In order to allow people to read it easily, a webtoon is composed of one strip per episode instead of using multiple panels. Therefore, readers can read a webtoon by controlling their scroll bars. In addition, each episode of a webtoon is relatively short, and as a result, webtoons have a relatively short load-time compared to digital comics. Thanks to these two attributes, one strip per episode and short episodes, people can easily read webtoons by using their mobile devices, such as smart phones and iPads. According to Matrix Research, 34.8% of smart phones users in Korea use an application to access webtoons (Matrix Research, 2012).
2. The number of webtoon readers has increased.
The global scale of the traditional comics industry, such as comic books, has decreased. In contrast, the scale of the webtoon industry has increased rapidly. According to Table 1 below, the scale of the printed comics industry in the world has decreased by 289 million dollars from 2006 to 2012. On the other hand, the size of the digital comics industry has increased by 280 million dollars during the same period. Even though the extent of the digital comics industry is much smaller than the scale of the printed comics industry right now, the data shows that this industry is quickly expanding.

3. Korean webtoons are exported to various countries.
Readers in various counties, such as China and Japan, are interested in Korean webtoons. Therefore many popular webtoons are exported to these countries. For instance, The Diary of Cats by Kyeongyoung Yun was published as a book in 2010 because it became popular on the Internet. Thanks to the growth of the scale of the webtoon industry, this webtoon was exported to China in 2011 and to Taiwan in 2012.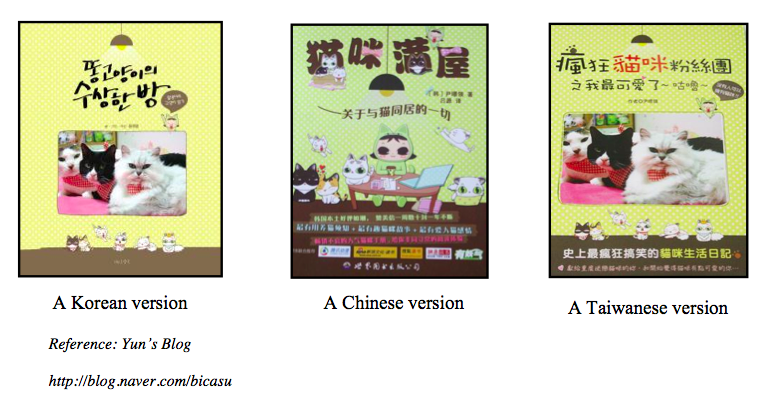 Examples of Advertisements Using Webtoons
1. Tefal, a French cookware and small appliance manufacturer, advertised its new products, such as a frying pan and pot.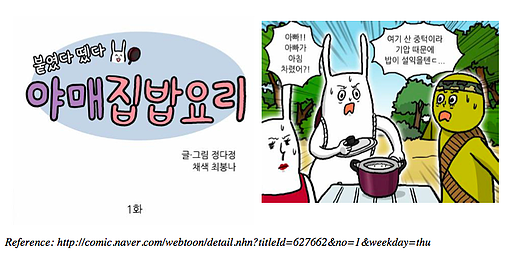 2. Chungcheongnam-do, a province in the west of South Korea, used the webtoon below in order to attract visitors.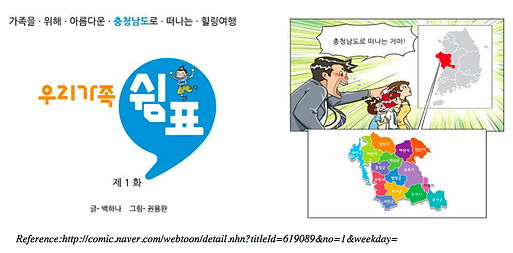 3. Save The Children encouraged people to make hats for poor children by using the webtoon below.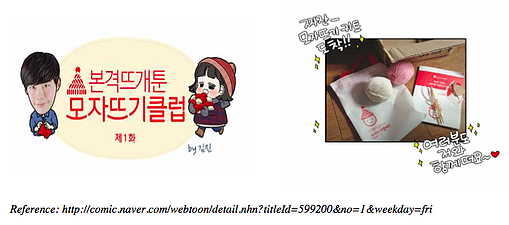 How Universities Can Use Webtoons in their Marketing Strategy
1. Universities can place advertisements in Naver or Daum, a popular search portal in South Korea
2. Universities can advertise themselves like Tefal, Chungcheongnam-do, and Save The Children by working with webtoon artists.
3. Universities can use Webtoon Artists' Social Network Services
Social networking services, including Twitter and Facebook, recently became one of the most important areas for internet marketing. After searching each webtoon artists' blogs, I discovered that 200 to 500 people visit relatively unpopular webtoon artists' blogs per day, while, 2,297 to 7,408 people visit famous webtoon artists' blogs per day. Therefore, these blogs could be another good marketing strategy for universities.
**If you are interested in webtoons after reading this post, please visit the link below. It is one of the most famous webtoons in Korea, called Penguin Loves Mev. This webtoon is about a love story between a Korean wife and an English husband. It is drawn by the Korean wife and she has translated her webtoons in English from episode 123 to the current episode. The link is episode 126 and it is about her wedding dress.