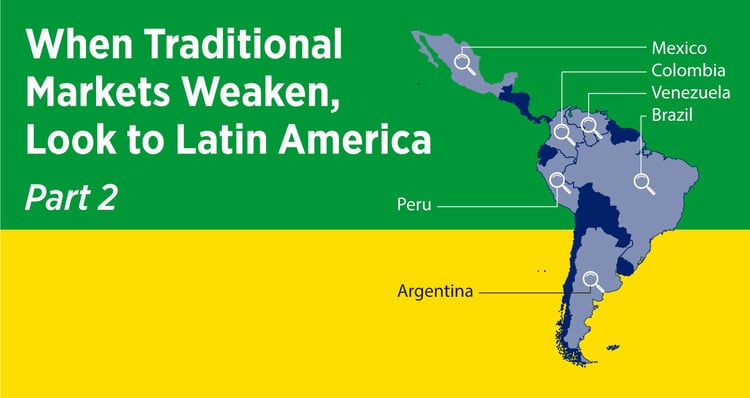 As our industry reckons with the decline in Chinese student enrollment, we offer insights on regions that may fill the void. But, it's so much more than that. Broadening our international recruitment reach will serve our bottom line, yes, but it also enriches and enlivens our campuses and deepens the student experience. You know all this already. It's why so many of us do what we do. Cultural understanding matters.
---
REGISTRATION CLOSES TOMORROW (Dec. 8, 2022). So, before we dive into part 2 of our review of LATAM recruitment opportunities, how confident are you with your selection of international student recruitment markets right now? And do you want to tap some of the brightest, experienced minds in our industry?
The Intead/San Diego State University One-Day Workshop will be a hands-on opportunity to learn from an awe-inspiring international student recruitment faculty. Colleagues from Syracuse University, Tennessee State University, Cal State Northridge, San Diego State, English USA, and edX, Rutgers Prep and Idlywild (for our high school colleagues), simply SO much talent in one room.
Come with questions, leave with a plan.

Two luminary keynotes

Luncheon on Social Justice with Dr. Jewell Winn and Dr. Adrienne Fusek
Dinner on Chinese Student Influencers with Dr. Yingyi Ma and Brad Farnsworth
At $350 for the day (inclusive of all meals), this learning opportunity is a steal.
---
Last week we looked at Brazil, Colombia, and Mexico. (And before that Africa, see part 1 and part 2.) This week our eyes are on Venezuela, Peru, and Argentina. These top sending countries from Latin America are worth your team's consideration.
And if you need a partner to help you refine your recruitment focus, be in touch. We'll help you find new recruitment opportunities that make sense for your specific, culturally relevant programs and campus.
Read on for our regional insights.

* Source: WorldBank **Source: WorldBank
A quick bit of context: As you consider these Latin American student recruitment options, a few data points you'll want to evaluate from your institution's country-specific data:
Website traffic
Email open rates and social media interactions
Historical enrollment data
Faculty and administrative connections
When thinking about employment opportunities for your graduates, important to consider that growing industries all require well-trained and ambitious business operations (marketing, sales, finance, HR), IT, and engineering leaders. Take a few minutes to cruise around on the job sites we offer below to get a sense of where the opportunities are for your graduates.
Venezuela
Similar to Colombia, Venezuela's top industry is petroleum with the largest oil reserves in the world. Venezuela's economy has also just gone through one of the worst hyperinflations in the world. While political tensions between Venezuela and the US have been high, the oil crisis brought on by Russia's war in Ukraine has pushed a bit of a thaw in US-Venezuelan relations. Interesting how global interactions have so many implications far from the source.
Regardless of Venezuela's economic and political crises, there were roughly 6,000 Venezuelan students studying in the US for the 2020/21 academic year according to IIE.
Public school in Venezuela is free, but, similar to other countries on this list, many upper-class families send their children to private schools. Since secondary education is not required, about half of adults don't pursue it, but the literacy rate is still high at about 97%. Public colleges remain free under the country's fairly new 1999 constitution. Venezuela's capital, Caracas, is home to the more prestigious universities in the country including the Central University of Venezuela that was founded in 1721.
Venezuela's economic data:
Peru
Peru's leading industry is mining, accounting for nearly half of its exports. Its fishing industry also provides 10% of the world's fish. Worthy of note: Lima boasts renowned archaeological museums (got a strong archaeology program?).
In Peru, the public education system is seen as low quality, especially in urban areas, due to a lack of funding and properly trained teachers. This has led many middle- and upper-class families to private schools. Universities are funded by the government with students from lower-income families receiving free tuition and students from higher-income families paying between US$2,000 and US$8,000 per year for tuition. Higher education often takes a back seat given the significant employment opportunities the mining sector offers.
Peru's economic data:
Rising industries: agriculture, food processing equipment, infrastructure, medical devices, mining equipment and machinery, safety, textiles, and apparel US Dept of Commerce
Employment opportunities: Computrabajo
Argentina
Higher education in Argentina is free, and the literacy rate is one of the highest in the world (99%!). The country takes great pride in literary pursuits and even hosts an annual book fair in its capital to celebrate literature from its many novelists. Argentina is the largest market for trade books in Spanish-speaking Latin American countries.
Fun fact: Argentina's National Library in Buenos Aires holds more than two million books, and more libraries and museums are scattered throughout the country. As a point of comparison, the Boston Public Library, the largest library aside from the US Library of Congress, has 1.6 million books, DVDs, audiobooks, and ebooks in circulation. And we thought Boston was smaht??!!?
With such a high literacy rate and the cultural importance placed on education, this market could hold many opportunities for students to study abroad. Yet given the population, Argentina sends relatively few students to study outside the country. Not totally unsurprising when you weigh the affordability of a free education at home against the cost of an education abroad for families making ends meet in an economy whose middle class was shrinking even before the pandemic.
Rising industries include:
Rising industries: oil and gas, renewable energy, mining, agriculture, information and communications technology, infrastructure/construction, medical technology, and travel and tourism services (US Dept of Commerce)
Employment opportunities: Un Mejor Empleo Argentina
---
Do Latin American countries hold potential for your institution? After analyzing your institutional data and the secondary information sources, which countries have the greatest affinity for what you have to offer? You cannot market your institution to the entire world. We can work together with your team to find the more valuable opportunities. Let's connect and together we can chart a focused course.