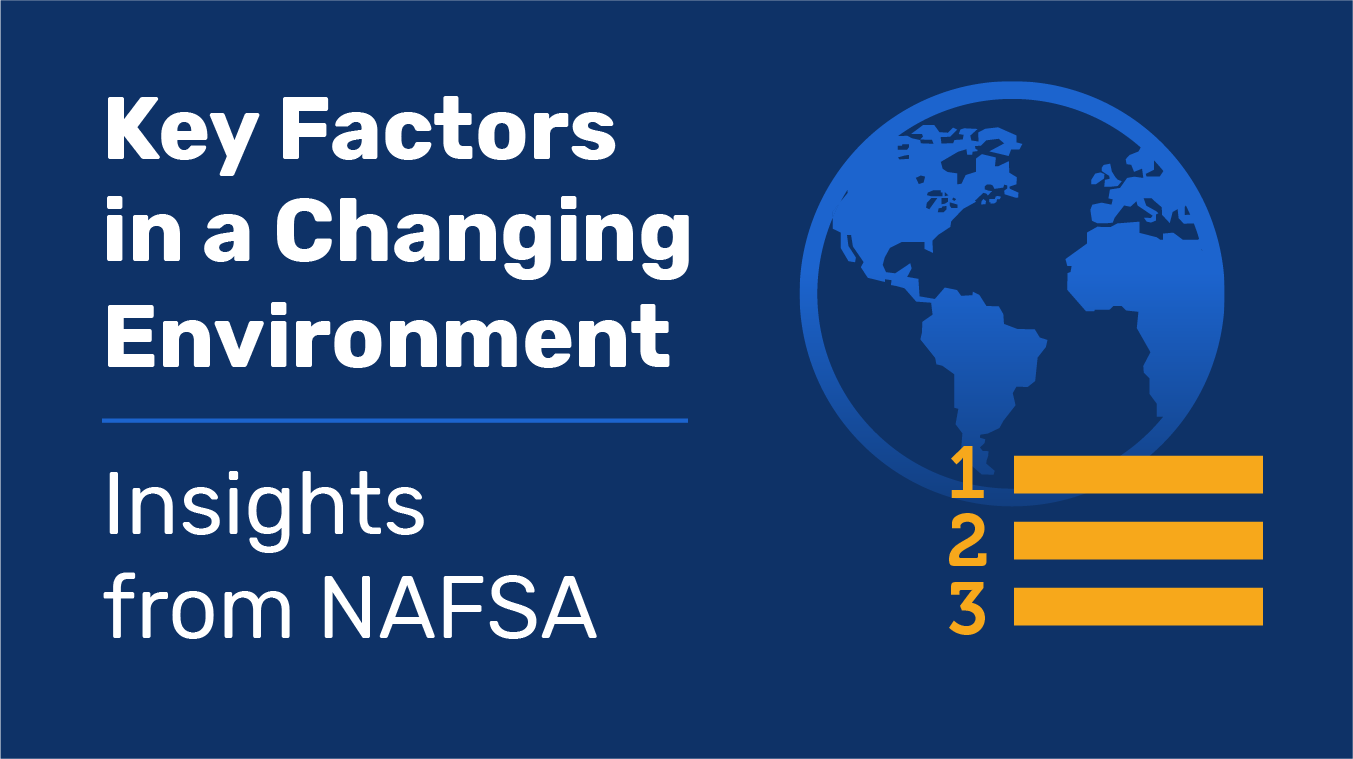 This week, we are proud to share with you an article from our friends over at NAFSA (with their blessing, of course).
We were struck by the insightful way that this short section in International Educator's September/October 2018 edition captured today's market challenges in a realistic, unflinching light. Rather than emphasizing one factor impacting higher education (politics being a popular choice), this section takes a wider look at the many diverse conditions affecting overall enrollment.
This brief summary is evidence that many of our day-to-day concerns are not limited to international recruitment, and now is not the time to back away from building your brand internationally. As competition grows, both domestically and internationally, you want to be in a strong position to continue attracting students and maintaining your enrollment. We've all faced periods of enrollment challenge before. Shrinking away was not the answer then and it is not the answer now.
In that vein, we invite you to join our session at NACAC on Saturday 9/29 at 10:30 AM for our Presentation: International Alumni Relations: The Neglected Tool in Your Student Recruitment Arsenal? Earlier this year, in partnership with Academic Assembly we surveyed over 1,000 US institutions on their international alumni engagement practices and needs. At this session, we will present and interpret the findings of this research and offer practical ways you can leverage your international alumni network to strengthen your recruitment and development efforts.
We have another great collection of Intead research and insights coming out next week. You don't want to miss our Webinar: Agent Commission Structures and how to maximize your recruiting agent partnerships on Thursday, 10/4 at 10 AM EST. Register here. All registrants will receive a copy of the full report following the webinar.
Intead works with our institution clients to help them determine the best regions and channels for their strategic enrollment plans. Our proprietary research and the custom research we do for our clients makes all the difference.
As you consider your recruitment channels, we recommend you refer to Nafsa's excellent summary of the factors we all must weigh as we adjust our enrollment plans to the current global geo-political environment...
The following article originally appeared in the September/October 2018 issue (Linked Here) of NAFSA's International Educator and has been reprinted here with NAFSA's permission. Let us know if you have other factors that you weigh as part of your enrollment planning. Leave us a note in the comments below.
The labels—disruption, tsunami, perfect storm —have become so familiar that they are now clichés, but change on a grand scale has come to define higher education today. Significant shifts in the landscape have become routine. Among many others, these six factors alone are more than enough to keep university leaders on edge.
Shrinking pool of potential students
The Western Interstate Commission for Higher Education (WICHE) projects that after 15 years of steady growth in the number of high school graduates, higher education faces stagnation in the pool of traditional students. Compared with 2013, a peak year, WICHE finds that U.S. high schools will graduate fewer students every year between 2014 and 2023. One key reason is the decline in births after the Great Recession. Schools in the Northeast and Midwest regions of the United States will be particularly challenged.
More diverse students with different needs

WICHE projects that the number of white students will decline, while colleges will see more Hispanics and Asian/Pacific Islanders. That's in addition to trends that show more adult and first-generation college students on the path to higher education. This trend suggests that some universities may need to allocate additional and different resources to matriculation and degree completion in the future.

Reduced state financial support

According to one study, state appropriations for higher

education dropped some 30 percent from 1970

to the early 2000s. That trend has put pressure

on institutions to raise tuition fees to cover the

difference. The squeeze on tuition revenues has pushed many universities to pursue new revenue streams, including developing commercial properties and enhancing fundraising.
Evolving federal policies

The current

administration has introduced policies that are

restricting the flow of international students

to U.S. institutions. Congress, meanwhile, is

considering updates to the Higher Education

Act that could constrict federal financial aid for students and, potentially, federal support for university research.
Explosion in technology

Evolving

technologies are transforming pedagogy,

with implications for space planning, facilities

design, and learning methodologies. The rapid expansion of online learning is bolstering enrollment for many institutions, but also creates new competitive tensions between institutions and with vendors in the private sector.
Eroding public trust
Recent surveys and polls of public opinion across the United States show that higher education is held in lower esteem than it once enjoyed. Students, parents, legislators, and other key stakeholders are more skeptical today about the value of college and its return on investment.