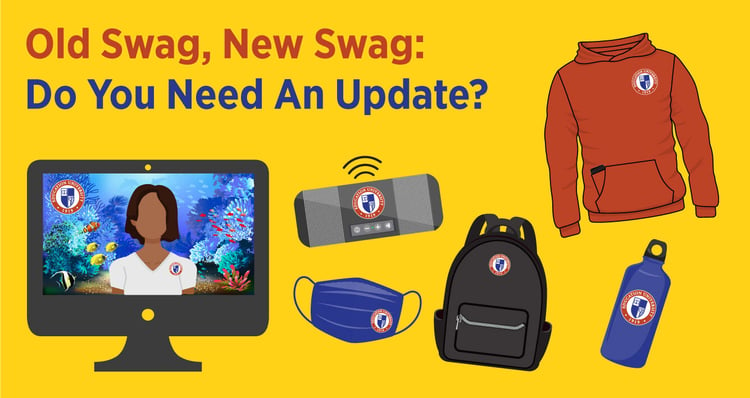 Making a statement through promotional swag in 2021 has a more profound impact than in years past. With student ambassadors taking a power position in marketing and influence, your institution's brand sent out virtually and in real life (#IRL) can provide a unique statement that sets your university apart from the others. And if not apart from others, at least with them.
Tech-savvy students want something they can share online to brag their swag. It's always been about expressing pride and being cool. The in crowd knows before anyone else. Except that the out crowd often defines what is going to be next.
Confused? We get it. You're not in the demo.
To help all of us in the "wrong" generation try (desperately) to get with it, the Intead team recently took a deeper look into student ambassadors and the potential for success. You can revisit those insights here. And while you are considering who your institution's greatest ambassadors are, know that they are totally gonna wanna sport that beautiful half-zip hoodie with the phone pocket.
As you prepare for the Fall 2021 re-entry into the classrooms and virtual Zoom rooms, let's take a look at what is topping the list of popular swag items for the university set. Read on.
According to a useful (and entertaining) 2021 Deloitte student spending survey, families expect to spend $32.5 billion on back-to-school this year. That's up from $28.1B in 2020. And you guessed it, tech is the driving headliner on their shopping lists, up 37% from 2020.
Like all of us, students are excited to get back to "normal", which presents an excellent opportunity to evaluate your swag list.
Yes, we know this fall won't actually be "normal". Nevertheless, the right swag still rocks -- "on campus" and in the virtual classroom.
Browsing into Amazon's back-to-school list shows some stability in student wants and needs during the last decade along with the growth of technology-driven items. Many of the old items are stalwarts.
What's new and growing? With the world revolving around social media and virtual learning still dominating around the world, we see branded selfie lights, charging pads, Bluetooth speakers, and noise canceling headphones. These are opportunities on almost every virtual screen. Joining these tech items are backpacks, small tool kits, masks, mask-carrying lanyards, and the ever popular water bottle.
Going high-end, students are always looking for sweatshirts and sweatpants. Nice ones. (Cheap ones are not going to build your brand reputation with a high "desirability" factor.)
But Wait, There's More
According to Influencer Marketing Hub, 36% of influencers are paid mainly through product samples. The data from this year also shows that 50.7% of brands working with influencers run e-commerce stores. Some are sharing special discount codes with their followers, which, when used, send a commission to the influencer. Which introduces the question: Does a university student store, combined with a student ambassador, boost your loyalty and positioning?
With 77% of fashion influencers using Instagram, it would seem a valuable partnership for those logo-embedded t-shirts, bags, and hats.
With the pandemic-era virtual graduations last year, many schools and parents looked to political campaigning strategies to celebrate and promote their student achievements, i.e., the yard sign. There's a reason politicians use those catchy signs in their political campaigns. They're relatively low cost, and they deliver results. Last year, we saw yard signs used to announce everything from graduation to varsity team selection. With signs and pennants still popular, it's worth considering them. Made the team? Made Dean's List? Be sure your students and their families have access to a branded yard sign template they can send to their local print shop.
Virtual Swag is HOT
Everything virtual is fast, shareable, and shows that your institution is staying up-to-date with the latest trends to meet student needs. So, in addition to the tangible swag, virtual gifts are trendy and well received. Think virtual "shoutouts," social media frames, flex dollars for the university e-store, and student spotlight opportunities.
As institutions (and students) adapted to virtual education, we have seen the rapid introduction of a wide variety of virtual meet ups for every sort of function, virtual sweepstakes, game nights, poetry readings, screenplay readings, scavenger hunts and so much more. As you brand various items, think "above the shoulders" to be sure your brand is getting into the Zoom frame.
The virtual "booth" and opportunities within that space have been a great option. According to the College Board, virtual college fairs are not going anywhere. How you brand that virtual booth and what your reps wear is important.
As an aside, our experience with virtual college fairs shows them to be very hit and miss. To be successful, spend some time in advance vetting the opportunity before investing time and sponsorship dollars. Word to the wise: jumping on a late offer with a steep discount is likely a total waste of money.
Want to dive deeper into the conversation and develop a winning marketing strategy for those recruiting plans? Let's talk.
We'll leave the fun swag decisions to you and your team. Meanwhile, our team will develop and execute the marketing plan that delivers the students whose faces light up when they receive your fabulous branded gifts.