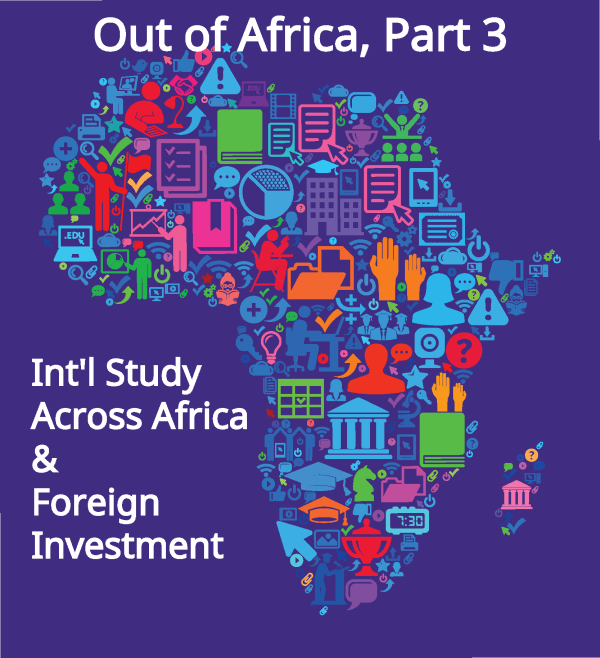 This is our third and final installment in our series about international student recruitment opportunities in Africa. In case you haven't been with us since the beginning, Part 1 was about the emerging online learning opportunities in Africa, and Part 2 was about African student mobility and study in the U.S.
This week, we are focusing on international study within the continent and how some countries are trying to harness that student mobility for their own gain. With any marketing plan it is always important to understand the larger environment and other consumer options.
Our Intead Plus BookShelf Subscription gives you access to our Global Marketing Worksheets helping you plan your approach to entering any new region or market. We use these worksheets when giving our workshops at various conferences to help you create realistic budgets and timelines, targeted messaging and overall marketing plans.
As we noted in Parts 1 & 2 of this series, foreign investment and economies are on the rise in Africa, along with the population. The continent is expected to have 2.8 billion people by 2060, roughly 40 percent of the world's total.
Those people will need to be educated, and the rise in demand for tertiary education has begun. The sub-Saharan enrollment from 1970-2013 grew 4.3 percent annually, as compared to the global average of 2.8 percent, according to the World Bank.
Many African students are turning to universities outside of their home countries—and many of them are still staying within the continent. Let's look at what is going on and what you need to know about China and India before you start recruiting from Africa…
(Read on)
Student Mobility Trends within Africa
While we tend to think of international study as extracontinental, Africa has a lot of what some universities refer to as intra-regional study. South Africa boasts six out of the fifteen top universities in Africa, and these schools have a large draw from other English-speaking African nations, such as Zimbabwe, Namibia, Botswana, and Lesotho. These South African schools provide easier logistics and are less expensive than those in the U.S. and Europe.

At the University of the Witwatersrand in Johannesburg, South Africa, which specializes in engineering and other technical degrees, a fifth of their students are from other African countries. Even so, these South African universities have a hard time competing in a global education market. The best ranked university in Africa according to Times Higher Education is the University of Cape Town, which is currently ranked 156th in the world. Even with their intra-regional draw, Witwatersrand is somewhere in the indeterminate 200s. In fact, according to Quartz Africa, in the rankings of the Center for World University Rankings (CWUR), only ten schools in the whole continent breach the best 1,000 universities in the world.
These rankings consider the quality of education and faculty, alumni job placement, patent filings, publications, and citations. Of these ten, five were from South Africa, four from Egypt, and one from Uganda.
This lack of high-ranked or even mid-ranked universities is leaving the door open for those in other countries to fill the gap. Certainly missing on the list of ten is a university from Nigeria, the country with Africa's largest economy. More and more Nigerian parents are sending their children off the continent for higher education.
Still, many of the international students from African nations are remaining in other African nations.
What does this mean for you?
According to World Education News + Reviews (WENR), African students comprise 10 percent of all internationally mobile students around the world. In the years 2006-2014 the number of African students attending university abroad grew by 24 percent—9 percent alone in just 2013-2014. Of that number, nearly all of them are from English- or French-speaking African nations.
There is plenty of room here for student recruitment campaigns and university partnerships.
This is important: As we mentioned last week, we highly recommend this excellent report from WES published just a few months ago with insight into China's and India's economic relationship with the African continent and what these two countries are doing to attract and support students from Africa. The article asks the question how much of each countries' investments are altruistic vs. opportunistic. Call us cynical, but we think investments like these have clear agendas and motives.
It's more like: doing good for others with a strong self-interest.
China is investing heavily in building relationships and infrastructure in key African countries. There are scholarships for African students to study in China. There are Confusius Institutes providing language training. There are clear geo-political and economic advantages to China in making these investments. India is making similar inroads but in a less coordinated way and with fewer resources invested.
Read the WES report linked above for some eye-opening information. And then consider this as you craft your marketing plan. What do you have to offer that makes your institution stand out as a better option? Marketing differentiation is key.
Let's dive into China's interests in Africa
The value of establishing an academic partnership in Africa is not lost on China. It makes sense with English-speaking and francophone countries in Africa that there would be a strong economic tie between Africa and France and Africa and the U.S., Canada, UK and Australia. However, despite the amount of overseas foreign direct investment (OFDI) the U.S. makes to Africa, China is Africa's biggest economic partner. China also has eyes on becoming a large education partner.
As African populations have begun to swell, so has Chinese interest across the continent. The U.S. and European nations also make similar oil, gas, and telecom investments in Africa, but China's interest is taking root in every single field and industry.
The infrastructure investments China has made in Africa are somewhat staggering. There have been roads, hospitals, dams, ports, stadiums, mills, farms, broadcasting networks, water-supply projects, schools, anti-malaria centers, trains and railroads, and agricultural technology demonstration centers. Then, there was the gift that actually hosts African leadership. China built the new headquarters of the African Union in Addis Ababa, Ethiopia—a 20-story $200 million USD state-of-the-art building that is now the nation's tallest.
It isn't all donations, though. China also has trade and debt on offer. China trades with the African collective to the tune of over $100 billion USD a year, and that number has seen a massive growth. Just a decade ago, China was only doing $40 billion USD a year in trade with Africa. China also extended more than $86 billion USD in commercial loans to the African governments, according to the China-Africa Research Initiative from Johns Hopkins.
So, we are competing with China for students?
Yes! In a big way.
Back in 2014, students from Africa started studying in China at higher numbers than those opting for the US or the UK. This Quartz story from 2017 cites UNESCO figures of 50,000 students from African countries opting for China as of 2015 and the numbers have continued to grow. Yet, for comparison, African students studying in France number about twice that, or close to 100,000 students.
It has to do with career opportunities.
China has a long-term vision.
For China, Africa offers strategic access to the continent's natural resources and raw materials. The United Nations reports that China currently buys more than one-third of Africa's oil, and gets its coal from South Africa, iron ore from Gabon, timber from Equatorial Guinea, and copper from Zambia.
But what is the greatest resource Africa can offer? Let's go back to the population boom.
According to Associate Professor Lonny J Avi Brooks from California State University, East Bay (@Avilonny) in another Quartz piece "The 21st century belongs to China—but the 22nd will be Africa's," "The population of the African continent will double to 4.2 billion by 2100, ensuring that soon two out of every five people on Earth will be African. (If you juxtapose the maps of the U.S., China, and Europe over Africa, you still only cover about three-fourths of the continent.)"
Chinese industries—including the education field—see a huge new market in these current and future exploding numbers.
Just like here in the U.S., where we can look around at the clothing we wear, televisions we watch, furniture we sit on, phones we hold, etc., Made in China is stamped all over goods in Africa.
Building relationships early is key. That's called long-term vision.
What does this have to do with higher education?
You may be thinking this is all well and good, but you aren't in the business of building roads and dams. However, soon educational programs may also bear the same stamp: Made in China.
China is displaying its dominance across all fields. The economic relationship they have with African nations has started to grow into academic and scientific interests as well.
The Chinese government issued a $20 billion USD credit to African countries that helped fund the African Talents Programme to train 30,000 Africans in varying sectors. However, all of the investments that China makes in Africa require communication and partnerships within the continent, something that can be difficult with linguistic and cultural barriers.
Enter the Chinese education centers.
China has created 387 Confucius Institutes—cultural and linguistic centers—across the continent, many of them on university campuses. China also greatly increased the number of study grants for African students, established joint research and development projects, and outlined plans for how to expand these efforts.
As Comes the Money, So Comes the Jobs
While the money is coming from Chinese investments, most of the workers are from the African nations. These workers need skills and training to complete these projects and take over their management after completion.
These employees must be educated and trained, as we covered in Part 2 of our series on education trends in Africa, the current number and quality of African universities are not equipped to handle either the population surge or the inflated need for education thanks to the in-pouring of Chinese funds.
We reported that the jobs with the most growth in these expanding economies are those in agricultural engineering, agricultural management, telecommunications, structural engineering, civil engineering, electrical engineering, architecture, actuary science, geophysics, healthcare and tourism. This is reflected in the fact that the most popular African areas of study are engineering, business, health services, and the sciences.
How do you use this information?
As we previously stated in the series, programs taught in French and English don't have the same language barriers that China has. 24 African nations have English as an official language, with the most speakers in Nigeria, Ethiopia, South Africa, Tanzania, and Kenya. Just to save you the Googling, zero African nations have Chinese as an official language.
The answer is building academic relationships and deeper partnerships. And there are some innovative approaches we suggest you explore with the multi-national employers building their operations on the African continent. Employers need trained employees. Students want great careers. Put that all together and you get enrollment.
A targeted plan based on an evaluation of each region and major city is a great place to start. Where are your academic offerings going to be in the greatest demand? The collection of Intead Marketing Worksheets are helpful here.
What kind of partnerships already exist?
Some U.S. universities saw the need for higher education far before the Chinese started building hospitals, mills, and their Confucius Institutes. According to Diverse, in 1954, Oklahoma State helped to found Haramaya University, a pubic research university, in Ethiopia. The school is currently a pioneer in Ethiopian agricultural research and offers 106 undergraduate programs, 104 graduate programs, and 14 PhD programs to over 33,000 students. Oklahoma State sent dozens of faculty and staff to Ethiopia to help the school establish itself at time when very few universities existed on the continent.
Later in 1960, Michigan State University helped to establish the University of Nigeria in Nsukka, which now offers 82 undergraduate and 211 graduate programs, serving over 36,000 students. In the decades since, Michigan State has offered research grants for African and American faculty members to collaborate.
In more recent times, students and faculty from Muhimbili University of Health and Allied Sciences in Dar es Salaam, Tanzania have had a student and faculty educational exchange with Dartmouth University's Global Health Initiative. For a fascinating talk about making global healthcare initiatives work, see this TEDx talk by Lisa V. Adams, MD, director of Global Initiatives at Dartmouth.
The University of Liberia has also partnered with the University of Massachusetts Medical School and Indiana University to build their programs in biotechnology, nursing, public health, and medicine. Meanwhile, Fourah Bay College in Sierra Leone has been working with the University of Texas at Arlington to develop a new degree-grant in social work.
Grant T. Harris, CEO of Harris Africa Partners, LLC and former Special Assistant to the President and Senior Director for African Affairs to President Obama, wrote for Inside Higher Ed, "The University of Oregon has established bi-national research centers in Senegal, Stanford Graduate School of Business helps African entrepreneurs scale their businesses, and Carnegie Mellon University offers graduate engineering degrees in Rwanda. The Yale Africa Initiative provides internships for African professionals, and the Princeton in Africa program matches college graduates with Africa-based organizations for a year of service. And dozens of American universities host African youth for six-week summer leadership institutes through the U.S. Government's Young African Leaders Initiative."
The list of tertiary institutions partnering with schools in Africa certainly continues. If yours isn't on it, something to consider…
The Bottom Line:
Every higher education institute needs a strategy for evaluating opportunities and executing a plan in Africa. We're here when you need us.
Chinese, and other nations' interests in Africa are only going to rise with the population. As infrastructure improves, the demand for a higher skilled workforce grows. The education for these jobs is not able to be solely supported by African universities, and this is where your institution may have an opportunity.
If the idea of building your own educational infrastructure or academic exchange in Africa seems daunting, as with Part 1 and Part 2 of our series, there are other ways to establish an African connection through online learning platform partnerships and establishing your institution as a recognized brand in specific African markets.
China definitely has boots on the ground when it comes to establishing itself as a partner for African higher ed. Is your university ready to jump in?