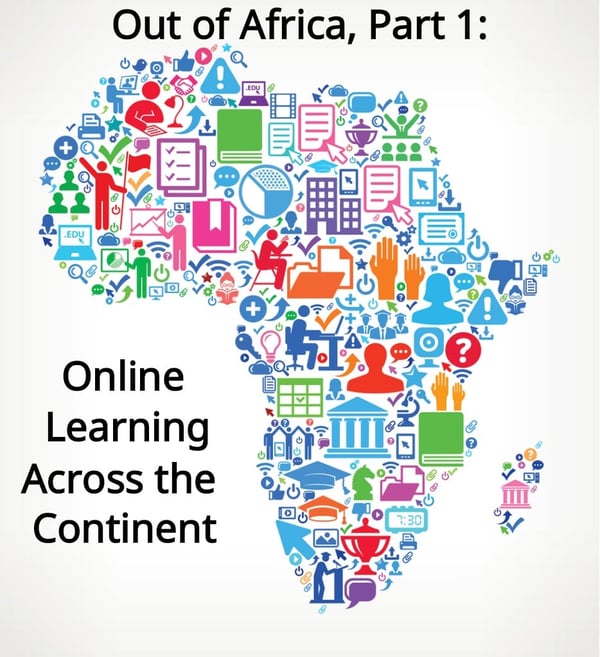 Universities from Moscow to Los Angeles and everywhere in between have a growing interest in student mobility within the African continent. As political tensions grow and visa practices shift, more and more conversations in our industry turn to the question of diversification of student sources.
Frankly, the comment, "I'm concerned that we are too reliant on China," has been hanging in the air for about a decade. But now, NOW, SIOs and those above them are taking this concern far more seriously.
Long post today. Those who persevere will be rewarded with valuable tips. Promise.
It is important to note the growth of online learning platforms that are expanding everywhere. A recent Intead blog post discussed the growth of Coursera and EdX, which primarily serve U.S. users. Across the Atlantic and the Pacific, there has been a rise in the use of online platforms as well. There are many factors to consider as you think about diversifying your sources of students.
Intead is offering full access to our global market research including our oh-so-helpful ebook on recruiting non-traditional students, now available through a more affordable Intead Plus subscription called Intead Plus Bookshelf. All the market research access and none of the custom Google Analytics Report. Just offering you more options. Take a moment to check it out.
Pro Tip: Your subscription to Intead Plus is institution wide. Anyone internal to your organization can tap our resources through your institutional subscription.
Now, let's step back just a bit for perspective and then dive in deeper over the next three weeks to consider how diversifying your student sources in Africa can work. We hope you'll stick with us for this three-part blog series and pass it on to your colleagues.
As always, our posts help you convey to others in your institution a broader understanding of what you are trying to achieve and the challenges you face. And they help you set your plans in motion.
Read on…
African nations were the original leaders in higher education. The oldest existing and continually operating university in the world is the University of Al Qarawiyyin in Fez, Morocco, which first opened its doors in 859 AD, thanks to Fatima al-Fihri. The next century saw the beginning of Al-Azhar University in Cairo, Egypt.
For comparison, the first European university, the University of Bologna, didn't open until 1088, and the birth of University of Santo Tomas in the Philippines wasn't until 1611.
Only a few or their most popular degree programs had an online component in those early years. (We kid.)
Still, when you think about international higher education, African nations probably aren't the first ones that come to mind for most. In 2016, we published a blog series on student recruiting from African nations: Part I - Overall Trends, Part II - Nigeria, Part III - Kenya, and in 2018, another valuable post on Africa's tech hubs. Since then, the need for more tertiary education choices in Africa has only grown.
Many things are expanding across Africa right now. Foreign investment and economies are on the rise, as is the population. The continent is expected to have 1.7 billion people by 2030 and rise to 2.8 billion people by 2060. At that point, African population—most of it urban—will represent roughly 40 percent of the world's total.
This recent Brookings Institute report by #achaleke (McKinsey) and #LandrySigne (Brookings) identifies industries that are growing—career opportunities anyone?
In case you need some convincing: "Of the 10 fastest-growing economies in the world in 2018, six were in Africa—with Ghana at the top of the world ranking. Secondly, in the World Bank's 2019 Doing Business index, five of the 10 most improved countries are in Africa, and one-third of all reforms recorded globally were in sub-Saharan Africa."
Here's a great chart from the report to help you visualize where opportunities are materializing on the continent. A second chart in the report (yes, you should click through!), shows the population growth estimates of major African cities. (Could we possibly be any more helpful to you as you chart your student recruitment plans? Only if you hire us ; -)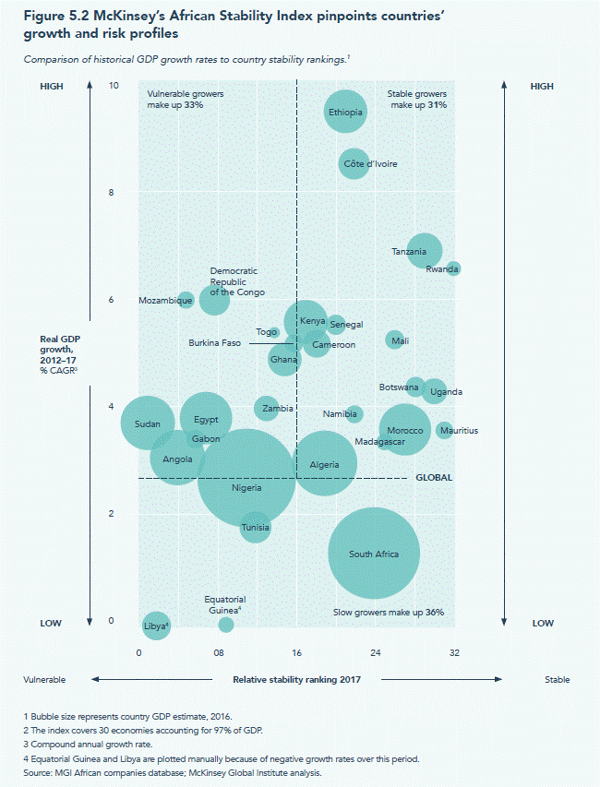 Source: https://www.brookings.edu/research/spotlighting-opportunities-for-business-in-africa-and-strategies-to-succeed-in-the-worlds-next-big-growth-market/
So, all of those billions of people will need to be educated somewhere. And while we can't give you tips on where to invest your foreign dollars in some of the 400+ African companies valued over $1B USD (read the Brookings report), we can tell you about the continent's education forecast.
Right now, there's a great chance of sunny skies and increased online learning platforms and international student mobility.
In this first installment of our three-part blog series looking at recruiting in African countries, we will review online learning platforms and how the continent is adopting them. There is competition here that is worth evaluating as you create your recruitment plans.
Online Learning in Africa
The demand for higher education is growing rapidly in Africa. The sub-Saharan enrollment from 1970-2013 grew 4.3 percent annually, as compared to the global average of 2.8 percent, according to the World Bank.
Some of that demand is being met with online learning. Online learning platforms have been gaining steam on the continent as more and more African regions are getting cellular smart phone service and internet access. While not always providing the most reliable or fastest internet, connectivity improvements are bringing new education opportunities.
In South Africa alone, between massive online open courses (MOOCs) and other distance education platforms, a whopping 40 percent of its university learning takes place outside of a classroom.
There were definitely early adopters to using the internet for higher education in Africa. The African Virtual University was founded in 1997. It is headquartered in Kenya but is a pan-African intergovernmental organization comprised of 19 countries that want to increase access to higher education. Since its inception, it has trained over 74,000 students and partners with 53 institutions in 27 countries. AVU offers complete degree programs in education, MOOCs, and individual coursework. (Irony, as we publish, AVU's website is not functional and there are some troubling news reports about the operation of AVU).
More than a decade later, in 2008, the University of Africa (UoA)—a private distance-learning university—was founded in Zambia as a subsidiary of ADvTECH Group, Africa's largest private education provider with over 50,000 tertiary students. They offer bachelor's degrees in subjects such as business administration, commerce, economics, health service administration, law, marketing, and tourism, among others, as well as master's degrees and doctorates. Out of ADvTECH's students, more than 2,000 are through the UoA in Zambia, Zimbabwe, Uganda, South Africa, and the Democratic Republic of the Congo. They also hope to soon be recognized in Nigeria and Kenya.
As for UoA's prices—you may want to brace yourselves.
A bachelor's degree will set you back 5,650 in Zambian kwacha per semester. That's $426.93 USD—or roughly the price of one semester's books in the U.S. One of their master's degrees costs around $2,260 USD total.
For more money, but still far less than the cost of an U.S. or European degree, African eLearners can turn to Unicaf University. Founded in 2012, it serves over 18,000 students across the continent and largely offers degrees online—both their own degrees and those from partner universities, such as the University of South Wales, Marymount California University, and University of Nicosia. Unicaf's primary focus is on graduate programs, but they plan to expand with more undergraduate options, as currently those programs are only offered on their physical campuses in Malawi and Zambia.
According to a recent New York Times article by @KarinFischer about online learning in Africa, "Unicaf was essentially a distance-learning platform, taking courses offered by British and American universities, translating them to an online environment and marketing them to Africans. Partner institutions set admissions standards, approve hiring and determine whether students meet graduation requirements."
Karin's research offers additional perspective on the competition that African online and other programs present and the hurdles these programs are facing as they try to gain credibility and grow.
Hybridized Education
Brick and mortar institutions are also offering online coursework as a bridge to help primarily adult learners who cannot always access campus or daytime classes.
The University of Witwatersrand, Africa's second highest rated university offers an online portal for part-time students in areas such as management, communication, finance, sales, and IT. University of Rwanda offers eLearning for several of their areas of study as well, but they also partner with Massachusetts Institute of Technology's MIT OpenCourseWare, a free and open educational resource (OER) for educators, students, and self-learners around the world.
Why is this important to higher education institutions competing for students?
While the partnership MIT has with University of Rwanda is one without financial gain, there is financial benefit to U.S. institutions in these arrangements.
That is the case for the universities that pair with Unicaf. Unicaf takes a share of the tuition paid, usually 20 to 35 percent, and allows the university to tap into a new national/continental market without incurring much risk or cost. The downside is that most household salaries in African nations typically cannot support the same tuition rates found in the U.S., U.K., Canada, Australia, etc. This is where Russian and other institutions with lower tuition rates may have an advantage.
The average cost of a graduate degree from Unicaf is around $4,000 USD, which is still steep compared to most African universities, but a far cry from the average $60,000 USD M.B.A. in the U.S.
Despite its higher price tag, by adding more degree options and partnering universities, Unicaf sees their enrollment bursting from their current 18,000. Their projection is to enroll 100,000 students by 2023. Nicos Nicolaou, the Unicaf founder, shared with Karin in her NYT piece that 100,000 may even be a pessimistic target, as the enrollment need in Africa is in the millions.
The Bottom Line: Many economies across the African continent are growing with manufacturing, oil and gas, telecommunications, agri-business, tourism, healthcare, and human services—all in need of workers at many levels.
The world's governments are taking note: China, members of the EU, and U.S. are all increasingly looking to the African continent for opportunities for investment to get a piece of the continent's economic growth. So, for education institutions, as the competition between African online learning platforms heats up and the college-aged population massively expands, companies are going to be looking for partnerships with foreign universities. These partnerships open up a new continental market with many emerging opportunities for forward-thinking institutions.
Pro Tip: The wise will be looking at the continent's regional markets receiving the greatest investment and experiencing the most significant job growth. Consider the large multi-national corporations making investments here. What are their needs? Who are their partners helping them obtain and train employees? Go there.
We'll talk more next week about Africa's exploding population rates and how that's affecting international study.