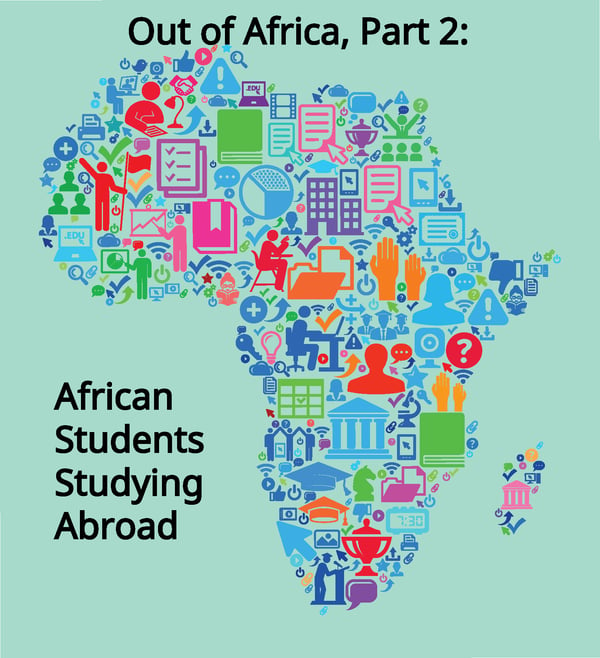 Last week, we spoke about the emerging online learning opportunities in Africa. This week, we are focusing on international study, both areas that have expanded because of a college-aged population boom across the African continent.
Foreign investment and economies are on the rise along with the population. The continent is expected to have 2.8 billion people by 2060, roughly 40 percent of the world's total.
Those people will need to be educated, and the rise in demand for tertiary education has begun. The sub-Saharan enrollment from 1970-2013 grew 4.3 percent annually, as compared to the global average of 2.8 percent, according to the World Bank.
U.S. universities have made large efforts to recruit international students in Asia, but as mentioned in our 2016 blog series on recruiting students from Africa, African nations are a boon of potential students that have barely been touched with marketing efforts.
Currently, the continent has a population of 1.2 billion people, 60 percent of which are under the age of 25 (720 million). To really drive that number home, 29 out of 30 of the world's countries with the youngest populations are in Africa.
If you didn't check these posts out last week, see our previous posts: Overall Student Trends in Africa, Recruiting Students from Nigeria, Recruiting Students from Kenya, plus this post on Africa's tech hubs.
How can U.S. institutions use this population growth to their advantage? We've got the data and tips to point you in the right direction.
And, for even more recruitment advice, check out Intead Plus and our new, more affordable Bookshelf Membership.
Read on…
World Atlas reports that in Niger alone, where the average woman has eight children, almost 60 percent of the population is under 18. And across African nations, more of these children than ever are earning high school diplomas and are looking for further education.
Rising and emerging national economies that are moving away from a system based on agriculture toward manufacturing and services also mean a rise in jobs requiring higher skills.
However, the World Bank reports that less than 10 percent of college-age students in sub-Saharan Africa (49 countries in total) are currently enrolled in higher education. Why is that? Three things: cost, space, and quality.
The Cost of African Education
Last week we mentioned the cost of a semester from University of Africa was 5,650 in Zambian kwacha, or $426.93 USD, and a master's there would set you back $2,260 USD total.
Meanwhile, a degree from Unicaf University runs about $4,000 USD. The only sticker shock that comes when we read these numbers is one of envy, but the average gross salary in Zambia is a quarter of what it is in the U.S.
Jamil Salmi, a higher education consultant and former World Bank official from Morocco, told The New York Times that African public universities "have grown up, but they vary in caliber and can be costly."
Out of 54 ranked economies based on GDP in Africa, Zambia—where UoA is headquartered—ranks 18th. That leaves a lot of countries beneath it whose average salaries are far less than a quarter of the average U.S. household. And despite emerging economies across the continent, African households have a hard time paying for higher education.
What this means for student recruitment: unless you are offering full-ride scholarships, choose your target regions and cities carefully so that you are talking to the right prospect pools for what you have to offer. This is always true, regardless of where you are recruiting.
With 30,000+ African students studying in the U.S., another 30,000+ studying in the U.K., and nearly 100,000 studying in France, there are real and valuable recruitment opportunities here. Next week we'll talk about the rise of China as a destination for African students; stay tuned for that.
University Space—Running out of Room
The ten most populous countries in Africa have a combined 740 universities serving some 660 million of Africa's 1.2 billion people, according to Quartz Africa, while the U.S. has around 5,300 universities and colleges serving a population of over 323 million people. That's a large disparity.
The current number of African public institutions cannot support the growth in demand across the continent, which has led to a rapid jump in the number of private educational institutions, with the greatest rise seen in Uganda, Republic of the Congo, and Côte d'Ivoire.
A 2018 Brookings Institute report by Dhruv Gandhi said that the number of public universities in sub-Saharan Africa grew from 100 to 500 between 1990 and 2014, while private universities expanded from 30 to over 1,000. The most notable hike in universities was in Ethiopia. In the year 2000, there were only two universities in the entire country, but now there are 36 public universities and 98 private universities there.
Quality of Institutions
Campus France, an agency of the French government that promotes international study in France issued "La Mobilité des Étudiants d'Afrique Sub-Saharienne et du Maghreb." A useful set of statistics there (link goes to English version).
The agency shares perspective on why many students choose to study abroad: economic or educational need related to employment opportunities, lack of study solutions in Africa meeting students' needs, and local instability including food crises or armed conflict. The report also reviews which countries top the list for African students seeking a foreign education and which degree programs interest them most. Data focuses on 2013-2016, so just a bit dated - still highly useful perspective.
African Students Abroad
University World News states that there were 380,376 African students who studied in a foreign university in 2010, representing about a tenth of all international students worldwide and 6 percent of all African students. Almost 30 percent of those students went to France. With South Africa getting 15 percent of African students from other African nations, followed by the U.K., with the U.S. in fourth with slightly under 10 percent. However, that statistic for the U.S. showed a 2.3 percent decrease from where it was the decade earlier.
There are strong colonial and linguistic ties to France that would bring international students into their universities, but those needn't be barriers to other countries considering the African market. As for the U.S., 24 African nations have English as an official language, with the most speakers in Nigeria, Ethiopia, South Africa, Tanzania, and Kenya.
Most international students from Africa are coming from Morocco, Nigeria, Algeria, Zimbabwe, Cameroon, and Tunisia. At the top of the list is Morocco with 10 percent of their university students studying in a foreign country. Compare this to 1.6 percent of American students who seek a degree abroad, according to NAFSA.
We highly recommend this excellent report from WES published just a few months ago with insight into China's and India's economic relationship with the African continent and what these two countries are doing to attract and support students from Africa. As mentioned above, we will touch more on this important topic in next week's blog installment about recruiting students from Africa. Suffice to say, competition is everywhere but there are opportunities everywhere as well.
African Students in the U.S.
Now, not all of those students listed above are coming to the U.S., of course, and next week we will talk more about where else those students may be studying and how to compete with the other destinations African students are considering and choosing.
As for the countries with the most students traveling to the U.S., the breakdown is as follows, according to the Institute of International Education's 2018 Open Door report:
Source Country

Students Studying in the US
(2018 IIE Data)

Nigeria

12,693

Egypt

3,701

Kenya

3,322

Ghana

3,213

Ethiopia

2,118

South Africa

2,040

Morocco

1,563
Nigeria leading the pack is no surprise, as it has the highest GDP of all African economies, and thus has more students that can afford a U.S. education. The rest of the list all have economies in the Top 8 across the continent, except for Ghana, which isn't much behind at 11th.
While the other 47 nations in Africa aren't listed above, almost all of them are sending students to the U.S. and other countries for tertiary education.
It may seem, by looking at the above list, that Nigeria is the clear place to spend your recruitment efforts. But remember, with higher student numbers comes more competition from other universities abroad.
Don't ignore the remaining nations with fewer students already traveling to the U.S., as those may be untapped markets that would give you more bang for your recruiting buck. As we said in a previous blog post about Africa, the less traveled path represents the less competitive path. Consider how nice it would be to be among the top ranked universities at a college fair.
According to the 2018 report from IIE only 4 percent of foreign students in the U.S. were from sub-Saharan African nations. (The statistics for those from northern African nations is combined with those from the Middle East, which account for 2 percent.)
Who are these students and what are they studying?
African students bring an invaluable perspective and drive to campus, says WENR in this slightly older article. WENR spoke to The University of Rochester's vice provost and dean of admissions Jonathan Burdick, noting, "These students, most of them engineers working to address very concrete challenges, have an outsize impact in their departments and on campus."
According to Africa.com, the jobs with the most growth in Africa's expanding economies are those in agricultural engineering, agricultural management, telecommunications, structural engineering, civil engineering, electrical engineering, architecture, actuary science, and geophysics. Tourism and healthcare are also on the rise.
If your institution has a strong program in these fields, there are some frequent flyer miles to be earned and students to be recruited.
Can they afford it, though?
Now, while the language barrier might not be a significant challenge, a financial one definitely is. The price for one year at an American college greatly surpasses the average annual household income for some African nations.
What incentive is there for universities to offer larger financial aid packages to these international students? Word of mouth for one. Remember that college-aged population boom? That's a lot of mouths and the following generations will be learning about education options from those who went before them.
Research from World Education Services (WES) shows that 93 percent of U.S.-enrolled students from sub-Saharan Africa were likely or very likely to recommend their university to peers in their home countries. WES predicts that, "Given the cost of effective recruitment efforts and the need to deploy both dollars and recruiters strategically, such networks of alumni can offer a wealth of rewards with relatively few risks."
Side note: Want advice on building a global alumni network? We have the report for you, Global Alumni: State of the Field.
The Agent Network in Africa
The agent recruiting channel is still developing in Africa. Many of these service providers are small operations and new to the work. They are determined and eager to sign new contracts -- unlike many of their colleagues in China and India who have become extremely discerning about which universities they will support. We have met a number of agents from African countries at the ICEF Miami workshop and highly recommend this opportunity to meet and evaluate the options.
Unlike the recruiting agent systems in China and India which are highly developed and have matured into a challenging network of super agencies with many unstructured (and often uncontrollable) sub-agents, there are opportunities to develop valuable relationships with many of the agencies that are growing in Africa. This recruiting channel is a blog topic all its own and we will discuss it in a future blog post this year.
The Bottom Line
Here's the thing: build recruitment pipelines early, establish those relationships before the field gets crowded. This will take time and investment. And given the inevitable winds of change, your institution will be in far better shape 10 years from now than those who are thinking only short term.
All across Africa are students whose needs aren't being met by their country's higher education offerings—or even those across the continent. There are immediate holes that need to be filled, but as the African population is set to grow to 2.8 billion in the next forty years, those holes are only going to grow with it.
That's a huge and relatively untapped market for either attracting international students—if the right price can be found—or, as we mentioned last week—U.S. institutions can partner with online universities in Africa with innovative approaches to meet the needs for career development and career advancement while building brand recognition.
Next week: What is happening with student mobility within the African continent and how does that inform your recruitment plans?