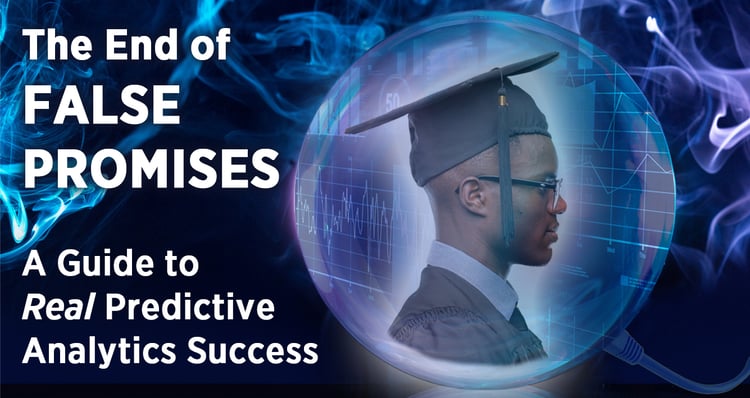 Tracking the macro indicators of market growth and decline is where we were at the start of our journey more than a decade ago. The Intead team defined the global market opportunity for student enrollment in ways we felt others were not seeing. And we published our findings and ideas.
While we in higher education are no strangers to global enrollment shocks, there's no getting around the reality that the year 2020 and the seismic health, political, and economic shifts have challenged our collective efforts to achieve institutional growth. The student enrollment declines being reported are very real and so many of us are feeling them and anticipating more declines in the near term.
Just this week IIE and the National Student Clearinghouse are providing new data showing how the student market has changed for the worse. These numbers are absolutely worth watching and it all makes for good headlines.
Yet, the team here has moved far beyond those headlines and numbers you are seeing. As we approach each new client engagement, we are focused on where specifically the opportunities lie. Which micro demographic? Age range? Region? Academic program interest? Which market differentiators will be attractive and where? Specifically. Globally and locally.
A wealth of data available to make really smart decisions
Today, there is so much data to analyze to help define the real market opportunities for each institution. Given the harsh market conditions, decisions today will determine which institutions will thrive going forward. In some cases, it is about which ones will simply maintain, forget about thrive. Many are trying to predict the future and with investment in the right tools, that is possible.
"Really?" You ask. "Yes," we reply.
The reality: Your bottom line is more important than ever. Your budget? Smaller than ever. Your enrollment goals? More challenging than ever. Your students? Struggling to succeed.
With so much of this past year being entirely unpredictable, a little confidence in the future would be truly welcome.
Luckily, there is an achievable path forward to predictable and sustainable enrollment growth. We're talking long-term transformational growth here — those "Aha!" moments that transform your institutional practices and reality for years to come. Interested?
Today we are talking to all of you big picture thinkers.
Enter: Predictive analytics.
We know what some of you may be thinking. Long a buzzword in higher education, predictive analytics strategies often come with a "proceed with caution" label and (valid) concerns about budget, staffing, and implementation.
But we're here to change all that with our new eBook — The End of False Promises: A Guide to Real Predictive Analytics Success.
In this newest Intead publication, we discuss predictive analytics, past, present, and future, including our vision for a manageable, affordable path to incorporating data- and Artificial Intelligence-powered (AI) solutions throughout the student journey at your institution.
To bring this new reality of actionable predictive analytics services to life, we have partnered with iSchoolConnect, a growing leader in advanced EdTech artificial intelligence (AI) tools, to create a new model for marketing, communications, and analytics for academia. Bonus: as one of the world's few official Google Cloud partners, this new tie-up has access to data insights and resources others only dream of!
The successful approach we are talking about relies on flexible, incremental investments that produce clear returns. With a trusted partner guiding your institution forward on this journey, the transactional successes add up to transform your entire system for enrollment management and student success.
Read on for a quick-hit predictive analytics crash course and to download your free copy of the new eBook. Plus, a closer look at the new Intead + iSchoolConnect approach.
We know the current state of the market: predictive analytics are confusing and considered difficult to use effectively. Competing priorities up and down your institution's organizational hierarchy make technological progress difficult and being nimble near impossible.
Analytics vendors often have a standard playbook (and a hefty price tag) for their data solutions. Most institutions have neither the funds nor the staffing to implement data solutions that stick. We know this from a range of research studies conducted by the Chronicle of Higher Education and McKinsey Global (it's all in the eBook!).
Within its pages, you'll find exactly what many of the current predictive analytics services will cost you as well as a checklist to gauge your institution's preparedness for these new technological solutions. We help you evaluate your potential technology partners.
But what exactly are these new technological solutions anyway? And why, with all of those aforementioned competing priorities, should you make predictive analytics solutions a part of your 2021 strategy?
Let's get to it.
Predictive Analytics: A Crash Course
Predictive analytics is…

"the use of data, statistical algorithms and machine learning techniques to identify the likelihood of future outcomes based on historical data," with the goal to "go beyond knowing what has happened to providing a best assessment of what will happen in the future." (

SAS

)

Predictive analytics can...

Identify the students most likely to enroll and succeed at an institution.
Optimize the value and quantity of financial aid packages offered to meet enrollment goals (think price optimization).
Identify subject areas of students' learning deficits to customize the pace, structure, and method of information delivery.
Identify struggling and at-risk students through GPA, academic, and other campus activity monitoring to offer early intervention and tailored student advising.
Support student success initiatives to improve retention and graduation rates. The big predictive analytics success story, Georgia State University, has used data-powered interventions to improve its four-year graduation rates by 7% points since 2012 and produce revenue gains in the multi-millions as a result.
Predictive analytics is not

…

Big Data. Thousands of student data points are nothing without the statistical modeling and technical expertise required to put this data into action. To implement successful predictive analytics tools and data-powered interventions into your strategy, you need human power (IT, analysis, enrollment staff etc.) to put those insights into action. This is often where institutions fall short. Our new approach changes that by providing smaller, more manageable solutions that can be scaled up and down as needed, along with the expertise to make it all work.
The Intead + iSC Future
When it comes to the current state of predictive analytics in higher education, the numbers speak for themselves.
In a 2020 survey from The Chronicle of Higher Education, 63% of respondents reported using predictive analytics at their institutions, but more than half of these adopters had not developed processes to actually act on any of the insights provided by that data.
We know that the reality of any new technical implementation is complicated (read: budget and staff intensive.) That's why we've designed a new model — what we are calling a "modular approach" to providing a manageable, incremental path to implementation. A path that produces measurable results without the risk of long-term commitment.
How it works: with our guidance, institutions piece together a series of modules for a fully transformative, end-to-end solution, or simply choose those elements that are a priority (and are affordable). The approach is agile and allows for modular, fully trackable digital products that produce near term results and build toward transformational change at all stages of the recruitment funnel and student journey. Each module is customized to fit with your institution's existing technology platforms.
Here's a sample of how an Intead + iSC Toolkit can be customized to take your institution from where you are now to a big, improved step forward:
For Recruiting and Admissions:

The solution: AI-powered interviews — offer admissions screening interviews scheduled at students' convenience and available 24/7. Analyzed automatically by AI tools on a range of variable criteria, the interview data is recorded, collected, and transmitted to your admissions team, allowing them to focus on only best fit potential candidates flagged by your new enrollment management tool.

For Student Success and Retention:

The solution: Smart text messaging — provide automated, AI-powered real time support to students via text regarding documentation, class requirements, and student services. The data from these conversations can be collected and used to develop predictive student success models, empowering your staff to stay ahead of dropout risks and intervene when necessary to ensure your students are receiving the attention they need.
In the eBook, we outline more than 10 concrete ways we are using predictive artificial intelligence and machine learning solutions in enrollment, admissions, and student services settings. Give it a download to read up on how your institution can understand and evaluate the range of options ahead.
And drop us a line if you'd like to discuss how to implement this new modular approach to build toward a customized, fully trackable, predictable enrollment growth plan for your institution.