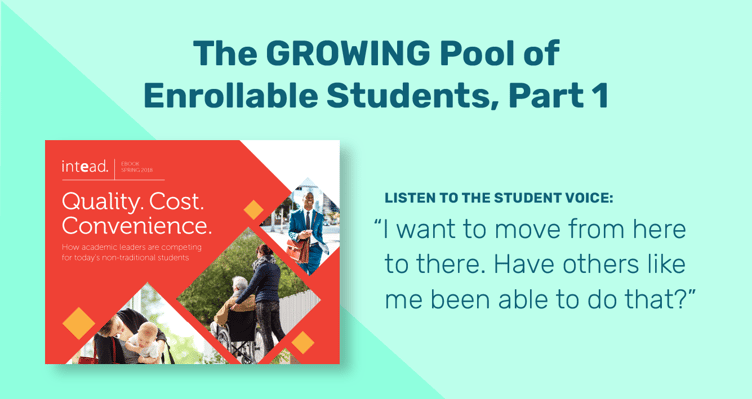 Despite the dire headlines throughout the academic industry addressing the "looming crisis" and the excellent research on the topic from so many great sources (thank you Chronicle of Higher Ed), the availability of college-ready students is growing at a rapid pace.
How could we say such a thing!!??!?
Everyone knows the pool of high school students is going to fall off a cliff after 2024-2025, right? The demographic trends lines have shown this for years!!! The big academic marketing and analytics firms (you know who we are talking about) are pushing their predictive analytics services as your holy grail and so many institutions are buying into it.
Not so fast! Please, not so fast.
Welcome to our three-part series on Non-Traditional Student Recruitment. You will want to share this one with some key colleagues at your institution. There's a theme to this series: Be Nimble!
Research and analytics must lead to action and results. And 36 million potential students could be evaluating your institution right now. Do you have the right advisers and team to help you be nimble and capitalize on the opportunity?
A recent comment from a highly experienced senior procurement officer regarding her institution's contract with Intead, "There is no other company that could do this project for us."
Listen to the Voice of the Customer
A time of change does require expenditure. Knowing where and how to spend is the key. The big question: Will the board-level advice you are paying for pay off for you?
Answer the bigger question that is actually going to improve your enrollment numbers. It is a question that your audience (students) are asking and you need to be able to answer:
"I want to move from here to there. Have others like me been able to do that?"
Read on for the clear direction for enrollment growth. It is not simple, but it is the future…
In seeking solutions to enrollment woes, tunnel vision and fear are driving institutions into costly and questionable decisions. We are seeing it on far too many campuses. And we are shuddering as we watch these expenditures grow.
The Chronicle of Higher Ed just published: "The Looming Enrollment Crisis: How Colleges Are Responding to Shifting Demographics and New Student Needs" (available for purchase from CHE). It does a good job of telling the story and striking fear in our hearts. But we've known this was coming for a long time. And their report does point to opportunities, because...
There IS hope on the horizon.
The National Student Clearinghouse Research Center just published a report (free download) on 36 million Americans with Some College, No Degree (SCND), many of whom are returning to the academic world as non-traditional students. We saw this coming as well.
In fact, back in 2016-2017 the Intead team looked ahead into the 2025 enrollment cliff and then scanned further. So much competition out there: ~4,500 academic institutions in the US all seeking 18-year-olds and that customer segment getting smaller. That can't be the only market segment of value, can it?
According to research by the Center for Postsecondary and Economic Success (CPE-S), enrollment of non-traditional students is projected to be double the enrollment growth of the traditional student segment by 2022.
Before you sign six-figure contracts with one of the big consulting firms that institutional trustees have so much faith in, take a look at what you are getting for all those dollars. Mostly advice. Full stop.
Fine, what else ya got?
Are you one of those campuses that has had conversations about non-traditional students and nothing has REALLY moved? The leadership's plans are amorphous, and the efforts require so many different parts of the campus administration to collaborate. The whole thing, this level of change, is daunting, and nothing is really getting done. All the while, enrollment numbers are challenging.
Change is hard. But the trend lines are real. So, REALLY, it is time to move, innovate, and Be Nimble!
Low Cost First Steps: Figure out what others are doing well
A great position to be in is the "fast follower." Few institutions are true leaders cutting the path through the forest. That's ok. Most institutions are not leaders. They take a long time to make substantive decisions. They seek broad consensus and buy-in and they pay the price in terms of internal misalignment when they move forward without that consensus. Forward motion and decisions take time.
And yet, the fall of Hampshire College is on all of our minds.
We don't want to be the next institution with that heartfelt plea to our alums acknowledging a dire fiscal reality. Can your institution act a bit faster? Can you innovate and be nimble?
As a fast follower, the first step is learning from others who cut the path through the forest in front of you. Thankfully, we believe in sharing.
Come see our presentations and workshops at our industry conferences (NAFSA, AIRC, ICEF, AIEA, TABS)

Download our ebooks

with tangible, actionable recruiting and digital marketing advice
Keep reading our Intelligence Blog where we've been sharing innovations from the field and predicting the future fairly accurately for years based on our industry connections and proprietary market research.
A relevant example: Our ahead-of-the-curve 2018 ebook on Non-Traditional Student Marketing: Quality. Cost. Convenience. has some of the best and most actionable advice out there. That's not our boasting. That's your peers reviewing and commenting on the publication (see end of this blog post). The basic research is free as a download from our website. You'll find a cross section of your peers in there with some great stories to tell.
For $495 you can access the Intead Plus extended version of that ebook that goes beyond knowing what others have tried. The extended version includes Intead's concrete recruitment strategies, market segmentation plans and tactics, student personas and more. That just saved you about $195,500 off what the large consulting firm charges for their advice. And the rest of our Intead Plus library is available to you there as well.
We Help Institutions Move Faster
Of course, reading our ebook is not going to fix your enrollment struggles. You WILL need some customized analysis and advice. The Intead team is just wrapping up a few custom market research projects for some powerful and forward-thinking institutions.
We are moving on with executing the marketing plan. Intead is implementing marketing recruitment projects with our digital marketing and content development team acting on the recruitment strategy built on solid market research. Custom web content, pay per click campaigns, travel communications, email nurturing campaigns, and all of the analytics that inform future moves and justify future budgets. All of this targeted to your strongest audiences domestically and internationally.
Next week: So, how do you attract them?
Closing thought On the Value of our Non-Traditional Student ebook: Quality. Cost. Convenience:
Santhana Naidu, Associate Vice President for Marketing and Communications at Indiana State University, said our book, "underscores the importance of differentiating non-traditional students from traditional students throughout the pipeline–from marketing to student success and engagement. The section on conducting an effective marketing audit is a good conversation starter for strategic development conversations. The real-world insights make the book a unique and valuable resource."
Happy International Education Week: Download the free version of the report here.