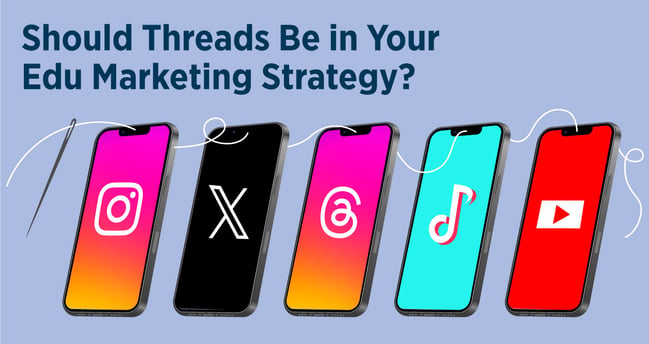 Students and digital media, right? TikTok rules! Oh, and Instagram. But, email is dead. Search is dead. Facebook is dead. (Pro tip: these all still have value to you).
Now entering the social media platform arena: Threads.

So, the questions on your team's mind: Is now the right time to add Threads as a tactical element to our student recruiting strategy? How hard could it be? Is there any value here? Is our audience here?

---
Opportunities to meet in person:
The Intead team is gearing up for some amazing presentations and we hope you can join us.
CIEE 76th Annual Conference in Paris, Nov 8-10, 2023
PIE News Live in Boston, Nov 13-15, 2023
AIRC Annual Conference – we'll be offering our full day digital marketing workshop here in Phoenix, Dec 6-9, 2023
ICEF North America Workshop in Miami, Dec 10-13, 2023
Let us know if you'll come share a cup of coffee and a conversation about all things global and digital (info@intead.com)
---
The short answer to the Threads question: As of now, fall 2023, the Intead team leans toward the more measured wait-and-see approach. It's early yet.
There's plenty of time to integrate this new platform should it fully take off. And there are more than a few social media users who really hope it does, especially in the midst of the chaos of Twitter, err, we mean X.
What we know about Threads so far:
It aims to take X head-on, and with the full weight of Meta behind it, we give it a fighting chance.

More than 100 million users joined

Threads

within the first 5 days of its launch, making it the fastest-growing app in history. Proof that people were waiting for it. And further proof that Meta is a powerful force.

Yet, some wonder if that was a false start. Its user base promptly plummeted by over 80% in less than a month post-launch. And this is something we can't ignore.
Still, we know some social media mavens on your team are debating if now is the right time to integrate Threads into your social media arsenal. Is this one of those first-mover advantage things? After all, effective lead generation and brand strategy require you to stay up-to-date and constantly try new approaches. We get it and encourage you to read on to better understand if Threads is something your student marketing strategy needs right now.
Threads: Your Questions Answered
When anything new emerges, what you really want to know is:
Is my audience there?

How does it work? (Level of effort required by my team? Integrations with my current tools like SLATE, Salesforce, HootSuite, etc.)

What are its potential benefits? (Can I forecast results?)

And, should I start using it already? (Are my competitors there?)
So, let's get to it.
Is My Audience There?
In short, yes…BUT. Currently, the biggest part of the Threads audience is between 18 and 24 (37%). It might seem like a holy grail for most educational institutions. Yet, 96% of Threads users are active on Instagram, which can lead to targeting the same people.
On the other hand, the Threads format might be more attractive to younger audiences. Over the last few years, X usage among Gen Z increased by 36.6%, while Instagram saw a modest 5.7% growth during the same period. Note that Instagram still has more users than X, so this could be just a temporary tendency. We need more time to say for sure.
How Does Threads
Work?
Threads is the first text-oriented platform that has emerged in years. Does it have what it takes to take on the still really popular X? Time will tell. For now, let's dive into the functionality of the new app.
Basically, Threads is a SM for concise messages that can be read sequentially. These messages allow up to 500 characters of text and support photos and videos, with a maximum duration of five minutes. At first glance, Threads seems ideal for educational institutions as its communication style can promote meaningful, deep, and even fun discussions.
While it is a promising platform in the current landscape of social media, its functionality is a bit threadbare (so to speak!). By this, we mean there's no direct message capability, so private one-on-one communication with prospects is not possible. There's no management platform to assist in scheduling a series of posts. And there's no ad capabilities either. It feels like a beta version of what we imagine it will become.
We have no doubt that Meta has big plans for these features in the future, they just aren't built out yet. Note that Facebook and Instagram (both Meta products) have the most valuable advertising business manager tools of any social media platform currently out there (with Google's ad manager as a close second). Yet, based on what Threads has to offer so far, diving in right now could feel tedious. It is a broadcasting tool with little ability to target. But by all means, have someone on your team open a personal account and give it a try. No harm in spending a little time playing and evaluating.
What Is Threads' Potential?
So, yes, Threads managed to gather an impressive 100 million subscribers within the first five days of existence. To put this into perspective, even ChatGPT took months to achieve a similar level. The immediate growth of Threads was an expression of X customer dissatisfaction – a wish for something new and better. Yet, as we mentioned, the platform has several limitations that shadowed the initial excitement.
As a result, Threads saw a significant drop in its user base – down to 8 million. In comparison, X boasts 237 million daily users despite the surprising and somewhat questionable user experience decisions of its controversial owner, Elon Musk.
The time spent on the app has also changed. On July 7 (right after the launch), users spent an average of 21 minutes on the platform daily. Today, this number has decreased to only 3 minutes, while X's users tend to spend around half an hour per day on the app. Not a great sign, but again, the current version of Threads is sparse on features and is still being developed.
Yet, thinking Threads is here one day and gone the next is likely misguided – Meta is more powerful than that. Consider Meta's huge (HUGE) user base. Around 3.88 billion people worldwide use at least one of their products monthly. In fact, 80% of all social media users (4.8 billion people) utilize Meta. Threads' potential feels well supported, to say the least.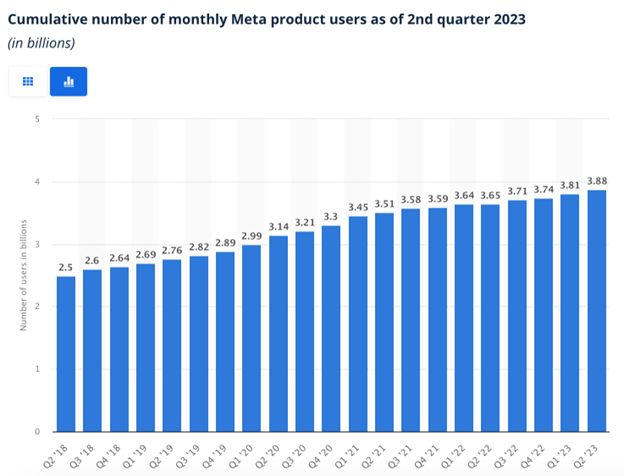 Source: Statista

Should You Start Using Threads Already?
Our take: Yes and no. Yes, now is the perfect time to get to know Threads as a user, but maybe not the best time to integrate it into your institution's social media mix. Unless you have the resources to manually manage the organic growth of your institution's Threads account, we think you'll be happier waiting for the more robust and manageable version of the app that is sure to come.
Who Is Already on Threads?
Many edu's dove right into Threads content creation. We've checked how it's going for them. As expected, the engagement is significantly lower than on other platforms, still, there are some pretty successful examples:
Cambridge University

has over 118k followers on

Threads

,

while their

Instagram account

has 1.2M subscribers and

X

has 817k. These are good numbers for a new platform, yet their engagement on

Threads

is generally limited to around 100 likes and a few comments. Interestingly, Cambridge has fewer followers on

TikTok

(115k) than

Threads

, but they have over 1M likes and thousands of views on all the

TikTok

videos.
But let's look at how some known brands without the rarified air of Cambridge, Harvard, and Stanford are doing?
Boston University

has 21k followers (with 20–30 likes) on

Threads

, while on

Instagram

,

they have 190k subscribers and 109k on

X

.

University of Houston

has a similar case with 15k followers on

Threads

, 146k on

Instagram

, and 230k on

X

.
The lesson here is that there is a clear connection between the number of Instagram and Threads followers - a smart design feature that Meta put in place. Thread users can import their Instagram followers when they sign up for Threads.
Other than that, it's too soon to dissect best-practice strategies. And we don't have the all important digital stats on deeper engagement to conversion rates. Hopefully, our colleagues at these institutions are doing that ROI math.
What Social Media Platforms
Can Be Better Alternatives for Now?
So, how does our target demographic's use of Threads compare to platforms like TikTok, Instagram, and YouTube that are wildly popular with prospective students, both domestic and international?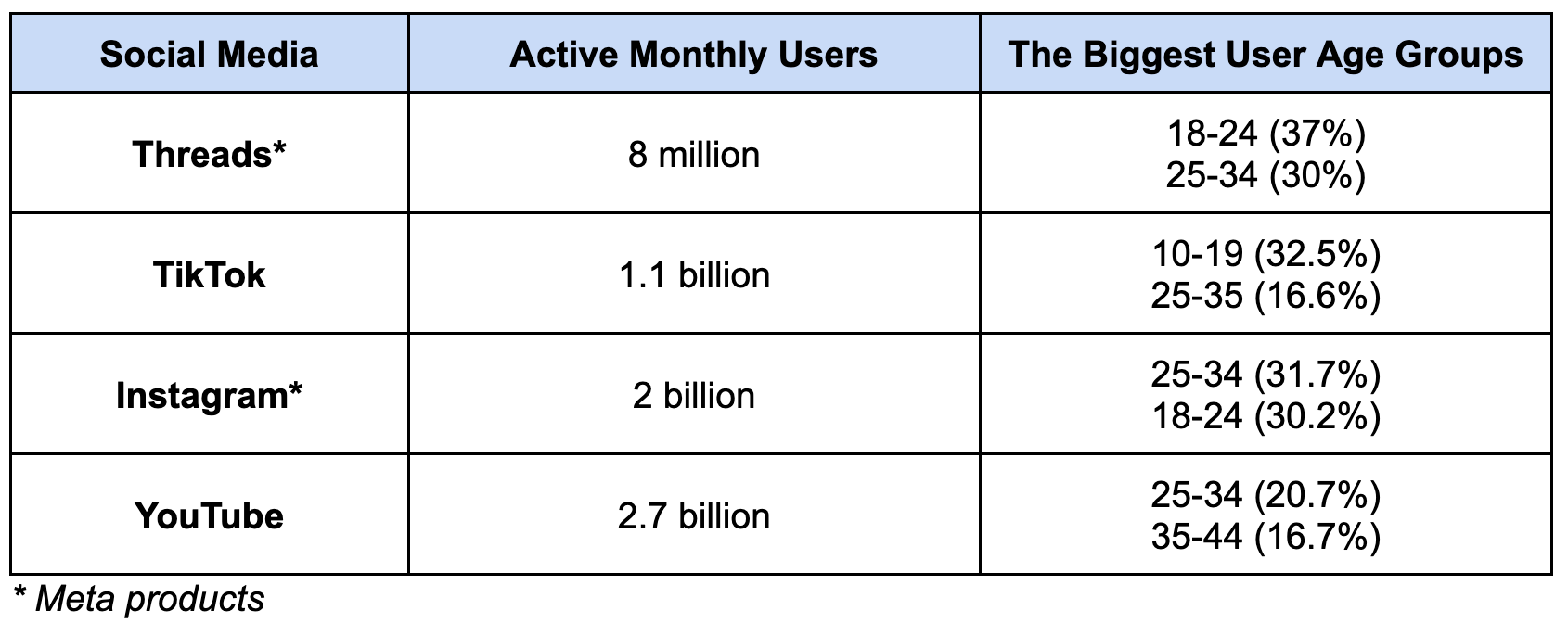 Threads, despite its potential, just doesn't stack up against its clear competitors. Not yet anyway.
As you may imagine, we are taking our own advice. It's wait and see before we jump feet-first onto the Threads platform. Yet, we're very much paying attention. Need a partner who gets social media for student recruitment? Be in touch.