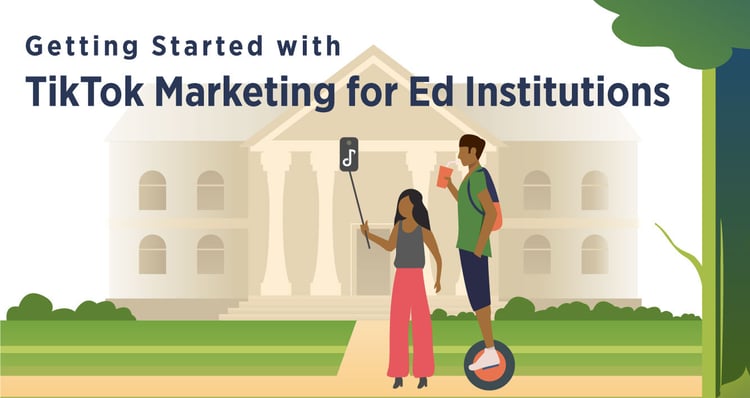 Marketing Rule No. 1: Be where your target demographic is. If your audience skews toward ages 16 to 24, then your audience is on TikTok. Know anyone focused on this market? We thought so.
TikTok is no longer exclusively a place for teens to post cutesy dance videos. When done correctly, this A-list short-form video platform is the perfect way for institutions to connect with prospective and current students in a format that makes sense to them. There's a reason, after all, why TikTok is the first non-Facebook app to achieve 3 billion global downloads.
Your job: it's all about getting the user experience right. If your university or private high school is not already on TikTok, we have to ask, why not?
Wait, we can probably answer that! Is it staffing shortages? (That's another blog post altogether).
We'll go further out on the limb and suggest you may be struggling with developing a strategy for the platform (what behaviors are you trying to push?) and the challenge of creative execution (who has time to create all that fun stuff?). You know this already: TikTok is no place for drab, factual, instructional content.
You probably know this as well (or at least have sense of it): TikTok has 1 billion monthly active users, making it one of the fastest-growing social networks globally. It also has 50 million daily active users in the US, meaning 18.68% of Americans log into TikTok every day.
Due to its eerily intelligent algorithm pushing content onto its "For You" discovery feed (the page you see when you fire up the app), it's easier than you may think for new viewers (aka prospective students) to discover your institution's account. To boot, content created for TikTok can be repurposed for Instagram Reels, Twitter, and other platforms, making it a time-effective investment.
Read on to learn how your enrollment marketing team can develop and execute a savvy TikTok strategy that will get you noticed and help boost your enrollment…
TikTok How-To for Education Marketing
Define Your Why
Your team will want to think through what you seek to achieve by using this platform. Are you building awareness about your brand? Are you expanding your reach into the Gen Z audience? Are you seeking to push specific actions (go to our website, join us for a virtual student gathering) or build followers? It can be a combination of these and more over time.
Know your goal before diving into the fun, creative stuff. Then develop engaging content that prompts user interaction and conversions toward your goal(s). Know your KPIs (key performance indicators) at the outset and track activity toward them.
Set Your Content Up for Success
As with any social media strategy, you want to determine a set of content pillars that your TikTok account will touch upon. Examples are educational, inspirational, entertaining, motivational, and relatable. Once you choose these content pillars, create a plan that alternates between them. Start with your editorial calendar.
Competitor Review

: As part of your process, perform competitive research to see what other institutions are up to on TikTok. Syracuse University,

University of Florida

, and Phillips Academy Andover

have accounts that are definitely worth your look. Or engage your preferred marketing firm to help you stir up crazy ideas that just may work. (Don't have one? Well, why didn't you say so!)

Editorial Calendar: This calendar details what and when you'll be posting. For ideal growth, we recommend posting once per day at the outset and then lessening the frequency over time once your account is established. We know that is a tall order, so you'll want to create your initial set of posts in advance (target 30 of them).

Creative Energy

: Now assemble your TikTok marketing team in charge of ideating, creating, and publishing content. Creating and editing TikToks can take some getting used to, so account for the time it'll take for the team to learn the platform (here's a handy TikTok tutorial for beginners

).
TikTok, at its core, is a plain fun platform. So, enjoy the process! To get the ball rolling, we've come up with a few ideas on how to get your TikTok account up and running. Share them with your team and let your TikTok take off.
Hop on trends.
TikTok's algorithm favors trending sounds and themes. Download the TrendTok app to identify which sounds are trending nationally and globally.
Showcase your campus.
TikTok is a visual platform, so find your campus's most visually engaging aspects and highlight them. Give a tour of the best study spots, talk about a historic building (and have students do something fun in front of it). Show your campus lawn across the seasons (and have students do something fun on the lawn). Show off your super hi-tech classroom or research lab (and have students do something fun in that space). Catching the theme here?
Your TikTok personalities need to have something extra when they present each time. That doesn't mean everyone needs to seem like they could have been a star on GLEE. It simply means that personality differences are celebrated here. Being normal is the kiss of death (equivalent to the swipe up).
Conduct interviews.
Add personality to your university's TikTok by interviewing people around campus. Ask the Dean of Students why they chose to work at your university. Have students film "A Day in the Life" videos. Get the mascot to spill the beans on which rival mascot ruffles their feathers. Get nerdy scientists to talk about their research in an interesting, even goofy way. Self-deprecation is often a good foil. You can get across the idea that you do cool science without being stuffy. Choose your interview subjects with entertainment in mind.
You'll do many takes before you have the publishable stuff. Keep the drab stuff on the cutting room floor. Comical outtakes can often be the most engaging. A word to the wise: the 30- and 40-year-olds on your team are not the final arbiters of what will work well here.
Another word to the wise: seek diversity of representation.
Highlight campus events.
Immerse students into campus life with videos of various campus events. Think sports, cultural events, community service, welcome week, and more.
Brag on your alumni.
It's not "bad" braggy when you are proud of your graduates. A video catching clever alumni living their amazing "real life" could pique just the right kind of interest in your prospects. Cool jobs are highly desirable. Show them off.
Bottom line
We've shared just the tip of the TikTok iceberg here. Fun and engaging are the name of the game.
There are a million ways to approach TikTok and many millions of users in your demographic are ready to be entertained. Our team is here to help with the strategic approach to your audience and the creative work that goes into great content creation. Be in touch.