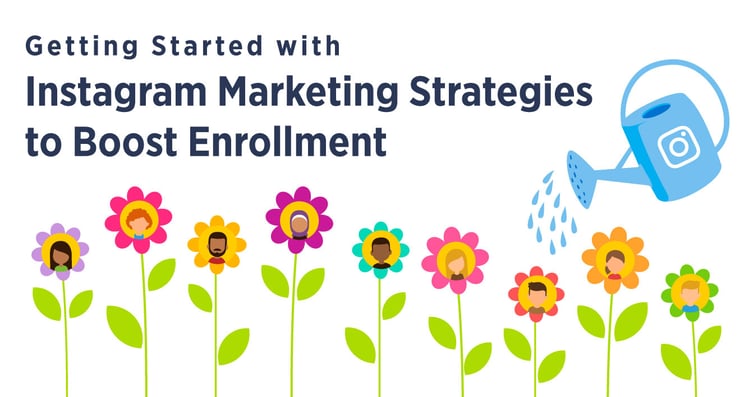 The last time we wrote about Instagram marketing was in 2016. A lot has changed since then. But not everything. It resolutely remains a visual communication tool. But is it still relevant? (It is.) Aren't kids these days on TikTok? (Yes, that's true, too.)
Here are the facts: 57% of Americans aged 12 to 17 use Instagram each week, and 63% use TikTok according to Forrester. Just as important are the 48% of 30-49 year-olds and 29% of 50-64 year-olds – many of whom are your prospective parents – who use the platform. Anyone still wondering if it's relevant for student recruitment and enrollment? Didn't think so.
If your institution is only doing organic posts to Instagram, or your Instagram paid campaigns haven't reaped the return you'd hoped, read on for a look at how your team can use this platform to boost enrollment. This post will be beneficial for those ideating and managing your campaigns. That means, pass it on to others on your team responsible for this stuff if that's not you.
As with any social platform, there are two ways to work it: the free way or the pay-to-play way. We'll take a look at both.
The Free Way: Understanding Organic Instagram Marketing
The basics: Instagram is primarily a visual platform of photo-sharing, stories, and videos. Use it to showcase the feel of your institution's personality and culture. Show off what you stand for and what makes you unique. Think visual. Think relatable authenticity. Think striking as opposed to banal. Leave bulky details on your website.
And unlike TikTok, Instagram is conducive to two-way interaction and community building. While TikTok only allows likes, comments, and video collaboration, the interactive opportunities on Instagram are almost limitless. So, leverage it.
Let's look at Instagram's content formats and how you can engage with your prospective and current students through them:
Static Feed Posts: The OG of Instagram, static feed posts are the content you see when you first open the platform and scroll through. Feed posts can either be a single image or video or carousels, which are a series of multiple images or videos. Notably, carousels have a higher engagement than standalone images. Note: Because Instagram users are scrolling through their feeds quickly, your static posts need to capture their attention quickly with visuals. Be relatable and authentic. Be sure you are vetting your approach with the younger demographic and tracking results for continual improvement.
Reels: Reels are Instagram's version of TikTok; short-form videos that are usually accompanied by catchy music. If you haven't checked out our TikTok marketing blog post yet, we recommend going there for short-form video ideas for education institutions.
TikToks can easily be repurposed on Instagram as Reels, so you can reach your potential audience without doing twice the work. Like TikTok, the best-performing Reels are fun, engaging, and show off your institution's personality. A welcoming, engaging, goofy campus culture may be your goal. Though a studious approach to showing off cool lab sciences and student research can also appeal to the academic nerds you want on campus. Careful though, dry and didactic content is not what the audience wants here. Avoid "How to Apply Online" explainers here - unless maybe it is a fun spoof on didactic administrative explainers (horn-rimmed glasses anyone?).
Reels can also be used to accelerate your account's reach. You can thank competition for that. Because Instagram is competing with TikTok, the platform pushes Reels to viewers. Unlike your static posts that likely only get seen by followers, Reels are more likely to reach new audiences.
Stories: Originally co-opted from Snapchat, Instagram Stories are Instagram content that disappears after 24 hours. This feature has turned Instagram into one of the most interactive social media platforms and is a great way to entertain and inform users who are already engaged with your content.
You can, however, extend your reach through "tagging." This feature allows institutions to repost story content directly from their followers. For instance, Texas State University was able to repost a student's story because they were tagged in it:
Stories also have "stickers," such as polls, quizzes, and questions, that encourage user interaction. For instance, here The University of Utah posted an "Ask a Question" sticker and prompted students to ask their housing questions, which they can then share their responses to: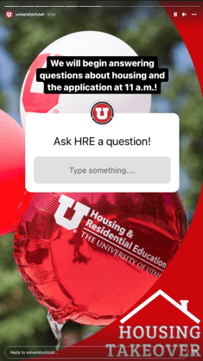 Judging by University of Utah's follower count (111K) and average post engagement (2K-3K likes), we'd say that their use of stories to engage their followers has complemented their Instagram engagement strategy.
While voting in a poll or asking a question may not seem like a big deal, these actions can count as micro-commitments that your potential students and parents are making toward enrolling in your institution. Further, the Instagram algorithm counts Story actions toward engagement and can prominently push your account in your followers' feeds -- broadening your engagement beyond your own followers.
Stories' ephemeral nature also invites users to share intimate, behind-the-scenes, or time-sensitive content. This presents an opportunity for you to show your institution's personal side. Show live footage of an event, reminders about what is coming up, or interviews with current students, faculty, and staff with interactive elements.
The Pay-to-Play Way: Understanding Paid Instagram Marketing
Conducted through Facebook Ads Manager, Instagram ads give you the same targeting options as Facebook ads: demographics, interests, behavior, and more. Instagram Advertising's ability to retarget users who've interacted with your account or website in the past gives you the crucial ability to nurture students and parents through every stage of your funnel.
Bear in mind, of course, the new data tracking limitations per last year's iOS 14.5 update, which requires all iPhone users to actively opt-in to being tracked. If they don't, the policy prohibits certain data collection and sharing. The gist: it's getting harder for you to microtarget. For more on that, check out our post "Hey Academic Marketers: Did Apple Just Bite Into Your Audience?"
What should I spend?

An early question we often get is, "how much should I spend on a digital campaign?" The answer depends on your goals, and those are developed based on your enrollment and engagement history and some market research. You'll want to know, in advance of your media spend, how many clicks and conversions will result. Our team takes on that challenge and provides media forecasts in advance of any campaign launch. We aim for a conservative estimate based on a range of industry and proprietary benchmarks. Our campaign results typically exceed those figures. Check out our campaign case studies here.
Instagram ads, like Facebook ads, allow you to choose a campaign objective: awareness, reach, traffic, engagement, lead generation, messages, conversions, etc. The objective you choose depends on your goal and at what point in the funnel you're aiming. Are you looking to grow your institution's awareness in a specific geographic area? Then an awareness campaign would work best. Do you want to promote your open house? Then a lead generation or conversion ad would work best.
Lead gen is important, and we advise against going straight to the common "apply now" ads. Your goal is engagement and relationship building. Give your first-time viewers and followers a reason to engage. Develop content that intrigues and delights. Give them something of value in exchange for that click and potential form fill.
Instagram ads come in different formats:
Feed post ads: The simplest Instagram ad formats, feed post ads consist of a single image, video, or Reel (with a maximum length of 60 seconds).
Carousel ads: These ads allow users to swipe through a series of up to 10 photos and videos in feeds or stories.
Slideshow Ads: Combine up to 10 images into a video montage and set it to music.
Story ads: Like feed ads, story ads show up in between stories. Note that while you can use the same creative that you use in Feed ads, it will show with a visually unappealing black background on top and bottom. Instead, we recommend using a custom creative with a 9:16 aspect ratio to take up the entire vertical screen.
Instagram ads can be launched from within Instagram itself or through Facebook Ads Manager. We tend to prefer using Facebook Ads Manager to launch and manage Instagram ads for a few reasons. Reason one: Instagram Ads Manager offers limited targeting options, only allowing targeting by age, location, and interests. Reason two: it's easier to manage both Instagram and Facebook ads from the same place.
Instagram can be a lot of fun to work with and is an effective recruitment tool when used well. This post is clearly just the tip of the iceberg. If you need help getting started with Instagram, or revamping your existing efforts. Our team has so many more ideas to share. Be in touch.