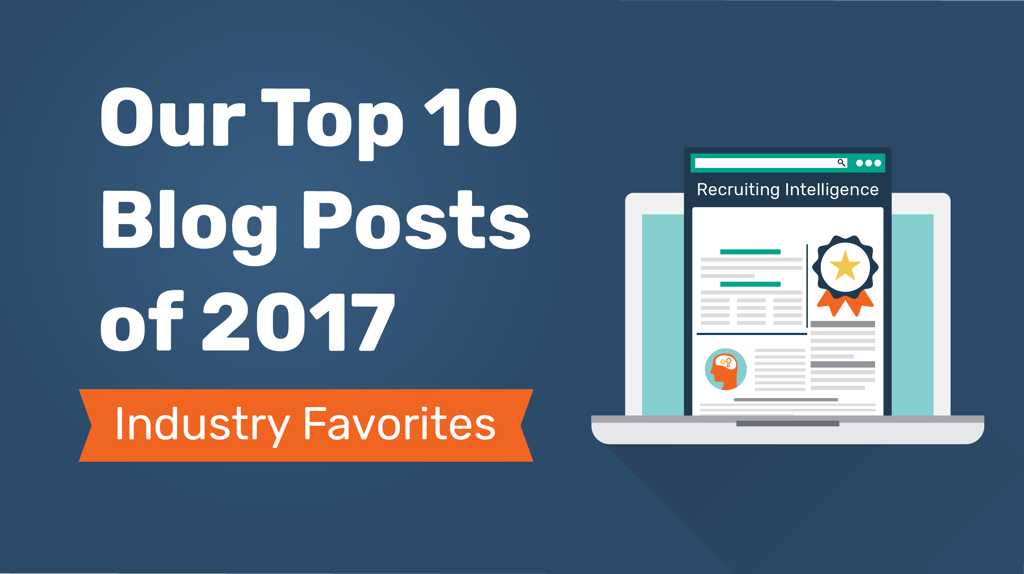 What did we do that really caught your attention most in 2017?
We thought you might want to know which blog topics drew the most clicks from you and your colleagues. That way, you can catch up on any important posts you may have missed.
And, if you want to dive into any of these topics in a really substantive way, this is the last week to take advantage of our early bird discount for the International Student Recruitment Bootcamp in San Diego, February 11–13.
Want a sneak peek at our most popular publishing? Well, let's see... In 2017, we...
Released groundbreaking research

showing the potential impact of a Trump presidency on international student recruitment – and looked at ways to navigate the dramatic changes in today's political and economic climate;

Discussed

why and how you should segment your target student population;

Addressed ethical concerns in the use of education agents;

Showed you how to make the most of your limited resources;

We even gave you

tips on optimizing your landing page

to maximize conversion rates!
*deep breath*
What can we say? We love this stuff.
Read on for links to our 10 most popular posts…and see what topic intruiged your peers enough to earn the title of post #1.
10. International Student Recruitment with Limited Resources (And NAFSA 2017!)
Limited resources are one of the strongest pain points we hear from our friends in the industry and our blog subscribers. As we prepared for NAFSA 2017, we thought about ways you could do more effective recruitment with less overall investment. In our #10 post, we showed you how to play to your advantages by focusing your energy in areas that might produce the biggest bang for your buck. Read more here.
9. Quick Tips for Building Effective Landing Pages
According to Hubspot, 55% of visitors spend less than 15 seconds on your website. That isn't much time — which means you have to make the most of it. That's where we come in.
In our #9 post, we gave you tips on maximizing your student lead conversion, including five key elements to include on your landing page and one to avoid. And we showed you how to create content offers that encourage students to take the next step, where to place your calls to action, and more. Read more here.
8. NAFSA Does It Again — This is Good.
In April, NAFSA released its third edition of a key industry publication (and best-seller), NAFSA's Guide to International Student Recruitment. We are proud to have two of our authors, Ben Waxman and Cathryn Andrews published in the chapter on Effective Marketing Practices for International Student Recruitment.
This cutting-edge work brought together insights from key leaders in the field and covered topics ranging from overcoming human resource constraints to the effective use of strategic marketing and recruitment travel to measuring return on investment in international recruitment. We invite you to take a look and experience it for yourself! Read more here.
7. Challenges for Recruiting International Students from Mexico
Enrollment of Mexican students in higher education institutions is growing significantly — in 2012, University World News reported that Mexico is expected to be in the top 20 countries for higher education enrollment by 2035. But in our research, we found that 80% of students from Mexico surveyed said that they would be less likely to study in the U.S. if Trump were elected president.
So: How can you address the ambivalence, insecurity or downright dislike many Mexican students and their families feel about studying in the U.S.? In our #7 blog post, we suggested ways to reach them and overcome this barrier. Read more here.
6. Recruiting Students from Indonesia
With so many other Asian countries stealing the spotlight, we find that Indonesia doesn't always get the recognition it deserves as a growing market for student recruitment. But with a place in the top 25 undergraduate recruitment markets and significant growth in the number of non-degree seeking students, it is worth a look. We'll tell you more about student mobility and show you what potential students are looking for. Read more here.
5. Integration vs. Inclusion & Cross-Cultural Competency on Campus
So, you have international students on campus…now what? In our #5 blog post, we defined "integration" and "inclusion," and highlighted the best practical tools, resources, and ideas you can use to help your students adjust both socially and culturally into campus life. Read more here.
4. The Wait is Over — Get to Know Your Neighborhood, Today!
How will dramatic changes in today's political and economic climate affect your international student recruitment? We collaborated with FPP EDU Media to find out. For example, we asked more than 40,000 prospective international students how a Trump presidency would affect their decision to study in the U.S. We were shocked at the answer — which appeared in The Chronicle of Higher Education and in The New York Times, among other publications.
In our report, Know Your Neighborhood 2017, we also shared our insights about the impact of economic factors, including currency exchange rates, personal finances, and scholarship availability, on international student recruitment. Read more here.
3. Working with Education Agents: What Now?
The use of education agents in international student recruitment continues to be a hot-button issue. At NAFSA 2017, we presented research conducted with FPP EDU Media showing that 50% of international students find education agents helpful as they evaluate their options. (And our sample size was huge — we received more than 57,000 student responses from 65 countries!) The use of education agents is growing; in 2016, the American Council on Education found that 45% of respondents were engaged with education agents, compared with 17% in 2011.
In our third-most-popular blog post, we addressed concerns about unethical practices in the use of education agents. We also discussed the ethical use of recruiting agents, explained why "double dipping" may be less of an issue than you'd think, and talked about best practices when developing agent relationships. Read more here.
2. Greetings & Insights from NAFSA 2017!
In May, we (that's Cathryn, Ben, and Elaine) visited the annual NAFSA conference in sunny Los Angeles to meet with key leaders in international student recruitment. This year, we saw many of our colleagues asking the same question: How can we create and sustain an attractive, welcoming and safe environment for international students?
In our second-most-popular blog post, we also provided tips on how to perform an effective digital audit in this challenging recruiting environment. We explored four key areas where you can focus your efforts (spoiler alert: websites!), and gave you one key consideration to keep in mind. Read more here.
Drum roll...our number one post…from 2017 is:
1. Consider Niche Chinese Markets for International Student Recruiting
In a huge market like China, you may be tempted to lower your strategic standards and provide the same marketing material to every prospective Chinese student. We say: Think again.
In our most-read blog post of 2017, we told you what Chinese students want from their study abroad, explored why segmentation is important, showed you techniques to tailor content to niche markets in China, and gave you tips to increase quality enrollment. Read more here.
That's a Wrap!
You made it all the way to the end? Nice! Thanks for reading — and here's to a great 2018! Do you have questions about international student recruitment, or ideas you'd like to share? What would you like to see from us this year? Give us your suggestions in the comments.