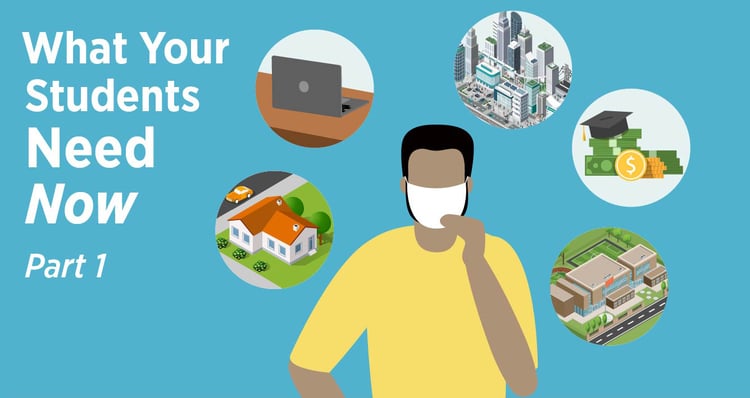 Today's post has been eighteen years (and six months) in the making.
Today we're talking domestic. Because: enrollment.
We had this this post ready to go at the start of the year – a look at Naviance's inaugural Student Survey with data from over 1.1 million students from the Class of 2019 on when and how they search for colleges, as well as their greatest decision-making factors. Naviance, the college readiness tool from Hobsons, Inc. has been collecting data from its users since 2002, but this was the first survey report of its kind ever released to the public.
And then COVID-19 happened.
The when and how of students' college search process has changed. Those decision-making factors? Well, they look a bit different now. Those insights and data from over 1.1 million students all made irrelevant overnight.
Or not.
Maybe Hobsons knew something the rest of the world didn't when they decided to launch this inaugural survey research in 2019 BC (Before COVID). The survey, while no longer a guide for recruitment strategy in itself, has become an invaluable benchmark for new research on how students' college search processes have been disrupted by COVID and what that means for your future marketing.
Hint: You're not thinking of buying lists, are you?
Helpful: A planning resource we've just recently released -- The New Student Enrollment Playbook - COVID-19 Edition.
Our goal: rescuing students who are lost at sea as they weigh all their options.
Read on for the insights from Naviance and what they mean for your admissions and enrollment strategy. Spoiler alert: your path to success will mean using digital tools to provide students what they need, now.
A New Timeline
In their latest COVID-era survey of nearly 10,000 students using the platform, Naviance asked 11th and 12th grade students several questions related to major milestones in their college search process throughout their 11th grade year, including searching for colleges, visiting colleges, and taking standardized tests. Responses from students in 2019 vs. 2020 are summarized in the table below: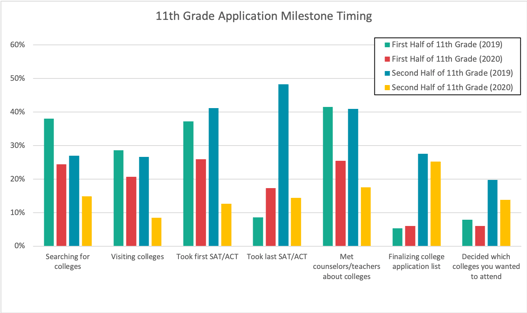 Source: Inside Higher Ed
Focus for a moment on the blue and yellow bars on the right for each activity. Notice the fall off.
Of note: the percentage of students reporting they visited colleges in the second half of 11th grade is unsurprisingly down from 26.6% in 2019 to only 8.4% in 2020, as is the percentage reporting that they met with counselors/teachers about colleges, and those taking their SAT/ACTs. There is also a decline in 11th grade students reporting "searching for colleges" in general.
Interestingly, what hasn't changed much is the percentage of students who report finalizing their college application list in the second half of 11th grade. However, the percentage of students who report actually deciding which colleges they want to attend has decreased this year by about 5%.
What this means for your marketing
Hitting the panic button over your fall 2021 recruitment strategy? Not to worry, you still have time (though not much) to adjust your plans to the new realities and create results.
While a quarter of 11th graders still reported finalizing their college application list in the second half of the year, less than 14% of them have made any firm decisions. With students searching for colleges less in general throughout this spring and missing out on campus tours and valuable in-person advising from teachers and counselors, there's uncertainty and an information gap that your institution can remedy this fall…if you act swiftly with a targeted digital marketing strategy and messaging that is relevant to your student audience. Do you have all this in place yet? So many don't.
SOS: Students Lost at Sea
Another corroborating piece of evidence from Naviance that high school students are in desperate need of some guidance from your recruitment messaging? In the March-June period of this year, Naviance saw a 25% increase vs. 2019 in students' use of their SuperMatch® service – a uniquely calculated score that provides students with their "fit" at a certain institution. Whether they are getting accurate info out of the system is a question. A big question. But the insight to us is simply the increase in the act of searching.
With in-person visits, many college fairs, and access to valuable advising resources off the table this year, students have increasingly turned to data to provide them with crucial decision-making guidance. All of the usual intangibles in making a school choice — the magical campus visits, seeing and speaking with current students, that gut feeling of belonging, are moot for this year's class of applicants.
Your prospective students are grasping for guidance. Which is why your messaging and content are SO important now. You simply cannot rely on the typical, the generic, the undifferentiated. They are all too ready to hit the delete key or simply scroll right by your content.
So many more prospective students are proactively trying to figure out where they belong. This is your opportunity to get your engaging message in front of them. Our customized content and digital campaigns this year have demonstrated the process and the results.
Next week: Part 2 of this series in which we discuss how to use the Naviance data to guide your digital marketing strategy, including recommendations for how to reach these lost prospects and exactly what to say to them.
Sign up for our weekly blog updates straight to your inbox so that you don't miss a beat.