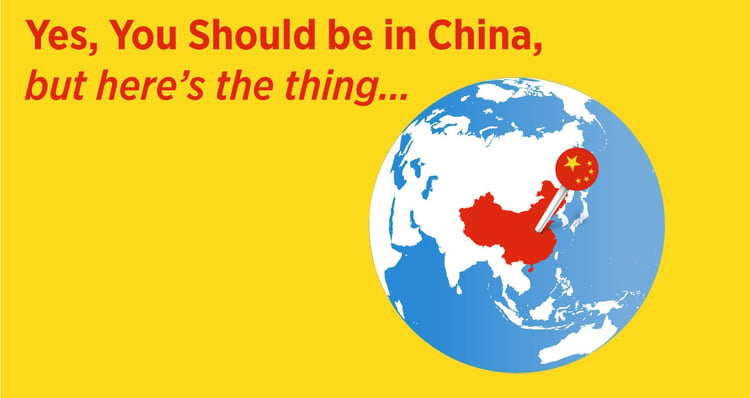 Chinese student numbers are sobering. With the latest IIE data showing a 26.1% decline in total U.S. incoming students from China in 2021/22, you and your peers are more than aware. It's the kind of stat that leaves a mark and prompts questions.
Has your leadership posed this to you: "Should we be in China at this point?"
If you regularly follow our blog then you know times like these call for a hard look at market diversification. It is a winning strategy. Your admissions team as well as the campus community stand to gain so much by building a diverse student population. Beyond the diverse, cross-cultural learning that is part of your mission, diversifying where you draw students from offers more financial confidence and reslience to your institution.
Markets fluctuate. Diverse revenue streams stabilize.
Today we look at why giving up on Chinese students is not in your best interest, nor is it in theirs. Diversify your market reach, yes. But tamping down your work with prospective Chinese families will limit your opportunities and future success. Maybe especially now.
This is a blog post we think you'll want to share with other leaders on campus. A question: have you looked at the current youth unemployment rate in China?
---
Quick aside: Ben and Iliana will be at the NACAC conference presenting alongside our colleagues from AIRC and Middle Tennessee State University on September 22 in Baltimore. Can we schedule a time to chat? Coffee's on us! We still have room on our schedules.
---
For over two decades China has solidly been the top sender of students to the U.S. In 2021 alone this singular cohort added $10.5 billion to the U.S. economy per the U.S. Department of Commerce. And that's on a down year. Sure, India is expected to surpass China in the not-too-distant future (more on that in an upcoming post), but China will remain a strong market.
Let's be clear: giving up on Chinese students during this downturn would be a mistake.
Here's the thing, while the declining enrollment of Chinese students in America is so much about the pandemic and politics, it's the day-to-day reality of this cohort that should get your attention. The volume of students and their interest in a foreign education will continue to produce significant enrollment opportunities. Important that your strategy adapts to the times employing the right programs and messaging.
Why is there continuing demand for a foreign education among Chinese students and families? Consider these current truths:
High Youth Unemployment Rates:

Unemployment in China within the young urban population is stagnating at an ugly 20%. A number so stubborn and bleak that the government recently stopped reporting it altogether. What's more, 70% of these unemployed are college graduates, according to a recent article in

The Economist

.

Even more troubling, reliable Chinese economists outside the government suggest that the current youth unemployment rate may be more than double the government's previously published figure.
The Government's Get-Tough Response:

Xi Jinping's response to the current sour economy? He tells the young to "eat bitterness" and "seek self-inflicted hardships." A bitter pill indeed for a generation that has grown up with aspirations of social mobility. After all, China has been more agreeable to private enterprise and other aspects of an open society in recent decades. Significant middle-class growth in China has powered the growth in international education and set a generation of expectations for opportunity. That time appears to be

changing, a lot.

Disillusioned and Disaffected:

A pervasive sentiment among China's youth is that, regardless of their efforts, achieving a better quality of life feels increasingly unattainable. Jobs are scarce. Cities are less and less affordable to live in. The once semi-open culture now feels less so. Even marriage is losing its appeal. This cohort is disillusioned and disaffected.

The government has cracked down on social media posts that refer to "laying flat," (e.g. slowing down and basically giving up). The younger, unemployed/underemployed segment who are discouraged and laying flat become dependent on their parents (referred to as "bite old") as they feel they have very low or no revenue or career prospects.
Economic and political pressures over the next couple years look to be significant within China. Amid this undeniably challenging time for young Chinese citizens, they have eyes on the world through social media. They see opportunity out there.
Read on for our take on how to reassess and adapt your strategies to better serve this vital demographic in the near term. And we want you to be prepared to adapt as the pressures within China change as they are surely going to.
You want Chinese students, and likely, they want you. Or some version of you. Are you set up to be part of their consideration process?
There are barriers that must be dealt with, not the least of which are affordability, visas, career aspirations, and concerns for personal safety. The key lies in your creativity and ability to bend some outdated notions on admissions criteria. We offer a few approaches to turning apparent problems into opportunities.
The problem: There are not enough qualified Chinese students applying to your institution.
Your opportunity: Look more broadly for the student segments that fit your target student criteria.
Adjust your expectations and re-evaluate your criteria. Getting Chinese students to the U.S. for higher education is harder than it once was. Students face more barriers than they did even 5 years ago. Still, of China's nearly 1.5 billion people, 11.5% are aged 15 – 24. Somewhere within this supersized cohort there are prospective students who are eligible and eager to enroll. To reach them, however, you may need to be more inclusive in your admission criteria. It's time to cast your net in different places (geographic, academic segmentation, media channel selection, in-country partner channels) to find those qualified students who may otherwise have been overlooked. Rookie mistake: going after the wrong level of academic prowess (GPA, SAT, GMAT scores) – usually aiming too high based on institutional hubris.
Want to help your team evaluate your current audience segmentation process? See this blog post (one of our most popular).
The problem: Studying abroad appears to be a nonstarter for Chinese students.
Your opportunity: Bring your degree to them.
Build collaborative programs, partnerships, or satellite "campuses in China that allow students to access your teaching closer to home. Consider dual-degree programs or partnerships with Chinese universities that allow for faculty and student exchanges, joint research projects, and shared educational resources. Pro Tip: You do not have to build these from scratch. A variety of solutions are available to help you turn on a remote campus very quickly (see this blog post).
The problem: Chinese students are disillusioned with career options available in China.
Your opportunity: Showcase career pathways that they can actually attain.
Some, if not many, of these students are seeking a better future beyond China's border, whether for a short while or longer term. By the time you spend a few years abroad studying followed by a three year OPT job, chances are the Chinese job market will have changed a lot.
Show Chinese students what success can look like for them while living, learning, and ultimately working abroad. Hone in on your OPT support so they see a path for themselves that extends beyond the degree.
To do this well, you'll want to staff comprehensive services including someone who specializes in immigration services. Offer application services, employment resources, and more. Host creative webinars with alumni and local industry leaders about OPT and career paths of the future (avoid the stale "how to apply" webinar). Demonstrating your commitment to supporting their career goals will be a powerful motivator, as long as you have authentic success stories to tell.
The Bottom Line
The number of incoming students from China is on a downward trend from a supersized volume. The numbers still dwarf almost any other global student source. Given a variety of influential factors, Chinese students will continue to evaluate and commit to international study options. While others remain cautious and reduce their efforts, you have the perfect opportunity to demonstrate your commitment to this region and be successful doing it.
There remains too much potential to ignore. And the need for ties to China remains more important than ever when political leaders are at loggerheads. As you rethink/reshape your Chinese student strategy, be in touch. We'd love to help you find and engage the students you seek.