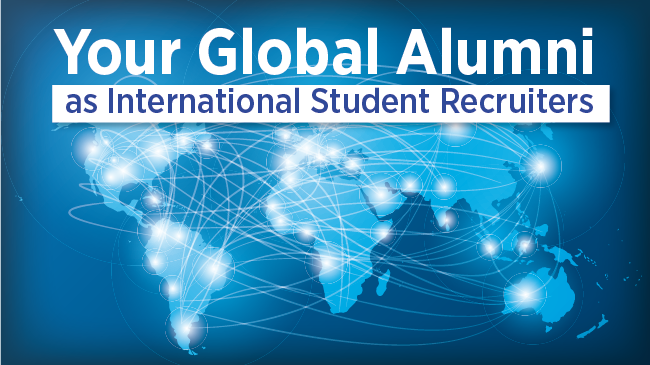 Student perceptions ARE their reality.
We are all facing growing concern about the flow of Indian students (and other international students) to the US as a study destination. We are hearing their concerns about US visa and H-1B processes. While the new US administration has not made any real policy changes for Indian students, perceptions have changed. Many Indian students are perceiving that a U.S. education is less accessible and the door to US job opportunities is closing.
Are we up to the task of changing these perceptions? Are we able to reassure Indian, and other international students, that the educations US institutions provide continue to represent tremendous value and advanced career opportunities?
Ironically, one of the most powerful assets your institution has is also often one of the most under-utilized. As an institution, you already have a built-in network of loyal advocates who are, more than likely, already doing your promotional work for you. They are willing, eager and well positioned to talk about the value of your institution: your global alumni network.
The question is: have you made effective use of this key advantage?
We'll be talking about using alumni and other international student recruiting tactics at NAFSA in LA next month. We hope you'll take a moment to schedule a meeting with us if you are attending, too. Let us share our latest jaw-dropping research with you.
Read on for a set of essential tips and techniques for making effective use of your alumni network to recruit international students, around the country and around the world.
(Pro Tip: share this post with your Alumni Office.)
Who better to speak about your institution than previous students? When alumni spread the word about your institution, it sends a powerful message. Back when Emily shared her story about being recruited for her Master's program, she mentioned that her recruiter was also a former student of the institution (Missouri State). His ability to talk about the institution with ease and excitement is part of what drew her to the university. Your alumni have great influence and they are authentic (authenticity is critical). But how can you make sure their experience reaches the right ears?
For a different take on using the career building benefits of your global alumni network as a recruiting tool, download our recent report here.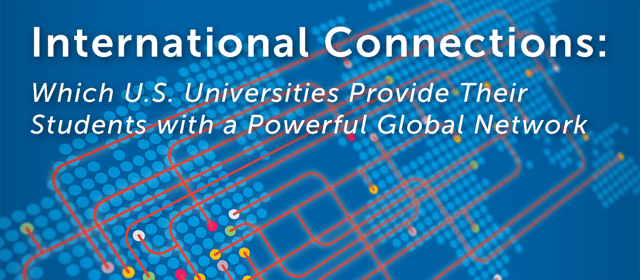 Alumni Tell Authentic Stories
This first point is essential in your marketing literature. Prospective students look at your institution online every day and think "can I see myself there?" Your job is to help them see that what you have to offer has helped many students just like them excel.
This is where your alumni stories are essential. If you can involve your alumni in webinars, videos or help them craft a written story, you have the opportunity to create an instant connection with your audience.
This work will differ from country to country, but if you can present the right alumni stories—an entrepreneur from Vietnam, an IT professional India, an business major from Brazil—you give prospective students the ability to envision their own future and build their faith that your institution will get them there.
Improve Yield with Personal Phone Calls
A simple phone call can go a long way—your alumni don't necessarily need the "recruiter" job title to make a few phone calls. Connecting your prospective students with your graduates shows your prospects that the relationship between student and institution is genuine and long-lasting. When one of your alumni calls to answer questions about the application process or congratulate a student on their acceptance letter, it is a meaningful gesture that will make an impact on your prospective students. It is customized communication that feels more intimate and human than receiving an email or an information packet by "snail mail."
Generate New Leads with Career Fairs
Every year, some of your alumni attend career fairs for their current employers to help them find new talent. This representation is valuable to your institution. Recruiters and professionals attending career fairs, in addition to recruiting new talent to their employers, draw attention to their alma maters. It is an opportunity to show current students the strong career development your undergraduate, graduate and non-traditional student programs offer. Your grads are walking advertisements for your institution.
Successful alumni also may be able to provide key internship opportunities to your current students through on-campus career fairs. As we have written before, internships are critical for future employability – and are great attraction tools when you are recruiting new students. More and more students are recognizing this opportunity and are eager to gain early career experience. Your former students make up a network of career professionals, many of whom feel pride and commitment to your institution and may be willing to give your students the opportunity they need to succeed.
At the very least, you may be able to build a strong network of alumni willing to provide informational interviews to your recent graduates. You might even offer the alumni a $15 Starbucks card to get them into the swing of things. You may send them a new card every few months. You may find you end up with a highly motivated (and caffeinated) army of promoters at extremely low cost. These interactions are great practice and can lead to referral opportunities for everyone involved. (Just a thought).
Use Mentors to Foster Student Retention
How good is your institution at retaining international students? It is commonly accepted that it is far more efficient to retain a student than to attract a new one—but how can your alumni network work to bolster your retention rates?
Being an international student is difficult. If your international students feel lonely, overwhelmed or culturally displaced on your campus, they may start considering other options—often your competition. Comfort, security and a sense of purpose are essential. Pairing your students with professional alumni of similar cultural backgrounds or degree programs can make your students feel more at home, while fostering employability. Where your alumni have been successful earning OPT opportunities, visa sponsorships or building a career in their home country, these experiences can motivate both your current and prospective students. These interactions and connections can be built via Skype, WhatsApp or other online tools.
This kind of mentoring can provide students with support and, importantly, opportunities and firsthand insights into their desired industry. A program like this can be a real draw for many international students. Once you have it in place, promote it. Tell those authentic stories on your website and in your marketing collateral!
Keep in Touch!
This last point isn't necessarily about how alumni can help you recruit international students, but how you can prepare them to be effective advocates for your institution. Staying in contact with your alumni network is essential. They should receive regular updates via email or social media on in-country events in their area, on-campus events and any key news updates regarding your institution. Give them the tools they need to do your word of mouth marketing, effortlessly.
You want your alumni to be ready to actively discuss what is happening within the university at any given time. Being knowledgeable about the current events, successes, and policies of your institution goes a long way with prospective students and will contribute to your reputation in your target countries.
So, do you use any of these strategies for including your alumni in the recruiting process? Are there additional techniques that have worked well for you? Let's connect at NAFSA and compare notes. Send us an email: info@intead.com.