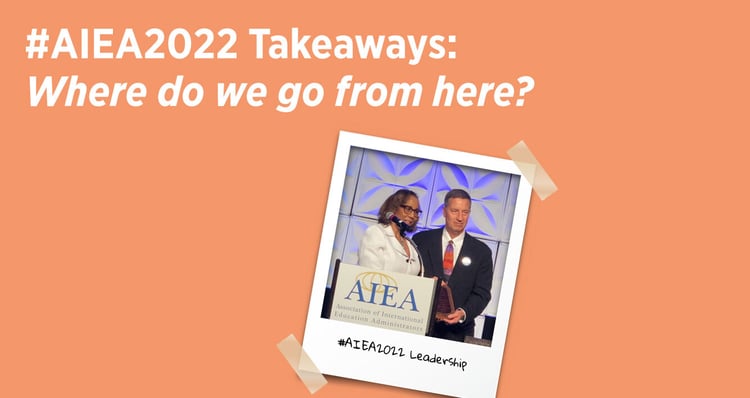 As I wrote from the MSY airport lounge, #AIEA2022 had just wrapped. At that time, in the previous 24 hours, Russia had launched a military attack on Ukraine, some of our colleagues tested positive for Covid at the AIEA conference, and Boston (my destination) was expecting a foot of snow the next day. Oh, and my Boston flight was unceremoniously canceled with no flights available to get me to Boston for another 3 days. Life as we know it continues with turbulent distress, ambiguity, and elements of normalcy.
With these realities in mind, I offer focused reflections on the ideas that struck me most during the conference and a few ideas on how they might add value to your work. As always, we don't want to get all esoteric here. It's about actionable steps for internationalization and diverse student experiences that take us all forward, together, with vision.
Enrollment management is complex. The tools available to help us can be confusing. Read to the end of this post for some very tangible advice from 4 international students who spoke at the conference.
More learning ahead
We hope you will be joining us at NAFSA 2022 in Denver this Spring. We will be sharing 3 forward-thinking presentations and a poster session. We are honored to co-present with colleagues from Benedict College, San Diego State University, Clark University, Northeastern University, CIEE, ICEF, and GNET. More details on those in future posts.
More immediately, read on for reflections and action items from AIEA 2022...
On Big Picture Thinking and Belonging
Those attending the conference noted AIEA's preference for strategic thinking and discussions as opposed to tactical implementation. AIEA leadership and conference presenters consistently challenged us to think big and reflect on where internationalization is going at a high level, and this is largely where discussions stayed. That push brought larger themes of JEDI and the decolonization of institutions and programs into many of the sessions. The phrases "cultural empathy" and "cultural humility" stuck with me.
From a strategic point of view, our goal is to achieve belonging: beyond being invited to the dance, being invited to dance. And, as one colleague shared: while you are at it, maybe offer to bring a drink to your invitees. Create an environment in which everyone feels that they belong.
On Inspired Thinking
The plenary speakers were over-the-top fantastic. To focus on just a few:
Fereshteh Forough – Founder and CEO of Code to Inspire,

an innovative non-profit teaching Afghani girls and women to code. Her wisdom: "Great things can come from empty hands." Looking at the history of so many who inspire us, great things always have.

Leona Tate – A woman who, at the age of 6, stood up to hate and helped desegregate New Orleans schools. She continues to inspire today with her activism and her newly launched

TEP Center

.

She shared: "I cried every day at school because I couldn't stand it. But I was never afraid." And then: "If I had the courage my mother had, I'd be dangerous." Clearly, you do and you are!

Jarvis DeBerry – Columnist,

writer, and speaker, gave us perspective on New Orleans history, the power and importance of Ms. Tate's work, and JEDI and decolonizing life lessons. From DeBerry: "Embrace the discordant feelings and continue to listen, learn, and talk."
On Financial Processes
Budgeting is always complicated and challenging within institutions, and structures for funding internationalization, enrollment management, and student recruitment vary, though there are a few models that are generally used. Yet, so often it comes down to internal clout and connections – the politics of large institutions. Know that you are not alone in the struggle to push internationalization and build systems that support the goals. Your peers at institutions across the country are struggling with the same issues. This is what makes associations like AIEA, NAFSA, ACE, among others, so valuable where perspective, budgeting models, case studies, and camaraderie are all in large supply.
A simple budget perspective tool: if you've not downloaded our Budget Guidance 1-pager, grab it here.
On Achieving Greatness
The devil is in the details…and in the commitment to advancing our community. A big thank you to Darla Deardorff and her staff – what they just accomplished in pulling off this conference amidst all the ambiguity they had to navigate is simply amazing! Your work benefits us all!
A special thank you to incoming AIEA President Dr. Jewell Green Winn, SIO and CDO at Tennessee State University who encourages us all to have courageous conversations, always. "Let's make our differences make a difference." Love that line.
On Actionable Takeaways
Karin Fischer (Chronicle of Higher Education) ran a session with 4 international students who shared the encouraging advice they would give to friends back home about studying in the US: "Come here to study, but be ready. It is on you to find the opportunities." These students felt that the university support structures (student services, etc.) were not doing an effective job to help them navigate the newness and complexities of life, academics, and career opportunities in the US -- especially during the pandemic where travel and other uncertainties were larger, scarier.
University leaders, are you listening to them? Providing this kind of support is how enrollment growth happens.
The students had more great advice for institutional leaders: "Produce communications to your current international students that are proactive, not reactive. Be instructive and give us an extra hand. Know that our anxiety is going to be high." The world has been in turmoil for a few years now and it does not appear to be settling down right now. There is good reason for anxiety to be running high. Failing to recognize that, and provide support for that, is a big mistake.
These extra efforts can help your international student community feel at home (at least for a little while), especially during that critical and confusing first year away from everything they used to know.
Now is the time for courageous conversations. As we navigate internal politics, the onus is on us to clearly articulate the value (financial and experiential) of the work we do, in ways that colleagues will feel invited to join the conversations. Yes, some conversations will be uncomfortable.
What are we doing to get those in power to the table? To overcome their objections? To address the conflicting points of view? To build insight and enlightenment?
It really comes down to our ability to listen and understand our counterparts' feelings. When we do this well, and bring the relevant facts, we are able to effectively push for the changes we know are important and valuable to our institutions and our communities. Facts alone will not move us forward. Listening and bringing cultural humility have the potential to build relationships.
If Ms. Leona Tate could do this at the age of 6 in the face of such animosity. If Fereshteh Forough can do this in the face of intolerance and violence in her home country. If so many around us are sacrificing and risking so much to achieve and deliver education, we must ask ourselves what we are willing to risk.
At the very least, let's set the table for courageous conversations and invite everyone to dance.
Let's ensure we have policies and programs that support belonging.