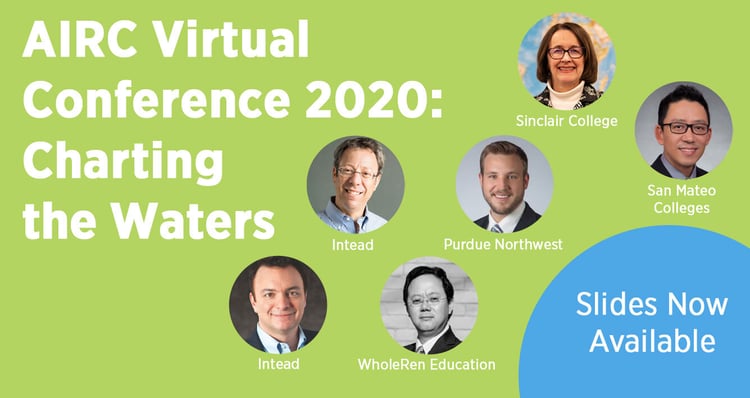 We've been presenting at the AIRC conference for eleven years now, and while the gathering looks very different this year, the value of connection and the wealth of ideas shared was a comforting constant from years past in Miami. Although we did miss the poolside networking on a warm December evening.
This year, members of the Intead team were honored to present two sessions together with our amazing colleagues from universities and other experts in the field focused on the AIRC 2020 Vision of "Charting the Waters."
At Intead, charting the waters of this year has meant gathering and analyzing data, developing targeted, clear (and comforting) communications during this difficult time, and strategizing around new markets and tools to help institutions move their enrollment goals forward.
This absolutely gut-wrenching year, we started addressing the radical changes to student enrollment and student success on February 19 with a blog about adjusting the approach to recruiting international students from China. Days later, we convened enrollment management and study abroad experts for two powerful webinars addressing global ramifications (here and here). This year, our team has published, non-stop, with enrollment management guidance in toolkits, case studies, and eBooks (in addition to this weekly blog).
Read on for a collection of our highest value tips and to download our AIRC presentation slides. You'll find that oh-so-happy link at the bottom of today's post. (Making you work for it ; -)
This year, our predictions and counsel appeared in the Boston Globe and the Chronicle of Higher Ed in February and early March warning of a severe downturn and offering recommendations to academic administrators.
By May, when we projected international education numbers in the US would "drop like a rock," in yet another Boston Globe story, some felt we were overreacting. Today, with a 43% drop in international student enrollment in the US, well, in this case, we hate to have been proven right.
Consistently, the Intead team has anticipated the changes, offered concrete solutions including upping the digital recruiting approach, accessing global campuses and alumni networks, supporting recruiting agent relationships, and making a concerted effort to recruit international students already in-country. All the while, we warned of others in the field pushing questionable data points and solutions.
So, with such a turbulent year for our industry and so many institutions looking for both quick and long-term relief, we focused our AIRC presentations on digital campaigns and recruiting onshore international students. We wanted to elevate two data-driven approaches, along with messaging and strategy insights, to guide your course through the choppy waves.
We shared real world examples from clients who took our advice this year and are the better for it.
Many thanks to all of those who were able to attend and connected with us virtually. And if you missed our presentations, never fear — today we're sharing our slides and a BONUS page with some of our most valued content addressing the approaches we recommend – all for you, our blog readers.
AIRC Session #1: Digital Campaigns that Diversify Your Draw
Ever wanted to peek at another institution's marketing results and actual spend? Well, now's your chance! In this session, Purdue University Northwest and Sinclair Community College discussed recent, successful Intead digital campaigns focused on increasing and diversifying their international applicant pools. We're talking real data on CPMs, Impressions, CTRs, CPCs and more (and if you aren't sure what all of those terms mean, check out the helpful paid marketing glossary included at the end of the slides.) Some of the key learnings:
Top performing creatives included videos and student testimonials as well as diverse, positive imagery of students on campus.
Compared to parents, students needed multiple touch points to convert, but parents were more expensive to reach.
In specific target countries, Spanish language ads significantly outperformed English creatives and generated 3x as much traffic.
Also covered in the presentation: insights into how Intead works with our clients to select target international markets and our clients' step-by-step processes from internal approval through to campaign launch.
Intead's Director of Digital Campaigns Chris Caputo presented this session alongside George Kacenga, Executive Director of Undergraduate Admissions at Purdue University Northwest and AIRC Immediate Past President, and Deborah Gavlik, Director of International Education of Sinclair Community College.
AIRC Session #2: The New Fight for Onshore International Students
The COVID-19 realities are really real: New international student enrollment at US colleges this Fall was down 43%. But as we've said many times in this blog before—when challenges arise, we don't get frustrated, we get focused.
In this AIRC session we did just that, homing in on the large, valuable, and increasingly competitive international student market already in your backyard: international transfer students from other US institutions. Topics covered in the presentation:
What are the opportunities and challenges in recruitment of onshore international students? Including types of onshore student transition pathways and sample transfer marketing materials.
What information do you need to best inform new recruitment plans and initiatives for this market? Including macro trend data, links to valuable external data sources, and examples of internal data points and surveys that you can use to help identify leads and develop targeted messaging. It's time to re-visit those Admitted Not Enrolled Surveys.
How to retain onshore international students? Think parental communication, mental health support, and more…
Intead's CEO Ben Waxman presented this session with Dr. Jing Luan, AIRC President and Provost of San Mateo Colleges of Silicon Valley, and Andrew H. Chen, CEO of WholeRen Education LLC.
To download the presentation slides for Sessions #1 & #2 as well as our AIRC bonus resources (latest eBooks and webinar) follow this LINK.
Missed us at the virtual conference or want more on our presentations? Get in touch!