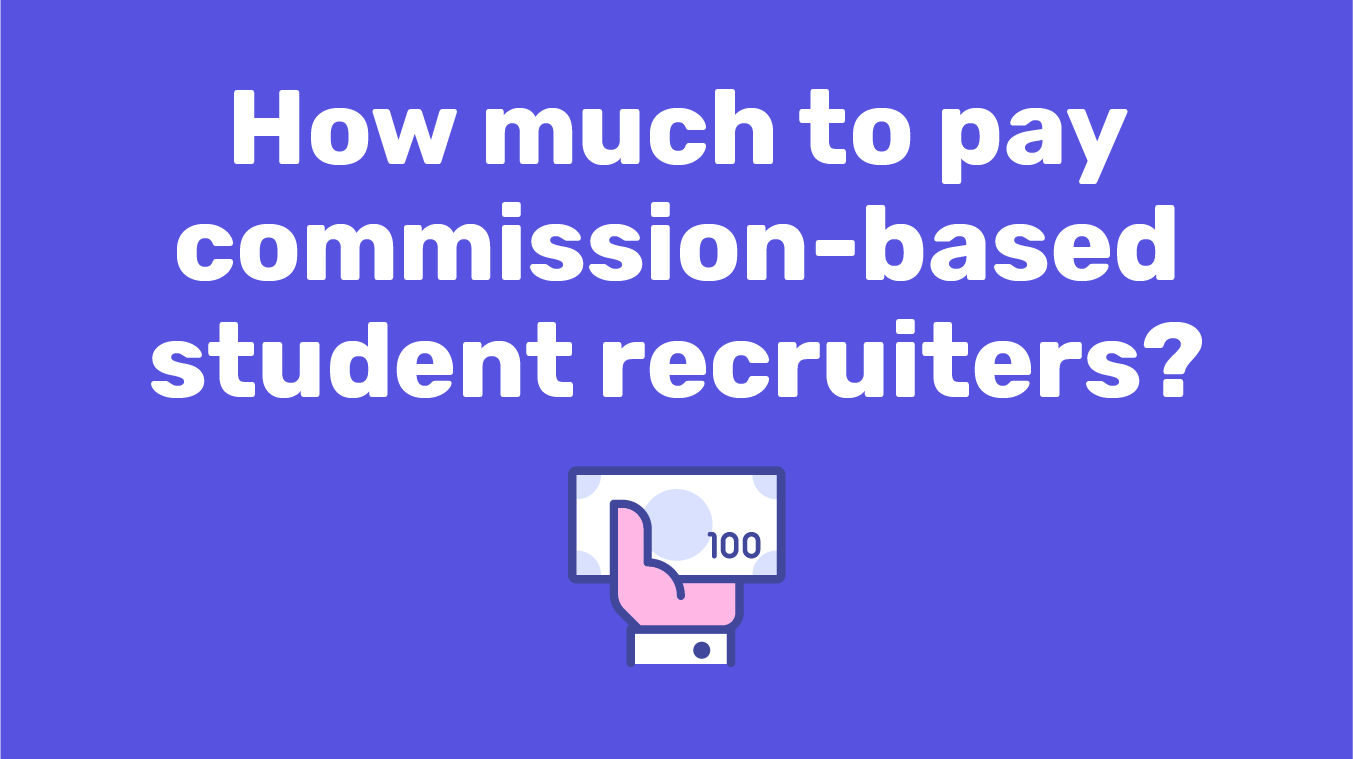 The agent debate ended a number of years ago for most of us. Sure, there are a few stragglers complaining about the unethical practices out there.
Our view: Every industry has unethical characters. Commission-based recruiters, as a group, have more than their fair share. Basic buyer beware precautions are the rule. Careful vetting and management of your recruiters will keep you from getting burned more than once.
Rather than being asked whether commission-based agents are a valid recruitment channel, we are now consistently asked, "What is the going rate?" And the market is shifting.
Intead and AIRC set out to understand as much as we could from both universities and agents in the current market. We published our report late last year and offered up a well-attended webinar.
Want to learn more about what others are paying their agents and how they are managing those relationships? Our most recent research findings and the webinar recording are just a click away.
Read on…
A Little Justification
If your colleagues still need convincing that this recruitment channel is legit in the U.S. (the U.K. and Australia don't need any convincing at all), you might want to share a report from the American Council on Education – you know, the folks who run those well-respected, sought after, multi-year programs on internationalization. Their research published in 2017 shows that between 2011 and 2016, use of commission-based recruiters grew dramatically among all Carnegie classifications. From their report, "For both the undergraduate and graduate levels, the percentage of institutions providing funding for recruiting agents more than doubled between 2011 and 2016. For both student populations, master's institutions engage agents at higher rates than colleges and universities in other sectors."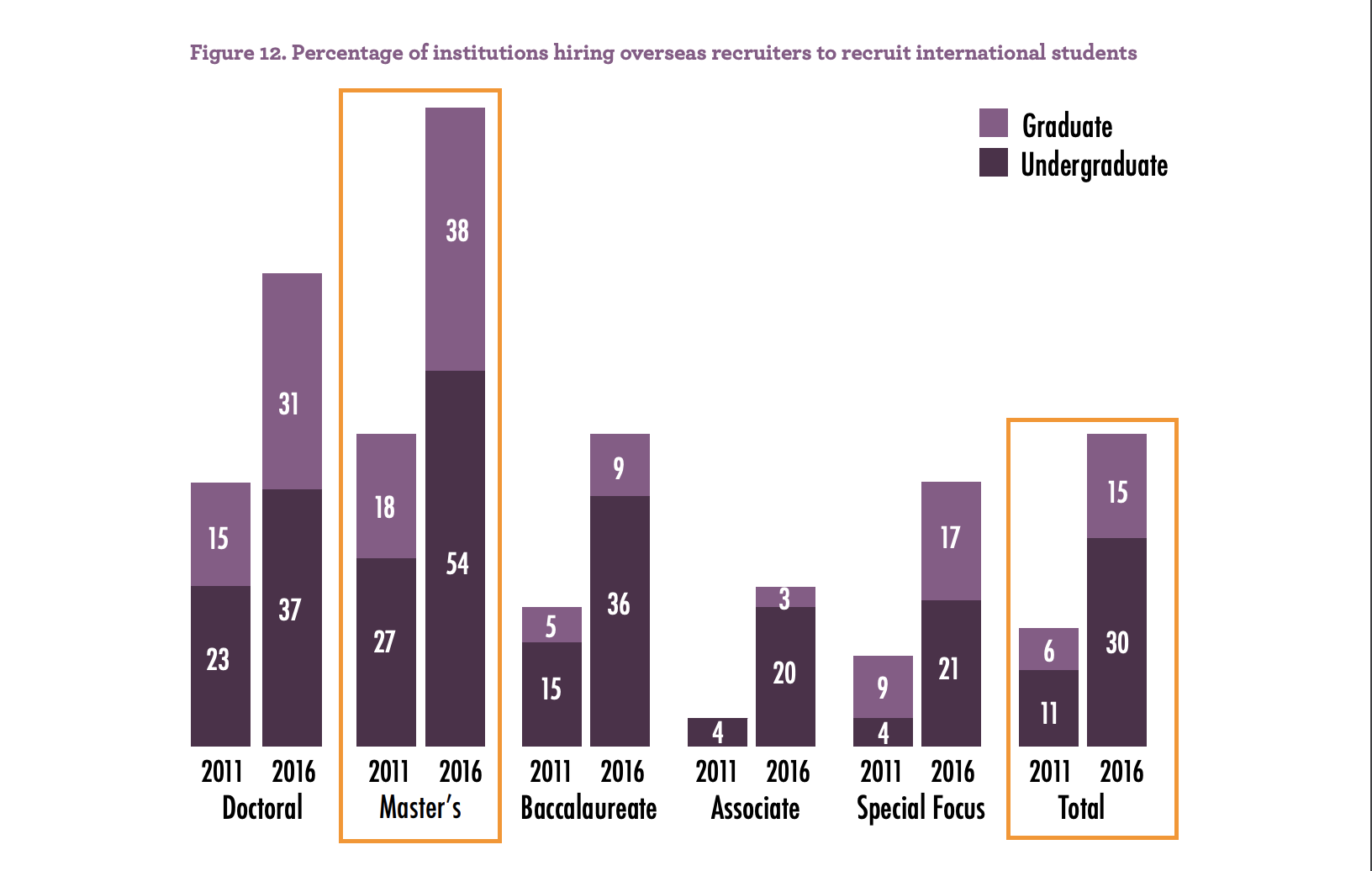 Source: Mapping Internationalization on U.S. Campuses, ACE, 2017 Edition
Again, buyer beware. If you are contracting with agents and not involved in managing them on a weekly (or at least monthly) basis, you are going to put your institution in some difficult situations at some point in the future. Not an "if" but rather, a "when."
Intead will be presenting on the topic of the agent recruitment channel alongside a fantastic group of academic leaders at the next TABS Global Symposium in Newport, RI at the end of April. We'll be sharing the dais with Ian Cann from ICEF, Kevin Merges from Rutgers Prep School, Emma Kauffman from Roanoke Catholic School and Frank LaGrotteria from Bridgeport International Academy.
Here's What You Came For
You'll find our most recent research with AIRC on this topic by clicking right HERE. Spoiler alert: bonus structure matters.

Great resources related to commission-based recruitment:

Tap AIRC's fantastic work in this field and their list of vetted, certified agencies.

ICEF has some valuable educational opportunities to address best practices when developing agent relationships.

Intead's Agent Management e-book (available free to

Intead Plus

members). Concrete, best practice advice from 50 of your peer institutions gathered in one easy to read ebook.


Commission Perspective
Payment for this service is typically based on a success fee for enrolling a student at a particular university, so there is generally no risk for the university to have out-of-pocket expenses without an enrollment, making it attractive to admissions professionals. The prevalent market range as compensation appears to be around 15% of first year tuition (excluding housing costs) paid by the international student. The payment is generally tied to the cash received by the university.
As an alternative, some institutions prefer a marketing fee to the recruiting agency rather than a per student commission. This approach eliminates any discussions of the tuition level if the university provides financial support (scholarship) to the student.
You'll find other stipulations and terms, such as additional fixed marketing payments to the agent. Some universities like to pay the fee over two semesters to make sure that they have retained the student, if tuition payments are not on an annual basis.
Student Fairs Have Value
Many agencies will seek your participation in their student recruitment fairs for an additional fee. These may be well worth your investment as it will raise your profile locally and incentivize the agency to work hard to promote your institution over others. Yes, the more an institution pays for the recruiting agency's services, the more attention the agents will focus on that institution. Therein lies the grey area that suggests inappropriate recruiting activity. We get it.
And we ask that you consider how your admissions officers are perceived by the international students and parents they meet. From the student and parent point of view, your admissions staff are paid by the university to travel overseas and push students to apply and enroll at your institution. They see you as a salesperson incentivized to push just one school. They see the local recruiting agent as a salesperson incentivized to push a larger set of school options.
Now which salesperson seems more inclined to help you find the best fit?
The Competition for Good Agents Continues to Grow
Reliable, ethical agents are in high demand. They may not have time for your institution if you don't have the academic programs and rank they think their students want. With the current level of competition, if your institution is not top tier, you will likely need some assistance getting introduced to a good agency and you will need a strong story to tell for them to agree to represent you.
Keep in mind that in most cases the commission-based agreement is signed with the recruiting agency. The counselors tend to be paid a salary in most countries and don't necessarily benefit from recommending any specific university. This separation of fee and recommendation is useful, since the counselors, student and parents need to focus on the appropriate match and college fit for the student.
Important to remember that the agencies have dozens of colleges under contract and you need to provide up to date, relevant materials, in local language. It is human nature that the counselors will try to find the easiest and fastest fit to place the student. Your job is to help them do a good job for you.
Lastly, in many instances, university commission payments are only part, and frequently a small part, of the compensation for the counseling agency. Parents pay an advisory fee as one would pay to an independent college counselor in the U.S. These payments are in exchange for application and visa support to the students and family – no small amount of effort goes into preparing applicants for their visa interviews. With recent changes in approach at the U.S. State Department, agencies doing a good job with visa prep are incredibly valuable to the U.S. institutions hiring them.
Watch This Space
We have and will continue to publish additional blogs on topics related to commission-based recruitments and other international student recruitment methods. Be in touch if you need some help getting to where you want to go. info@intead.com