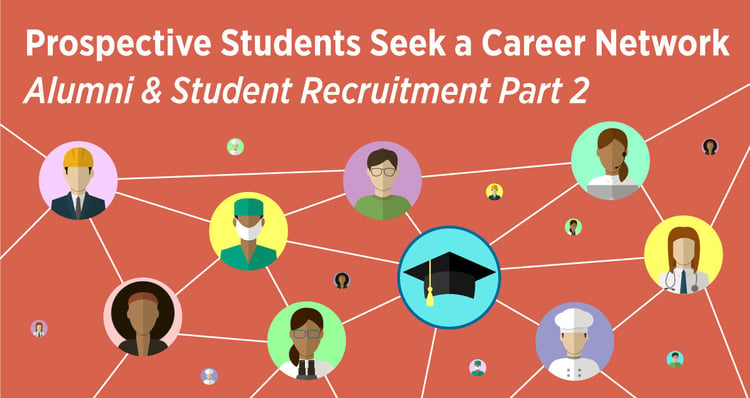 If career outcomes truly drive prospective student decision-making (they do), then a critical question arises for most institutions: Are you effectively utilizing your alumni to recruit new and retain current students? (We know what your answer will be).
Last week's blog post laid out the benefits of building a strong global network of alumni and three cost-effective ways to get it off the ground:
Modernize data management

Start small and build out

Key into senior class leadership
Now, let's talk about getting that network to engage, recruit, and help retain students.
---
But first, come learn with us. Your key international student markets are not what they used to be. Among our colleagues in this field, we see a tremendous thirst for gathering and evaluating recruitment options. Now is the time to pause and think this through. Join us at the Intead/San Diego State University One-Day Workshop, it's a hands-on opportunity to learn from awe-inspiring international student recruitment faculty. You won't want to miss it.
A full-day hands on workshop on strategy & execution. Come with questions, leave with a plan.
Two luminary keynotes

Luncheon on Social Justice with Dr. Jewell Winn and Adrienne Fusek
Dinner on Chinese Student Influencers with Dr. Yingyi Ma and Brad Farnsworth
At $200 for the day (inclusive of all meals), this full-day learning opportunity is a steal. (Pricing goes up to $350 on October 24, 2022).
---
Ok, back to the power of your alumni!
The Michigan State University Alumni Association has had a strong program with clear goals for its Alumni Student Recruitment program:
Increase the number of highly competitive and qualified students considering Michigan State a

t the undergraduate level and increase the percentage of admitted students who enroll

Provide a local information source for inquiring students, applicants, admitted and enrolled students, and their families

Provide regional assistance to the Michigan State admissions staff
Back in 2018, we were fortunate enough to co-present with Daniel Spadafore when he built and led this program at Michigan State in his role with the International Advancement Office. Also part of the presentation, Dr. Gretchen Dobson who has provided strong, consistent advocacy for the importance of alumni engagement that universities typically overlook.
Michigan State's goals can be adapted to other institutions based on their leadership, resources, and of course, the alumni network they have tracked to date. The process of implementing such a program is not as complicated as you may think.
Read on to learn more about how to develop an action plan for your alumni network that can yield positive returns on your investment.
In their May 2020 article appearing in University World News, "New role of alumni in recruiting international students," Intead colleagues Dr. Gretchen Dobson and Marguerite Dennis explained how the post-COVID pandemic landscape has altered how institutions identify and recruit international prospects.
"It is a critical time to engage global alumni, students, their families and other international stakeholders in key and emerging markets. It is important to focus on 'low-hanging fruit' because sustaining existing strong relationships is an authentic and sincere act in these times."

"Additionally," the authors continue, "a subset of institutions' global ambassadors – brand champions – is most likely engaged at the highest level (alumni officers, donors and board members) and has the ability to influence perceptions locally as well as an ongoing interest in enrollment during these challenging times."
The authors pose five questions you can use to help shape a strategy that maximizes the potential of an alumni network, putting you on a track to short long-term success:
Is our organization involving our alumni and other stakeholders in the most authentic way? Is our strategy shaped by their opinion or perceptions and beliefs about their affiliation?

How are our competitors approaching recruitment in key markets?

How will investments in global alumni maximize our efforts to maintain our fundraising priorities?

Is our institution's global brand perceived by alumni the same way, or does culture make a difference?

Is our engagement strategy for current students good enough to last a lifetime?
When it comes to alumni, it's often the first approach of going after the 'low-hanging fruit' of only those who are considered the most 'successful.' The rationale for this is self-evident in the theory that success breeds success and by exposing new or prospective students to those who've achieved great things after leaving an institution, history could well repeat itself for the newer generation.
But does that approach truly yield the best results?
If the goal of an alumni network is to help market your university to students and their families, and a primary tenet of marketing is 'image' and 'branding,' then leaning exclusively on the top percentage of alumni isn't as strategic as you may think.
That's not to say these A-listers are not valuable, because of course they are. Their fame has broad appeal. However, the 'success breeding success' theory is fallacious, because there are no guarantees of history repeating itself for a wide range of legitimate reasons.
An institution might be better served by a wider cross-section of alumni who can speak to a more rounded collegiate experience for new and current students. Those alumni without the trappings of fame are much more likely to have the time and inclination to speak at events and 1:1 with prospective and current students.
With fundraising being the typical first priority of any alumni relations office, bringing student recruitment and retention to the fore can be a slow process. It pays to have institutional support from many stakeholders in leadership positions.
What you are seeking is the buy-in that alumni can contribute to the institution's success in many ways, beyond philanthropy. If their presence can increase tuition revenue, that is a big win. Creating a supportive environment to help alumni participate easily is everything.
Specifically, your alumni can:
Help shape the way your institution is perceived by those outside your immediate community. Taking their pulse will help them feel like they're being heard by administrators and other key people. Any good development office is already listening and responding to alumni. They provide important focus group-like feedback.

Provide testimonials and other content which can be used in global recruiting and fundraising packages in a cost-effective way.

Attend local student fairs and other recruitment events and talk about their career choices and their alma mater.

Host small recruitment-focused gatherings at local eateries or cafes.

Take 1:1 virtual meetings with current students seeking career advice (and maybe even offer internships if they are in a position to do so).
Through effective communication, outreach, social media and marketing, even a small start-up department on a modest, consistent budget, can create a network that keeps a steady influx of new students coming to campus and develops current students into successful, career-focused alumni.
This is the kind of strategic thinking that fuels us. Need a partner in developing a smart alumni relations strategy for your 2023-24 recruitment cycle? Be in touch. We'd love to help.
And check out the amazing faculty at our SDSU-hosted workshop. How many of them do you know?