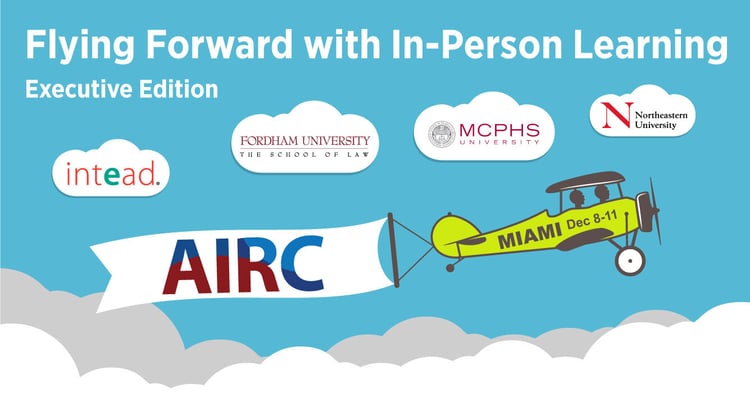 Let's get a sneak peek at what the Intead team has in store for our fellow AIRC conference colleagues this year. A powerful group of student enrollment professionals will be gathering in Miami in just a few days. We can't wait!
At this year's AIRC conference (Miami, Dec 8-11), I will be sharing what we have learned recently through our work with three outstanding institutions. Our two conference session presentations this year speak to getting students to become aware of, and engaged by, the specific learning opportunities your institution offers. We hope you can join us.
Finding and Managing Brand Ambassadors for Recruitment

Intead with Northeastern University's Kirsten Feddersen

, Senior Director of International Enrollment Management. This one is truly a cutting edge take on influencer marketing and Gen Z attraction.

Innovative Recruiting Approaches for Specialty Grad Programs

Intead with Fordham Law School's Toni Jaeger-Fine

, Assistant Dean of International and Non-J.D. Programs and

Massachusetts College of Pharmacy and Health Sciences' Ita Duron

, Executive Director of Global Strategies & International Programs. This one looks at a range of creative student recruiting alternatives to digital campaigns.
We are all eager for first-hand experiential learning opportunities and we complement that with the welcome release of the latest data from IIE's Open Doors, NAFSA's economic impact analysis, Common App's data, and the National Clearinghouse's enrollment numbers that help inform the marketing magic that underpins our work here at Intead.
Read on for a bit of pre-conference insight into why these two conference session presentations rose to the top of our list this year.
Many of our colleagues traveled to Seattle in September for the NACAC conference. The opportunity to travel and meet safely brings energy and, admittedly, a bit of COVID trepidation.
Since the pandemic began, despite the concerns and restrictions, members of the Intead team have traveled safely to Brazil, Costa Rica, Mexico, The Dominican Republic, and Ireland, in addition to domestic trips here in the US. Getting out there, experiencing the world, gaining that invaluable perspective that only comes from being somewhere new and exploring, reflecting on the perceived differences.
Many of us are getting back into the swing of things. If you think the following synopses are interesting, be in touch and we can share insights even if you can't get to AIRC this year (we see you Californians!):
Finding and Managing Brand Ambassadors for Recruitment
In this session, Kirsten and I will explore the rise of Influencer Marketing and how that concept can be adapted for academic marketing by bringing a more authentic approach with brand ambassadors (not to be confused with Unibuddy Ambassadors).
Digital marketing options and channels continue to proliferate. TikTok has become an influencer channel as powerful as (or more powerful than?) YouTube over the past 18 months. Influencer marketing taps the digital marketing power of a new generation of content creators but carries a level of inauthenticity that does not serve academic institutions well. We'll be talking about paid affinity vs. organic affinity.
What we want is a set of brand ambassadors able to build a new community with genuine affinity for the institution. To figure this out, we conducted a small study of Northeastern University's digital community and how a range of influential members (students, alumni, faculty, administrators) might be tapped to build the institution's brand at low-cost. We specifically looked at ways to execute a brand ambassador marketing program that would require the lightest possible lift by the Northeastern marketing team.
Our findings offer a model that can be applied to any institution's efforts to analyze their digital brand growth opportunities and build stronger application and conversion rates.
Innovative Recruiting Approaches for Specialty Grad Programs
In this session, Toni, Ita, and I will review the range of valuable recruitment channels available, from agents to digital marketing, and then dive deeper into a number of innovative recruitment programs employed by specialty graduate offerings from two unique institutions.
This presentation offers insights into how to build enrollment pipelines by leveraging existing relationships institutions already have. We will share ideas that expand the parameters of what many of us consider "traditional recruitment." We will share specific outcomes from recent recruitment initiatives that leverage stackable graduate certificates, offer innovative arrangements of scholarship funds, and tap relevant employer relationships.
There are many reasons to attend the AIRC conference this year. The learning from this event has always been top notch (that comment is based on more than 10 years of attending). There is still time register and attend: AIRC Conference Registration.
The pent-up demand for on-campus experiences by domestic and international students is growing. And of course, there is trepidation on the parts of the students (their parents), the faculty, and the staff and administrators. The media for the past two years has been letting us now every day how much that could go wrong. It is a challenging balancing act, for sure.
There are opportunities to move forward with confidence and build institutional buy-in for the recruitment models that are working now. Let's all keep sharing our experiences of what keeps us all safe and moving forward as individuals, as institutions, and as a community of educators.
Ben and Patricia look forward to seeing you in Miami. Coffee? Sure! We're buyin!
Schedule a meeting with us here.