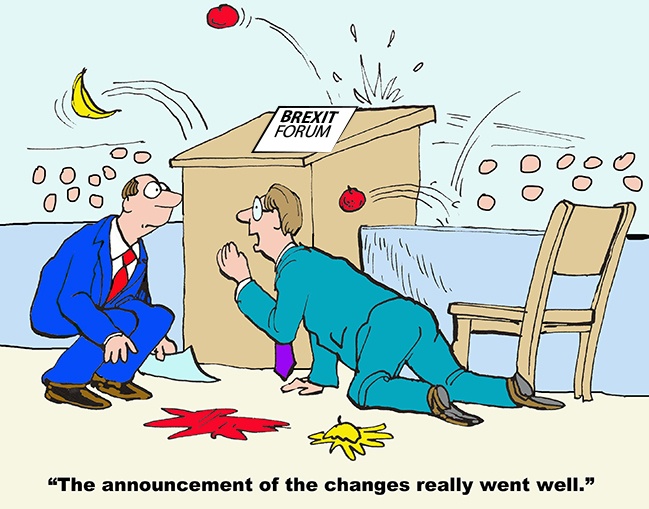 Moving is such a drag! We've all been there. Packing up all our belongings. Having to make hundreds of rapid fire decisions. Should I bring this? Do I need that?
Intead has recently moved our offices (we are still in the Boston area; just 2 blocks from our old location). Our experience has been exciting and exhausting.
Still, our experience moving is insignificant compared to what your international students do to move half way around the world to reach your campus. With moving, it is the sheer number of big and small decisions that require and consume such energy.
We need to do all we can to make those decisions as easy as possible for our students. We need to control all those things we can control to make our international students confident and comfortable.
And yet, there are plenty of things that are well beyond our control. Today's blog post addresses government policies and how we, as international student recruiters, must adjust how we do things as those unwieldy governments make our jobs difficult from year to year. We have some specific examples about policy changes in Vietnam, Saudi Arabia, Brazil, UK, Canada, and the US that are instructive for all of us.
Bottom Line: As government policies come and go, we need reliable international student recruitment systems in place to stay on track and adapt to the student mobility motivations and trends. The best and most creative among us use social media marketing to address the topics of the day in our marketing messaging. We adjust our marketing to meet the specific concerns and aspirations our prospective international students are experiencing. Want to know how your team can take advantage of the political turbulence to help your prospective students make good decisions? Read on...
About moving, we LOVE our new office space – more than twice the size of our last office. We have been adding staff rapidly over the past 2 years and we were really getting crowded. Now we have more room to breathe and continue to grow.
We'll be throwing an open house later in November (if we can empty all these boxes by then!). If you are in the Boston area, we'd welcome a visit. And if you can't be here, why not meet us in Miami? Or San Diego? We will be doing our best to share all our global digital marketing experience at workshops and other presentations at the AIRC conference, the ICEF Workshop and our latest effort to share knowledge: The First Annual International Student Recruitment Bootcamp (2016 theme: What Works Where) presented in partnership with CGACC. Let us know if we can schedule a coffee date at any of these venues.
But I digress. Let's talk about government policies. Let's travel to Vietnam first:
Vietnam Policy Changes: Mark Ashwill from Capstone in Vietnam wrote a great summary for ICEF Monitor about the policy changes around agents working in Vietnam. Basically, the government took away some hurdles to opening a student recruitment agency in Vietnam. With the floodgates open, the need to vet your Vietnamese agents, their past work, and their capabilities is even greater now.
What to do? Use AIRC to identify the best, most trustworthy agencies in-country. And use ICEF to meet agents face-to-face without having to travel outside the US. We've been working with AIRC and ICEF for more than 6 years now and we are quite selective about our partners. These two both operate highly reliable and useful services for our industry. You still have to do the work, but these guys set you on the right path and give you tools to make good decisions. Another resource, our Agent Management e-book. (If you've not yet downloaded this, it details best practices from universities around the world).
UK Policy Changes: We've all been following Brexit and the economic fallout. Much of the motivation for Brexit revolved around immigration issues and the availability of jobs in the UK. Policies under discussion seek to reduce immigration from ~300K/yr to ~100K/yr. Much of that reduction will fall on international students. That effort, along with planned limitations on work visas for international students is already making the UK a less desirable destination for our prospects. We recently participated in a podcast on the topic with EL Gazette if you want a bit more detail.
What to do? If you are a US institution, emphasize how your university welcomes international students and supports them with career services (you have those for international students, right?). If you are a UK institution, continue to emphasize the quality of your offering and work hard to educate your policy makers about the value of international students to the UK economy. If they don't hear it from you, they certainly aren't going to hear it from anyone else.
Saudi Policy Changes: Those in our field know that the King Abdullah Scholarship program that has been funding Saudi students to study in the US for both language programs and full degree programs has been altered and funding reduced. These changes have sent ripples (and in some cases shock waves) through international student admissions offices across the US. Reduced revenue for the same level of service is always difficult to absorb. Some campuses are not able to make the numbers work.
A similar challenge has arisen with recruiting from Brazil where the economy there has prompted the government to recind their international student scholarship program. Fewer Brazilian students are able to make the leap to studying abraod.
What to do? A classroom with 10 students costs as much to run as a classroom with 20 students. The hard truth is that the numbers do have to work. One option is to invest more in marketing to maintain classroom numbers that will make the program viable. There is risk in this option since you cannot guarantee that the marketing will pay off. Take a look at our blog post earlier this year about recruiting in Saudi Arabia for some good ideas. And check out a post and a podcast for ideas for Brazil. There are still great opportunities to recruit from both countries.
US and Canadian Policy Changes: OK, we don't usually lump countries together since they are all so different, but in this case, both governments made changes to their conditional admission requirements. New visa regulations are hampering pathway programs that provide conditional admission based on a student's successful performance in a language or other pathway into a full degree program. These kinds of pathways have been used very successfully in UK, Australia and Canada for years. The US was gaining traction here as well. Not so much anymore.
What to do? Pathway and language programs can still work as pathways to students becoming enrolled in a full degree program. The application process is just that much more laborious. Student services can play a significant role in helping pathway students complete the necessary application processes and encourage them to take advantage of all your university has to offer. More staff time on your part, but you have the students right there on campus. What better opportunity to meet with them and present the opportunities before them? No travel or other hard marketing costs. Still, it is going to be harder to get those students to your campus in the first place due to these new regs.
Wrapping it up: Government policies are going to continue to change and give us all headaches. These are the rules of the road for this industry. With a little effort and ingenuity, we can communicate what it is our campus offers to prospective international students in any part of the world. There will always be a segment of any community where your institution is a great fit. The challenge is to find these prospective students AND be sure your marketing message speaks to their concerns (a welcoming environment) and their aspirations (to improve their English; to live in the US; to find a great job in their field). As challenges arise, our messages to prospects must adjust to let them know, "It's going to be better than just OK. You are going to thrive here."