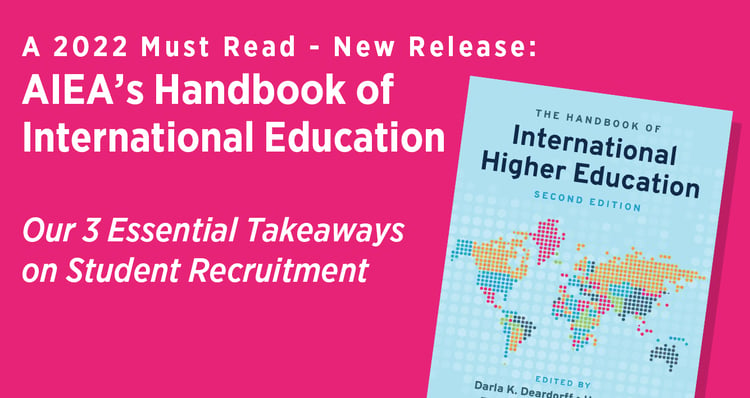 In the age of snack-size content, The Handbook of International Higher Education, 2nd Edition is for a hungrier reader.
This deep-dive resource, thoughtfully delivered to all of us by AIEA, provides exceptional context for many of the issues we are all facing now and offers a glimpse of what lies ahead.
The book explores the evolution of student mobility, commercialization of academia, higher ed-tech, the student experience, and more. Collectively we've spurred so much change since the handbook first published just a decade ago. Not to mention the issues that have changed us (immigration, social justice, COVID, technology).
Side note: if you'll be attending the 2022 AIEA conference in New Orleans (Feb 20-23), be in touch and we'll find time for a coffee and an exchange of ideas.
There's little doubt that we are in the midst of profound transformation. How we move forward must be informed by where we've been. Our colleagues agree international education is vital to an increasingly interconnected world. Yet, even this bedrock is evolving. Once driven by societal cooperation, contribution, and service, there is an undeniable shift toward competition and marketization in higher education. Perceptions and approaches vary depending on where you are in the world and the primary sources of your institution's funding (i.e., government vs. private).
Read on for our quick summary of what the handbook offers us from a student recruitment point of view. A piece of the higher ed puzzle that is evolving with quickening speed.
The past two decades have brought explosive growth in global student mobility. Throughout this movement, America has been the preferred destination for non-US students seeking an international education. But the industry may be changing its tack. From 2016 to 2018, the international student population increased by only 4.9% in the US compared to 39.5% in Canada and 25.5% in Australia. And then Covid hit and enrollment has been thrown further off course.
If you haven't yet done so, you can purchase/download a copy of the new handbook. Find it at the AIEA site here.
Fortunately, experts are predicting international student enrollment will pick up this year. Trusted sources tell us deferments are declining. A good sign! The future is of course yet to be written. So, today let's look at a few issues the AIEA handbook says shaped the state of student recruitment as it stands today.
Takeaway #1 The US remains a strong preference for students globally, but the competition is tightening.
Why? Tuition in the US is reliably high. Financial aid is reliably low. And the road to finding in-country work after graduation is difficult. This is not necessarily true elsewhere where tuition is often lower and the path to employment clearer. So many headwinds for the US!
Consider Germany. Higher education is a national priority, and the government is keen to use institutions to train employable personnel in science, engineering, and health-related programs. As an extension, Germany makes it relatively easy for international students to stay and work after they graduate. So much so that over 80% of international applicants to German universities are motivated by in-country career prospects. Further, a growing number of the country's graduate-level programs are now offered in English making Germany that much more interesting to prospective Anglophone students.
Germany is just one country of many to have such a notion. Ireland, for instance, has a national recruitment initiative targeting a full 15% of its higher ed students to be international. Still, we can attest from our research within the top sending countries that despite external factors like COVID, if families can afford it, their top choice remains the US. Check out our recent research on Chinese and Indian perceptions of a US education as reported in IIE Networker Magazine.
Takeaway #2 Commission-based agents are now business as usual for many US universities.
Recruitment agents have proven their merit for a growing number of US institutions though negative biases remain. It is critical institutions work with credible and vetted professionals (look for AIRC certification) to minimize the risk of unethical practices that can negatively affect students and your institution's reputation. Intead has been a strategic partner to AIRC for more than a decade.
The US is, as you know, playing a bit of catch-up in the agent game. Other countries (Australia, UK, Canada) routinely work with independent, commission-based recruiters around the world to support local engagement in local time zones. Yes, recruitment techniques have come a long way with digitization, making global communication so much easier. That said, personal connection is king. We hear that time and again. Agents are one means of making that connection.
Our Know Your Neighborhood research gives specific guidance by region on the power of agents as your messengers.
Takeaway #3 Diversity is the long game for international recruitment.
Have we become overly preoccupied with student mobility? So posited Dr. Harvey Charles, a handbook editor and Dean for International Education and Vice Provost for Global Strategy for the University at Albany, SUNY, on a recent AIEA webinar. Are we thinking too myopically about how international recruitment best serves the bottom line? Too little about equality and societal impact?
He's not wrong. Yet, the concepts are fully intertwined. By addressing diversity, equity, and inclusion at the recruitment level, you can help build a strong future for students and your institution.
From a purely economic point of view, pursuing students from China and India has made a lot of sense for so many institutions. Recent events have changed the flow of students dramatically and reliance on these two countries has left many institutions vulnerable. Most universities get this and are taking steps to diversify their recruitment strategies, both in terms of target countries as well as tactics, to reach a wider swath of prospects.
Many in our field, Intead included, have preached diversification of source countries for a long time. From an educational point of view, it always made sense as a way of achieving larger institutional goals. Now, with all the travel restrictions and changes in student mobility, diversification is finally getting more attention as an economic stabilizer as well.
There's so much great information embedded within The Handbook of International Higher Education, 2nd Edition. If it's not part of your team's library yet, we recommend you check it out. And, as always, if you're looking for a marketing partner steeped in higher education, let's connect.
There's no time like the present to start shaping a brighter future, from high-level strategy to tactical execution. We'll be in New Orleans for the 2022 AIEA conference and look forward to learning so much more. Will we see you there?