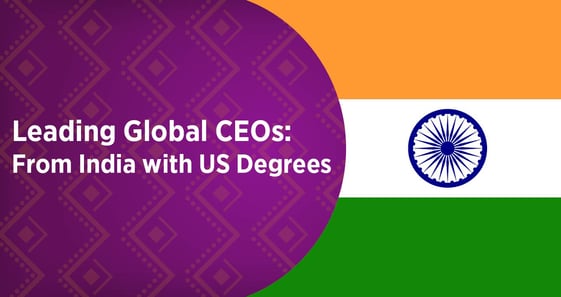 The world's largest democracy with dominant film, agriculture, and livestock industries has the third greatest economy in terms of purchasing parity around the globe. As a fast-growing global economy, their educated, English-speaking workforce has a strong desire to work in tech fields. They boast the world's second-largest population of 1.3+ billion that will surpass China's population in 2028 by current UN projections. And really, 2028 is sorta near-term at this point.
We are talking about India – the second largest source of international students in the US.
There are plenty of reasons to be concerned about international student mobility in the near term. And every reason to be confident about the future of the education industry.
Human aspiration does not disappear due to strife, especially among young people.
Academia has struggled through and adapted to changing consumer needs and demands for centuries. Our colleagues at IIE have the historical data demonstrating the ups and downs of international education for the past 80 years or so. Now is the time to take the innovations the industry has been wrestling to implement (truly engaging online learning, truly engaged alumni networks, digital marketing and audience segmentation, artificial intelligence powered student support, etc.) and make them a reality.
Today, let's take India as an example of why international student enrollment is something important for your institution.
So many Indian students aspire to a US education. And there are tangible examples of success motivating those dreams. Let's talk about why your Indian students will be coming back to your institution, eventually...with the right enrollment marketing initiatives.
Take a look at the global tech companies that innovate with real power – IBM, Microsoft, Google, Adobe. There are some non-tech global dynamos as well. They are turning to Indian talent to lead them. Consider that many of the talented Indian CEOs playing leadership power roles on the global stage were trained in the US.
Read on to find out what academic programs were the steppingstones for these once-upon-a-time students to head some of the largest, most respected companies in the world. Is your institution on the list? Can your institution appeal to the next set of global leaders?
Here is a key question from a student recruitment point of view: Are your amazing alumni part of your international student recruitment efforts? There are ways to make your global alumni network become the inspiration for students' hearts and minds…to raise awareness, kindle passion, and draw them to your academic programs to fulfill their dreams.
And yet, so few institutions develop and leverage their international alumni network to help future students make a really smart decision. You can change that.
Read on.
Our research on how universities are leveraging their global alumni networks (or not!) stands as a helpful resource. Your colleagues have downloaded this ebook in droves, used the data to talk to leadership and then justify their plans and budgets.
Your alumni (domestic and international) can and should play a much larger role in your enrollment marketing processes.
Let's just take 5 quick examples of what is inspiring so many Indian students to look longingly at the US. There is a caveat, of course. Current White House rhetoric about restricting or dismantling OPT for international students will change the game. Still, it will not end the game. We all need to justify our relevance and value to our prospective students. OPT is only one (really great) selling point. There are other ways to talk about career potential.
Have you ever heard of these companies? ; -)
1. IBM: Arvind Krishna (actually IBM's third Indian CEO)
Education:
B.E. in electrical engineering from Indian Institute of Technology, Kanpur
Ph.D. in electrical engineering from University of Illinois at Urbana-Champaign
Path to Success: That same year he earned his Ph.D., he joined IBM. Over his tenure, he served as the director of research and the head of the cloud and cognitive software unit before being named CEO this year (2020).
2. Microsoft: Satya Nadella
Education:
B.E. in electrical engineering from the Manipal Institute of Technology
M.S. in computer science at the University of Wisconsin, Milwaukee
MBA from University of Chicago's Booth School of Business
Path to Success: Nadella started as technology staff at Sun Systems before moving to Microsoft, where he was senior VP of R&D, VP of the business division, VP of business solutions, executive VP of cloud and enterprise, and president of the server and tools division until he was named CEO in 2014.
3. Google/Alphabet: Sundar Pichai
Education:
B.E. in metallurgical engineering from Indian Institute of Technology, Kharagpur
M.S. in material sciences and engineering from Stanford University
MBA from the Wharton School from the University of Pennsylvania
Path to Success: Before Google, Pichai worked at Applied Materials as a product manager and in management consulting at McKinsey & Company. He came to Google as a management executive, later becoming the product chief, then Google's CEO in 2015 (around the time he was also shortlisted for Microsoft's CEO). When Alphabet Inc. became Google's parent company, he also became their CEO in 2019.
4. Adobe: Shantanu Narayen
Education:
B.E. in electronics and communication engineering from University College of Engineering, Osmania University
MBA from the University of California, Berkeley
M.S. in computer science from Bowling Green State University
Path to Success: Narayen began his career at Apple before becoming a director at Silicon Graphics and later co-founding Pictra. He joined Adobe as senior VP of worldwide project research and was later promoted to executive VP of worldwide products. He has been the CEO of Adobe since 2007. In 2011, he was also appointed to Barack Obama's Management Advisory Board.
5. PepsiCo: Indra Nooyi
Education:
B.S. in physics, chemistry, and mathematics from University of Madras
Post-graduate diploma from Indian Institute of Management Calcutta
M.S. in public and private management from Yale School of Management
Path to Success: Nooyi began as a product manager at Johnson & Johnson before joining the Boston Consulting Group as a strategy consultant. She served as VP and director of corporate strategy and planning at Motorola. She joined PepsiCo in 1994 and was named CEO in 2007, a position she filled until 2019. During that time, she was named on Forbes list of World's 100 Most Powerful Women for nine years in a row.
Perspective On Your Alumni Network
Were any of these details surprising to you?
These former Indian students all rose through the ranks to achieve their leadership positions, and you'll notice that for all but one on this list, engineering degrees made an appearance. This may be because of how Satya Nadella described his degree to Gadgets360. He knew he "always wanted to build things," and his engineering degree was a great way to "discover what turned out to become a passion."
What passions will your students discover? Is a future CEO for one of the largest, most respected companies in the world on your current rolls?
Returning to our initial question: Are your amazing alumni part of your recruitment efforts? Are you taking these opportunities to raise awareness, kindle passion, and draw these future leaders to your classrooms where they will begin to fulfill their dreams?
So few institutions develop and leverage their international alumni network to help future students make a really smart decision.
You can change that.
We can help.