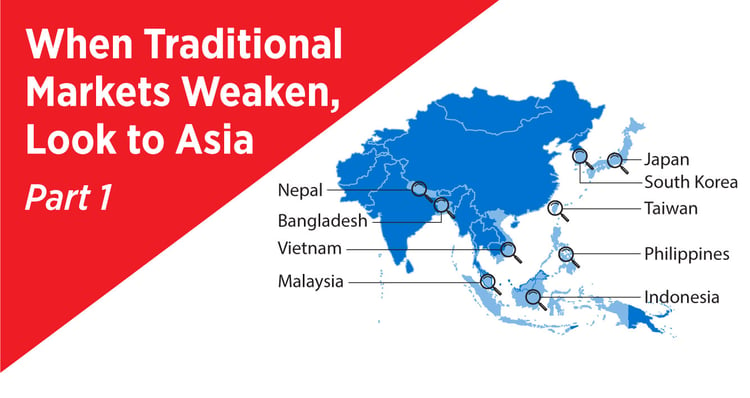 It's good news / hurry-up-and-move news for Chinese students.
The good news: pandemic-era travel bans are lifted.
The hurry-up-and-move news: China announced it is returning to its previous position of NOT recognizing online credentials obtained from a foreign institution.
More than a few Chinese students spent spring semester scrambling to ensure their hard-earned credits will count. We trust they will, but there nevertheless was a swift rush to secure logistics.
We know what you're thinking. A coveted market that's been declining is now being encouraged, no, required, to travel if they want a foreign degree. Fantastic! While that's all true, indications remind us to keep our expectations in check. And yes, we're talking about politics, TikTok, and the increasing appeal of the UK's brand of higher ed and career opportunities.
So, while it makes sense to keep courting the Chinese market that continues to be the top exporter of students, it also makes sense to proceed with efforts to diversify student sources.
Important to note: It always has been wise to diversify, though only a small percentage of US institutions have historically invested in this level of internationalization. The volume is in China and India and that is where the recruiting investment has been focused for more than a decade.
Also important to note: China remains a highly valuable source country and we absolutely do not advise turning your institutional back on these students. There are still more Chinese students eager for a US education than any other nationality. India is the only other country that comes close.
In the midst of the more recent waning of Chinese students coming to the US (the decline first stared in 2016), we've provided insights on promising markets that may help boost your student yield. In recent blog posts, we've offered insights into evaluating Africa (part 1, part 2), Latin America (part 1, part 2), and the Middle East.
Today we turn to Asia, evaluating whether specific countries exhibit the important metrics that demonstrate a market ripe for student recruitment:
Rising youth population
Rising incomes
Employment opportunities for returning students
In this week's post, get ready to take notes on student market opportunities in South Korea, Vietnam, Taiwan, and Japan. Next week we will look at Nepal, Bangladesh, Indonesia, Malaysia, and the Philippines. These countries are likely already on your radar. Are you keeping tabs on the potential for each one? We think it is in your best interest.
Read on to find out why…
As with our past reviews of various countries and regions, we use data to identify global markets where a particular institution or academic program would resonate. Strong and rising industries indicate career opportunities – a major driver of international student education choices. Unemployment rates and economic mobility at a macro level offer comparative insights between markets.
Important macro data on the countries we dive into today:

* Sources: Institute of International Education, World Bank, IndexMundi, DataReportal
South Korea
South Korea is among the world's largest economies with a GDP of about 1.8 trillion USD, and a leading exporter of electronics, automobiles, and steel, among other products. If you like Samsung, LG, and Hyundai, then you can thank South Korea.
In 2021/22, 4% of international students studying in the US were from South Korea, making it the third largest sending country behind #1 China (31%) and #2 India (21%). In fact, 3% more South Korean students came to the US to study that year than as reported pre-pandemic in 2019/20. A good sign of the country's interest in what the US has to offer.
The basics: Education is extremely important to South Korean families and nearly 4 out of 5 of high school graduates go on to higher ed institutions. The country is home to a handful of top-rated universities, per QS World University Rankings, including Seoul National University (#23), Korea Advanced Institute of Science & Technology (#42), and Pohang University of Science and Technology (#71). Even so, thousands of students still choose to study abroad, and that number has grown in recent years with 40,755 studying in the US and over 101,000 globally.
South Korea has a diverse and well-developed economy that offers university graduates a wide range of professional opportunities. With a consistently low unemployment rate (below 4% for years and continued through the pandemic), there are many jobs seeking candidates. Among youth, the unemployment rate is higher giving candidates with standout resumes a boost.
South Korea economic data:
Rising industries include: defense industry equipment, energy - carbon neutrality initiatives, information and communication technology, aerospace industry, air pollution control, specialty chemicals, medical equipment and devices, travel and tourism, cosmetics, entertainment and media, education services, manufacturing technology - smart factory, construction services, and agriculture.

Employment opportunities:

Saramin
Vietnam
In one generation, Vietnam has gone from being one of the world's poorest nations to a middle-income economy, per the World Bank. Thanks to economic reforms and a youthful population – median age in Vietnam was 32.5 years old in 2020 – its GDP per capita increased 3.6 times between 2002 and 2021. Its goal: to become a high-income country by 2045.
Education in Vietnam is not only valued for personal development, but also as a means to lift families out of poverty, especially in rural areas. The government has placed a strong emphasis on increasing access to education, including areas where access to education was historically limited. As a result of these efforts, the literacy rate in Vietnam has increased significantly in recent years to 97.75% in 2021.
Students are required to attend primary school through at least half of their secondary years, and a majority of students go on to higher education institutions. On average students attend school for 10.2 years, second only to Singapore among the Association of Southeast Asian Nations. In 2021/22, more than 20,000 Vietnamese students chose to study in the US– roughly 2% of all international students in the US.
Vietnam's urban centers have grown as foreign corporations have invested in manufacturing and other production opportunities in the country. A consistently low unemployment rate (below 3% for years and continued through the pandemic), there are many jobs seeking candidates here. Among youth, the unemployment rate is higher giving candidates with standout resumes a boost.
Vietnam economic data:
Rising industries include: agriculture, aviation, defense and security sector, education and training, franchising industry sector, healthcare, information and communication technologies, power generation, transmission, and distribution, and environmental technology.

Employment opportunities:

Vietnam Works
Taiwan
Taiwan is a small but vibrant democracy despite the undeniable political tensions that overshadow this island off the coast of southeastern China. In fact, per the World Trade Organization, Taiwan was the 16th largest exporter and 17th largest importer of merchandise in 2021 and its GDP per capita reached US$33,011 that same year. For its population size, Taiwan's economy punches far above its weight.
The latest data show over 20,000 Taiwanese students came to study in the US during the 2021/22 academic year, making it the sixth leading sending country just behind #5 Vietnam. Globally, over 60,300 Taiwanese students went abroad that same year with most choosing to pursue their academic goals in English-speaking countries. Taiwan's own education system was modeled after that of America's with 6 years of primary school and 3 years of secondary school being required of all students.
Taiwan's tech sector is powerful globally. A consistently low unemployment rate (below 4% for years and continued through the pandemic), there are many jobs seeking candidates here. Among youth, the unemployment rate is significantly higher giving candidates with standout resumes a boost.
Taiwan economic data:
Rising industries include: aerospace and defense, education, electric power equipment and energy, franchising, information and telecommunications technology, machinery and machine tools, medical devices, travel and tourism, and agricultural sectors.
Employment opportunities: 104 Job Bank
Japan
Japan is the world's third largest economic power, based on GDP, ranking behind the United States and China. Now, after two long years of tight pandemic-related border controls, this country is mostly open to international travel. That's good news for its economy as tourism has returned stronger than ever. Some, including executives at Nomura Research Institute, believe Japan's economy could expand faster than those of the United States or Europe this year.
In Japanese society, education plays an important role and is seen as a means of personal achievement and advancement. Starting from primary school, students are screened through rigorous examinations to qualify for the best schools. They then go on to take entrance exams for middle schools, high schools, and higher education institutions. These exams are notoriously difficult and highly competitive. The pressure to excel academically is so high that many students attend additional cram schools or "juku" to prepare for exams and ensure their success starting in primary school.
In 2021/22 academic year, nearly 13,500 Japanese students studied at US institutions. The Japan Association of Overseas Studies reports that across the globe, the US continues to be the most popular destination for Japanese student going abroad for degree studies, followed by Canada.
A consistently low unemployment rate (below 3% for years and continued through the pandemic), there are many jobs seeking candidates here. A well-developed manufacturing sector provides a range of business career growth opportunities. Among youth, the unemployment rate is higher giving candidates with standout resumes a boost.
Japan economic data:
Rising industries include: automobile, financial technology, agricultural sector, aircraft and related parts, industrial machine tools, civil nuclear power, medical devices, cloud computing, defense procurement, nuclear decommissioning, pharmaceuticals, and semiconductors.
Employment opportunities: Daijob
What's next?
South Korea, Vietnam, Taiwan, and Japan are the first four of the nine Asian markets we'll be exploring in this two-part series. If you want to discuss which, if any, of these markets may complement your global recruitment strategy, be in touch. We'd love to help think it through with you and provide more customized research and a student recruitment plan. The data we share here helps you start your evaluation. There's far more to do to evaluate the risk/reward ratio of investing in one or another of these opportunities.
Check in next week when we explore Nepal, Bangladesh, Indonesia, Malaysia, and the Philippines.