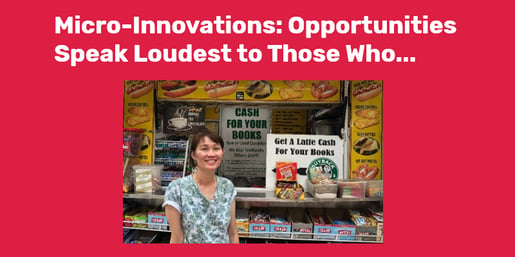 I met Jenny on a sunny July day at the corner of H and 22nd Streets in DC -- in the center of George Washington University's campus.
Jenny's been running this hot dog stand at this corner for 22 years.
Originally from Vietnam, she has two children currently attending the University of Virginia. With all these university ties, GWU, UVa, you'd think she works in our field of academia. And in a way, she does.
Take a closer look at that stand behind her. See the signs? Jenny is an entrepreneur and a micro-innovator. She recognizes opportunities and she goes after them. And she succeeds.
As Jenny and I talked, she shared that she sees a small boost in revenue at the end of each semester (in May and December) with her cash for books deal, in addition to the hot dog and soda sales. Her location gives her an opportunity that another hot dog vendor, at say the corner of H and 14th Streets, does not have. Her micro-innovation has proven a consistent, small incremental value to her overall operation.
It is the start of a new school year and we have so many ideas to share with you. This is no time to sit on your hands, or wring your hands. It is time to put those hands to work, get them dirty.
Read on for ideas about how thinking about micro-innovations might be just the thing that can energize your team and add up to significant growth for your recruitment funnel.
Read on...
My conversation with Jenny had me thinking about the way the term "innovation" is thrown around.
Everyone wants to be an innovator. And your boss wants you to innovate whenever there is a challenging situation. Organizations are keen to find innovative solutions to their problems – as if there is some new thinking out there that no one has ever come up with before for the problems that have been part of our existence for as long as we can remember. Hmmmm.
Large innovations, disruptions to entire industries, tend to be a bit beyond most of our abilities. They come around pretty infrequently. And they tend to happen more slowly than people remember. It is not like the aviation industry simply appeared on December 18, 1903, the day after the first controlled, motorized flight happened at Kill Devil Hills, North Carolina.
Making the concept a bit more current -- the first iPhone did not magically appear on June 29, 2007, without a heck of a lot of advance work. And by the way, 2007 iPhone sales hit 1.4M units compared to 218M units in 2018.
All that to say, large-scale, truly disruptive innovations are less frequent and harder to come by.
Let's focus our thoughts on micro-innovations. Where are those small changes that you and your team can imagine and implement quickly to make your recruitment program stronger?
Let's look at a few simple and concrete examples at different points in the student life-cycle from prospect to student to alum. What we want you to do is consider each element of your funnel and where there might be opportunities for small changes that will improve the flow – even if just a little bit.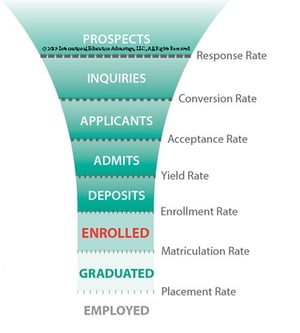 Recruitment Travel/Lead Capture – many institutions have great systems in place (Slate, anyone?) to capture and nurture leads. Many institutions have yet to make the investment. Even if you are in the second camp, you can get a very simple landing page set up with just the basic inquiry fields (name, email, year of entry). This landing page can be on a few inexpensive tablets at your fair tables. The page can automatically refresh with each entry submitted. You can even have the inquiry form confirm an accurate email address is entered to avoid typos.

With this process, your team back home, or better yet, an automated system, can send an acknowledgement email to each prospect within 24 hours of your encounter. This micro-innovation requires a bit of tech support on your website. With less than $500 you can get two browser enabled tablets that will connect with or without wi-fi.
Student Services/Career Prep – When your team does student orientation or provides a career planning seminar, are they including a 30-minute workshop on how to use LinkedIn effectively? And during that workshop, are they getting your students (future alumni) to tag their profile with your institution? So many instant advantages:

Student connection to all your other alumni (networking)
Institution's ability to stay in touch with this future alum regardless of how often they move (which is frequent in the first few years after graduation)
Institution promoted on social media in general
Alumni Engagement – Can you easily reach out to alumni in international cities to let them know when you will be in town for recruitment fairs? Many of them will be glad you reached out and happy to introduce you to a young friend or university-ready family. It really is just a matter of taking the time to ask. Pros: alums feel valued and helpful; alums keep their role as ambassadors top of mind as they go about their lives; highly qualified leads delivered to you from a trusted source. Cons: none. Oh, you do have to do a little advance planning and communicating before you travel, but hey, you can do that.
Bonus info: Download our Global Alumni Management State of the Field Report
These types of small efforts that mostly just take time to plan and do, will deliver outsized benefits relative to the effort.
Be like Jenny. Look at the opportunities around you. Consider the tools you need, the timing (seasonality?), and the communication paths that will help you succeed in more areas.
The Intead team can help you analyze your markets and recruitment processes to help you find those micro-innovations that will move the needle. It is rarely the case that the whole process needs to be blown up and re-imagined. There are ALWAYS opportunities to improve if we remain motivated and avoid complacency.
One of our motto's in the office: Opportunities speak loudest to those who want to achieve more.
What do you hear?