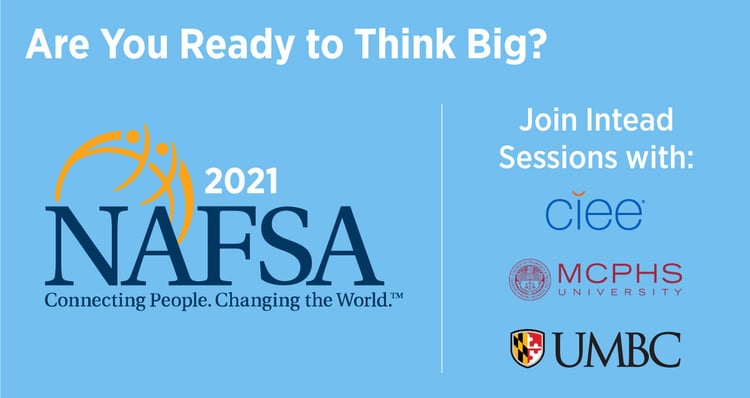 At the very least, we bet you have some great stories to share.
That's not much of a silver lining from this past unnerving year. But it's a start.
Let's talk about opportunities to learn from each other and think bigger.
In the past year, our education community has collectively navigated some uncharted and very choppy waters. You may have emerged better for it, with new processes and contingency plans in place, cross-functional partnerships strengthened, remote work and learning infrastructure upgraded, and a renewed outlook on your institution's long-term strategy.
Given this year of rapid activity and transformational growth, we're more excited than ever to gather (virtually) with leaders and change-makers from over 100 countries at this year's NAFSA conference from June 1-4th.
Intead has been attending and presenting at NAFSA for more than a decade, and every year we are energized by the idea-sharing that takes place and inspired by the power of our global community.
This year's NAFSA is all about thinking big about the future of international education — the latest innovations, strategies, and best practices shared from your peers across the field as we build for the next generation. Intead is honored to be presenting two sessions this year in partnership with our esteemed colleagues from leading academic institutions and global partners on forward-looking global strategies:
Achieving Global Agility: The Flexibility of Global Campus Options
A discussion on the challenges and opportunities of delivering your academic programs at turnkey remote campuses around the world. First-hand experiences will be shared by Ita Duron, Executive Director of Global Strategies and International Programs at Massachusetts College of Health and Pharmacy Sciences, an institution that has already put this global approach into practice (and reaped the benefits).

Also joining the conversation will be Seamus Harreys, Vice President of Global Enrollment at CIEE sharing how CIEE's global campus models in Shanghai, Seoul, Legon, and many other cities around the world have helped institutions navigate student mobility challenges. Lots of info about how to adopt the global campus approach at your own institution. Tune in: June 4th at 9am EDT
Going from 0-60: Internationalization
We'll be talking all things internationalization with David DiMaria, Associate Vice Provost, International Education at University of Maryland, Baltimore County, focusing on how to build leadership buy-in and navigate typically slow-moving internal processes for rapid results.

You'll learn valuable team management and partnership strategies as well as how to establish global recruitment marketing programs that produce measurable enrollment results. This topic is a frequent discussion area on the NAFSA Enrollment and Leadership listserv forums. Join us for this as a Tune In Anytime event.
Read on to for a few preview tips on how these sessions can help move your global strategy forward.
As many universities are trying to build their brand globally, the competition is getting fiercer. And there's no way around it — this fierce competition demands a strong strategic approach based on your institution's differentiators. And let's face it, from afar, so many institutions look alike.
It's your job to make your institution stand out.
But we know the budget reality — there isn't always enough to bring that strategic approach to fruition, especially after the deep cuts that many departments have experienced as a result of COVID-19.
At the same time, with some of the federal funds that have become available to institutions this past year, we've seen many finding alternative budget opportunities. More of your colleagues are investing invest in market research to define where the market opportunities are and develop the focused strategic plan to build enrollment from those markets. Specifically, we are seeing a renewed effort to build diversity into global enrollment.
Both Intead sessions at NAFSA this year will help you learn how to do more with less — to work smarter, more nimbly, and with an eye on the bottom line. Build alliances internally and externally to meet the competition and watch them recede in the rearview mirror.
Case studies will be presented that demonstrate how strategic partnerships can help your institution innovate in ways that grow international enrollment during a time when others experience decline. A focus on building strong pipelines that radically transform your recruitment funnel in the long term. Additionally, the presenters at both sessions will share examples of ways your institution can move effectively into a post-pandemic world at a time when students' needs and decision-making have been radically altered.
Have your questions at the ready and reach out so that we can help you apply the learnings to your institution's reality.
And if you haven't registered for NAFSA yet, don't worry! You can still do so here. We hope to see you there!