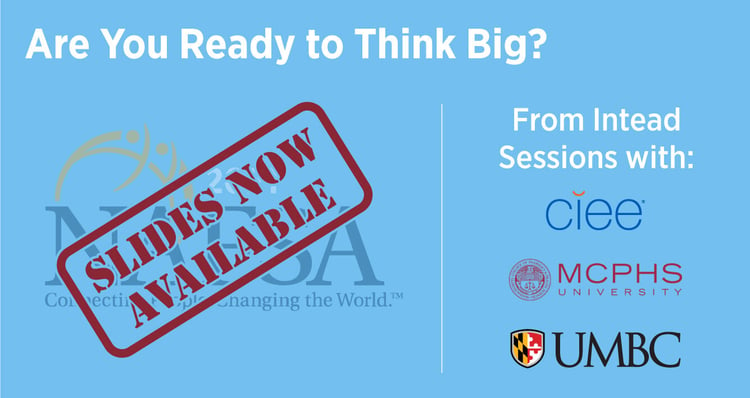 You're driving your international enrollment plans forward. Nice to have a guide helping you navigate.
Intead's decade of NAFSA presentations have played the role of guide for many and our 2021 sessions were no exception. Nafsa 2021 attendees were global leaders and change-makers -- a group that values a focus on results that can be measured and improved upon over time.
This year, we offered sessions that addressed strategic approaches to successfully position your institution as a top competitor. With market turbulence everywhere and scary domestic enrollment projections, now is the time to truly focus. So, we shared a "how-to" on learning to do more with less (as you are asked to do every year, it seems).
Fresh Perspectives
Intead presented two sessions in partnership with our esteemed colleagues from leading academic institutions and global partners.
Achieving Global Agility: The Flexibility of Global Campus Options — A discussion on the challenges and opportunities of delivering your academic programs at turnkey remote campuses worldwide with:

Ita Duron, Executive Director of Global Strategies and International Programs at Massachusetts College of Health and Pharmacy Sciences

Seamus Harreys, Vice President of Global Enrollment at CIEE

A great and well-attended discussion on how CIEE's global campus models in Shanghai, Seoul, Legon, and many other cities around the world have helped institutions navigate student mobility challenges and plan for a more flexible approach to internationalization.
Going from 0-60: Internationalization
David DiMaria, SIO and Associate Vice Provost for International Education at the University of Maryland, Baltimore County, spoke on all things internationalization, focusing on how to build leadership and campus buy-in and navigate slow-moving internal processes for rapid results.
We offered perspective on how market research and digital marketing play into the planning and execution of a global student recruiting initiative. Our work contributed to UMBC's first ever global digital marketing campaign.
Don't Miss A Thing
We are offering the two NAFSA presentation slide decks for you to download now. Of course, the slides are not as valuable as the presentation itself. Be in touch and we can share even more perspective. Contact us!