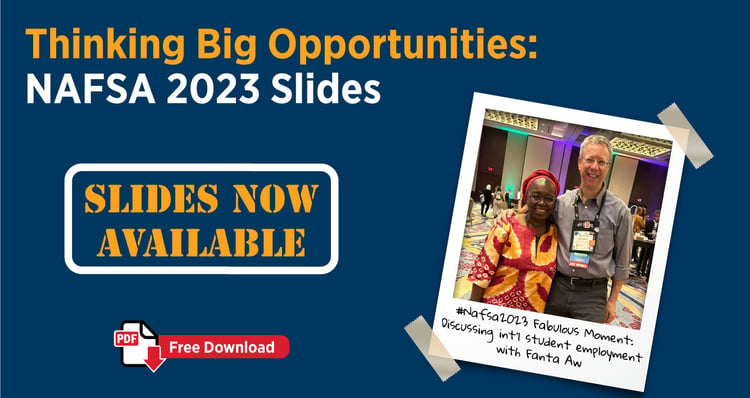 Let's start with this: our NAFSA 2023 slides are perhaps the most concise and clear educational tool we have produced to-date. When you have 3 strong speakers and just 50 minutes, you really need to focus if you want to get your point across.
Each slide represents far more content and conversations we would love to have with you. During one of our future conference sessions, webinars, or anytime, really, just reach out and let us know you want to chat.
Today we share our biggest takeaways from NAFSA 2023. These are thinking big opportunities.
We were honored to share the dais with Paulo Zagalo-Melo, SIO and Associate Provost at Western Michigan University and Karin Fischer, Senior Writer at Chronicle of Higher Education. Our focus: what kind of data and other information can truly inform our international student decision-making? And we considered the flip side: what information is TBU (True But Useless)?
A bit of foreshadowing: A focus for the Intead team going forward is going to be on international student employment and all we need to do as a community to make that process work better. You'll see much more on that topic from us over the next year+. We have some amazing partners to help us get you the data and tools you need to improve your institutional approach. Watch this space.
You want answers about valuable vs. TBU data? Check out our NAFSA 2023 slide deck (download link at the bottom of this post.) Yes, we are making you work for it ; -)
Takeaway #1: The Low Hanging Fruit
We are all looking for it. What is it that requires the least investment for the biggest return? Here's the thing: if it were truly obvious, you'd be doing it already. On the other hand, if you do know where that fruit is hanging, and you are simply not reaching for it, that indicates you are understaffed. Might be an argument for outsourcing that initiative or set of tasks so that it gets done and the fruit is collected.
A few quick-hit examples:
Local Opportunity – direct recruiting: Identifying and engaging the international students in your own backyard (private high schools within a 100-mile radius of your institution).
Local Opportunity – referral building: Developing a consistent brand presence in your local immigrant community through inexpensive native language advertising and event engagement.
Distant Opportunity – direct recruiting: Identifying and engaging alumni in a specific, high-value enrollment growth region and supporting them as ambassadors aiding your recruitment efforts.
Distant Opportunity – direct recruiting: Improving your recruitment agent training and collateral to help your remote sales team understand and communicate your institution's brand and value.
Here's the point: If you know where outcome improvements are easy to come by and can't get to them, that's an eyebrow raising realization. If you don't know where those improvement opportunities are, it means you're likely doing the easy stuff already and more investment is going to be required to develop new markets or take other actions that will yield stronger results.
Takeaway #2: The Value of In-Person Roars Back
Prior to NAFSA week, the DC Convention Center hosted The American Thoracic Society international conference. 16,000 members. Following NAFSA, Amazon Web Services (AWS) held its Global Summit bringing tech leaders and geeks together to discuss data warehouses and AI.
We are all back to significant gatherings that build and deepen our relationships, learning, and figuring things out together, in person.
The US Bureau of Transportation Statistics reports 853M US airline passengers in 2022, down 8% from the 2019 all-time high of 928M. We consider that a significant travel recovery – the environmental impact is another thing we as humans need to address.
There's no denying the warmth and smiles NAFSAns shared with some 8,000 attendees, the vast majority bustling about, shaking hands and embracing without masks. Unlike past conferences, we have not seen the post-event social streams about returning home with Covid (raise your hand if you…). The Intead team (five of us attended) took full advantage of back-to-back sessions, networking, receptions, and private dinners and we thankfully report no positive cases as a result. A far cry from our experience in Denver last year (oy vey).
Here's the point: if your team is not back on the road for the conference circuit learning and networking, the student fairs meeting and recruiting, and the global scene building brand reputation and partnerships, you are losing out to your competition. It's all about building and deepening our important relationships. First, you have to identify which relationships are actually valuable to your efforts.
Takeaway #3: Frustrating and Self-defeating Innovation Grants
Great information gleaned from the NAFSA pre-conference workshop on budgeting run by Paulo Zagalo-Melo, Associate Provost and Annette Cummins, Assistant Director Global Education and Business Manager both from Western Michigan University, and Jill Blondin, Associate Vice Provost for Global Initiatives at Virginia Commonwealth University. The side conversations are always the most valuable (networking, right?).
The key takeaway, backed up by so many years of supporting a range of institutions making their first significant investments in global marketing and recruitment efforts: academic institutions will often provide opportunities for innovation in quick, short bursts of funding that are truly self-defeating.
You've seen this across your campus, right? Some administrative leader (President, CFO, Provost) offers an innovation budget to a few specific departments with a one-year timeline and the promise of more funds if you can document positive outcomes. The funding is typically low six figures – enough to get you to salivate, but not enough to really set you up for success. What happens next is a flurry of activity to build out your sketched out plans that won the campus-wide competition for the funding in the first place. Three to six months later, the department has got things moving. Six months after that, there are simply no significant results to report on and justify continued funding to produce the outcomes your initial sketch promised. Ah well, nice try. Always good to test new ideas, right? We'll move on to another department now and fund their "innovative idea."
An interesting timeline:
July 1994: Amazon launches
May 1997: Amazon IPOs (340,000 customer accounts)
Dec 2001: Amazon has its first profitable quarter on $1B in sales
2022: Amazon hits annual gross profit of $225B (300M active users)
Here's the point: Commitments to innovation funding must be sustainable. Between 1995 and 2002, Amazon "invested" (lost) $2.8B before finding a path to profitability. Just one example demonstrating the value of perseverance and investment. Leadership making short-term grants to various departments often think they are being generous when in reality they are setting up the team for limited success or failure. Not easy to overhaul this common approach. It requires helpful, real-world examples that can convince presidents and CFOs to dole out innovation funds differently. We can help.
Overheard at NAFSA 2023: Who Are Your Teachers?
Always inspiring, the opportunity to learn and improve. New ideas come from leaving your immediate surroundings through travel or taking flight from your own desk through slides, webinars, and YouTube videos of conference presentations. Thank you #NAFSA for all you do! And thank you to Fanta Aw for all you do to set the sights high and push us all to go there.
The international education community is here whenever you are ready to reach out. Take a look at our slides from NAFSA, schedule a meeting with us at NACAC in September or AIRC in December. We'll be presenting at both including a full-day pre-conference workshop as part of the AIRC event (you heard it here first!). Or just drop us a line to schedule a call: info@intead.com.