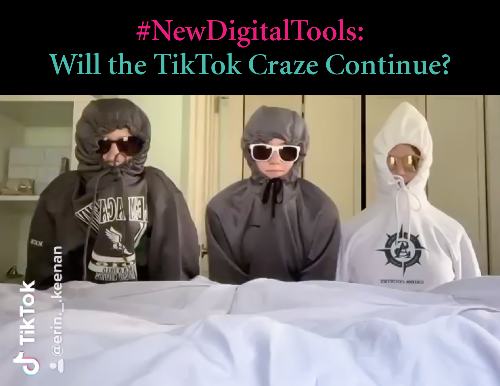 Remember Farmville? This one game grew to $200M USD in revenue! Now, not so much.
Remember Google Vine as short-form video? Kinda faded away with the advent of Instagram video.
So now, we consider TikTok and wonder, how long will this one last? This one is sophisticated and is already valued at more than $1B USD. This new marketing channel is powerful as long as you have the creative talent to use it.
The rule is: creative content rules. Period.
And the reason we are talking about it is that your target audience is spending a bunch of time there right now. The image above is captured from my 17-year-old niece's TikTok account. She is a content creator there and she and her friends have a great deal of fun (and spend way too much time) in and on TikTok.
So, about TikTok...in May, we wrote about the growth of Chinese EdTech and what opportunities that presented. As of last year, Chinese startups received over 50 percent of all global capital invested in EdTech. This year, of the top six EdTech unicorns—private companies worth more than $1 billion—all but one was Chinese.
With the largest population in the world, China is automatically the greatest educational market. With a population of over 1.4 billion, there's a market of more than 283 million students. With 17 million new babies born a year in China, this pattern isn't slowing down.
Outside of the educational realm, tech is still booming in China, and one platform from China is now the most valuable startup in the world. What might this have to do with connecting you to those potential students in China—or anywhere for that matter?
Read on…
In the Chinese tech boom, the latest explosion is TikTok, a video platform from the firm ByteDance, a company founded in 2012. The app originally started as Musical.ly until it was acquired by ByteDance and rebranded as TikTok. It is also known as DouYin in China and has been downloaded all over the world more than a billion times, primarily by teenagers and Millenials. Using the app, users watch and share short videos of lip-syncing, dancing, cringe videos, skits, cooking tips, and, of course, cat videos. The clips are often comedic and offer immediate entertainment in a sound-bite size.
Google Vine saw this coming back in 2013 but the platform was too early in the social media universe and did not employ artificial intelligence the way TikTok does today.
At the outset, this doesn't seem that different from the social media platforms we are already familiar with, but TikTok relies on artificial intelligence (AI) in a way that Facebook and Snapchat do not. Also, according to the Wall Street Journal, "Compared with social media such as Instagram and Twitter, which can create stress with social pressure or news, TikTok strives to be like candy." And who doesn't like candy?
According to ByteDance they, "combine the power of machine learning with the rise of the mobile internet to revolutionize the way people consume and receive information. This made ByteDance one of the first companies to launch mobile-first products powered by machine learning technology."
Its "machine learning" algorithms learn individual preferences, like other platforms do, as it details what users like and comment on, as well as their time spent on each video. The AI goes one step further, though, and according to INSEAD associate professor Jason Davis (#bigtechprof), because "the clips are very short, TikTok's algorithms quickly build sizeable datasets," and, "on the producer side, AI also helps content creators craft viral videos. It simplifies video editing and suggests music, hashtags, filters and other enhancements that are trending or have been proven popular based on the category."
Apparently, the algorithms are working. The app is now in the top three of platform downloads (after WhatsApp and Messenger) and ByteDance is the most valuable startup in the world, valued at $75 billion, and according to the Wall Street Journal will be going public this year or the next.
It is so successful that, according to Mediakix's "13 Statistics Marketers Need to Know about TikTok":
TikTok was downloaded more than 660 million times in 2018.
More than 500 million people globally use TikTok monthly
5 million of the 500 million monthly active users are from the U.S.
TikTok's user base is largely based in India at 43 percent of all users.
66 percent of users are younger than 30-years-old.
Users typically spend around 52 minutes per day on the app.
There's a fun interactive chart here that shows the explosive growth of TikTok (and other social media channels) from 2011 – 2018. This site also notes that in China in 2018, there were 150M daily active users of TikTok.
Marketing Value
TikTok's algorithm pairs users with content that is so personalized to them that experts in India, where there are 20M+ active users, are warning about TikTok addiction. The videos AND the advertisements being shown on the platform are equally tailored to user interests and demonstrated behavior.
Davis explains that with the TikTok algorithms, "Users do not even need to specify their preferences when they join the platform. AI algorithms immediately get to work analyzing their behavior and delivering content, as opposed to simply making recommendations. In very little time, they learn enough to make stunningly accurate predictions about which videos will catch a user's interest. In a way, TikTok soon knows users better than they know themselves as behavioral preferences may differ from stated desires. This drives user engagement–exactly the kind of audience advertisers and vendors are after."
Ads that are targeted toward individual users pop up when the app is opened and throughout their feed. These ads are a recent addition to the platform, and TikTok is looking to bump up their ad sales.
Adweek published that TikTok has four ad formats.
In-feed video ads
Brand takeover ads (appearing for a period of time during the opening of the app)
Banner ads
Branded lenses that users can use in their own videos.
The takeover ads can run, according to Adweek, anywhere between $50,000 and $100,000. One of the popular ways that TikTok ads work is that they can offer hashtag challenges, with users being able to upload responses to an ad with a shared hashtag. These are supposedly being sold on a flat fee of $150,000 for six days with promotion.
Those prices are for large ad campaigns by major brands, like TikTok's first advertiser GrubHub. For more targeted selection—say teenaged, college-seeking students in select Chinese cities—you can do ads in the $15,000-$30,000 range. The ad system on the platform is relatively new, but TikTok is looking to boost their sales – so improvements will follow.
There are other promotion options. Your institution can always make their own original content. Social Report suggests that, "Making your own content can be a powerful TikTok marketing strategy."
The content on TikTok is highly performative, and creating an engaging, short video can be time consuming. Creating something fun and effective will result in shares – that's what TikTok is set up to do. Less than fun and effective means it will be ignored by users. And you have the ability to cross post on Facebook, Twitter, etc.
This original content is exactly what is happening at the Punjab Group of Colleges. According to Wikipedia, PCG includes Capital University of Science & Technology in Islamabad, Mohammad Ali Jinnah University in Karachi, and University of Central Punjab in Lahore. It also includes 330 college campuses, 15 Resource Academia Schools, 700 plus Allied Schools and nearly 300 EFA Schools. #PunjabCollege's TikTok channel has everything from student tagged dance videos, to college life clips, to lip-syncing around views of the campus.
University of Florida president, W. Kent Fuchs, was the self-professed first university president to go on TikTok and make a welcome video for the Class of 2023. Boring, but we applaud them for getting out there and giving it a try.
Our advice – get some creatives involved and juice it. At other schools, students are taking the reins themselves and posting campus tour videos.
The Bottom Line
We know you don't have significant social media advertising budgets just sitting around in this industry. But make no mistake: this is where your 15–18 year olds will be. And the 18—24 year old set is going to grow as well, both domestically and internationally.
There's a reason the investment community is backing the TikTok platform and it has a lot to do with the artificial intelligence algorithm behind it. There is real marketing and promotion opportunity with TikTok that will rival Facebook and Instagram.
TikTok's only limitation may be your own imagination, and your ad budget.
As long as TikTok users continue to pump out wacky and fun video content, users will stick with it. All those kids looking for a little (or a lot of) fame are diving in to show what they can do and be discovered.
We are looking forward to seeing your hashtag and some serious school spirit in your video of lip-syncing professors from the Agri-business Department. Or how about the Cybersecurity Faculty? They are always down for a good time, right?
Our creative talent is itching to pull this all together for you. Just drop us an email.