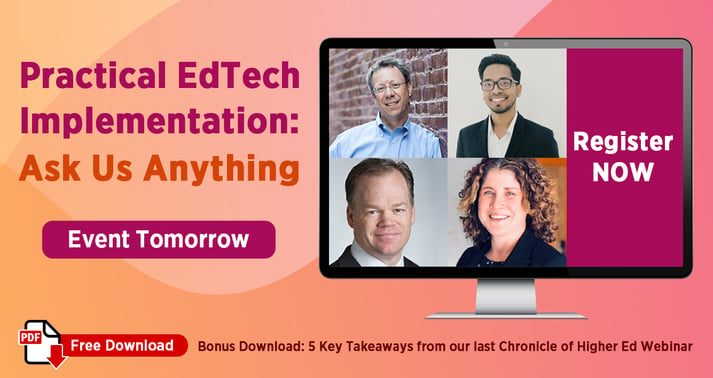 The roadmap for EdTech implementations a decade ago had a linear feel. There was an expectation of securing a significant tech budget and allocating that to a carefully selected vendor with a 3-5 year plan. There was talk of "flexibility" and integrations. APIs would be built to tie different parts of the legacy systems together or the legacy piece would be replaced outright. The future system was going to be a real game changer.
It rarely worked out as planned…ever. Been there?
Today, replacing aging technology is an entirely different process. We're eager to share insights into how campuses develop truly flexible systems and integrations with technology that is evolving every 6-12 months.
The technology process today has a heck of a lot more to do with justifying ROI than choosing technology.
Confused? Register for our webinar, "EdTech: The Road Map Has Changed. Successful Implementation Processes Look Like This" tomorrow, February 18th at 2pm Eastern.
Join Intead and iSchoolConnect as we talk about pushing decisive, cross-departmental collaboration at speed and scale like never before. We're talking agility in planning and innovation in technology and digital tools far beyond the usual benchmarks of annual progress in our notoriously slow-moving industry.
There's a lot of work to do to pull complex technology and analytics projects all together. Best to have some really strong partners.
In the webinar, we'll be sharing practical advice for successful, cost-effective technology implementations. Implementations that, long-term, produce stabilized and predictable revenue streams for your institution, even in unpredictable times.
You won't want to miss this
Adding valuable perspective to this Ask Us Anything conversation will be:
Seamus Harreys, Vice President, Global Enrollment, CIEE
Kerry Salerno, CMO, Babson College
We'll have plenty of real-world stories and insights to share. Stories about Northeastern University's amazing growth from 2009 and onward. We'll talk about technology investment approaches at different size institutions. Stories about vendor selection, technology features, and most importantly, the challenge of getting all of the internal stakeholders aligned.
Throughout, we will welcome your questions.
Important note: if you can't attend the event live, your registration will ensure you're first to receive access to the recorded conversation.
And as a primer for tomorrow's implementation-focused conversation, how about a free PDF download: "Using Tech to Thrive in a Volatile Time" sharing our 5 key takeaways from our February 4th panel event with The Chronicle of Higher Education and your colleagues from five different institutions.
Read on to access your copy of the 5 key takeaways and to learn how your peer institutions across the country are getting their technology investments right. A quick and helpful read before we dive deeper tomorrow.
Where Are You Trying to Go and Why?
Conversations about technology investment and implementation in higher education often neglect one key point (especially when these conversations are being led by technology vendors keen to secure significant contracts).
Key Takeaway: Technology is not a strategy. It's a tool.
In the Chronicle event, Keith W. McIntosh, Vice President and Chief Information Officer at the University of Richmond shared valuable insight on the bedrock of successful technology investments: "I bring tech into conversation at the end. First, I want to understand where we're trying to go and why. What's the purpose? How are we going to evolve? Are we going to provide training, or are we going to change processes? Do all of that because that's going to give you the efficiencies you need—the technology just amplifies it."
Technology is not a panacea for your enrollment woes. It is not going to do all of your thinking for you. In fact, quite the opposite. Strategy and implementation conversations up front are critical. The human element is going to drive success much more than the technology.
We will be sharing insights like this and much more on-the-ground EdTech implementation recommendations during tomorrow's webinar.
Download the Key Takeaways PDF for panelists' perspectives on how to use technology to engage students, the increasing importance of the CIO role, and supporting your institutions' tech infrastructure with the right internal and external teams.
And for all you auditory-visual learners out there, stay tuned next week for the Director's Cut video of the "Using Tech to Thrive in a Volatile Time" event including all the insights from the full hour-long discussion packed into the span of your next coffee break.
In the meantime, we hope to see you tomorrow at 2pm Eastern for that critical, hard-hitting implementation conversation. Still not registered for the event? You can do that here.