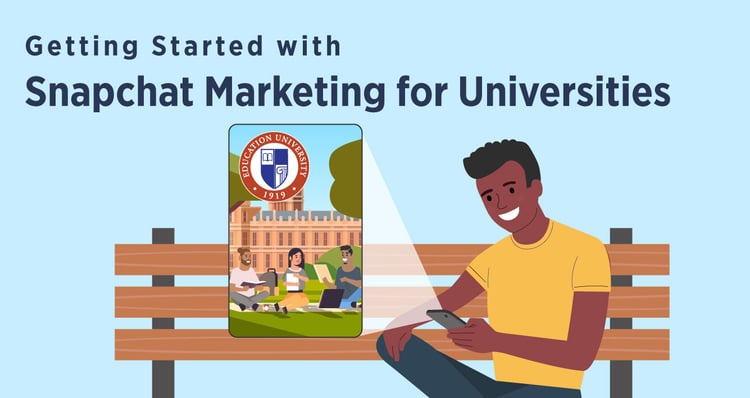 In an era where most social media platforms focus on curating an aesthetic feed, Snapchat stands out. It launched in 2012 as an app where messages "self-destruct" within seconds and has since added a variety of formats and filters. The platform quickly attracted young teens.
We published tips for academic institutions to make the most of this social tool back in 2016 (we waited to see if their ad platform was going to stick around). Since then, a lot has changed. You've noticed that too, we bet ; -)
Important to note, this social channel has a history of trend setting. SnapChat developed one of the original AR (augmented reality) filters and they continue to lead in many aspects. This is their lane and universities and private high schools using the platform should keep in mind that SnapChat tends to set the trend periodically in this area. Good to watch and learn here.
Overall, Snapchat's impermanent nature nurtures casual, free-flowing conversation, making it an enticing way to connect with students. Done well, it's your ticket to getting in on prospective students' conversations. And that's precisely where you want to be.
Snapchat is where you show off your culture -- the feel of your campus as opposed to the specific features (programs).
Why your institution should be on Snapchat:
It's young.

59% of Americans between the ages of 13 and 24 use Snapchat.

It's global.

58% of Snapchat daily active users are based outside of North America, with India, France, and the UK leading the pack.

It's growing.

In Q2 of 2022, Snapchat had 347 million daily active users worldwide, a 22% growth year-over-year. Almost of all of that growth has been in international users while US users have remained fairly steady.

It's unique.

Not many high schools or universities are using Snapchat (yet), making it a way to stand out to prospective students.

It's authentic.

Snapchat offers a personalized way to share content and interact with students.
Ready to snap it? If so, read on to learn how you can incorporate this popular platform into your recruitment game plan and differentiate your institution. Be where your audience is.
Using Snapchat to market your institution
The type of content you post to Snapchat will be different from any other platform; it's a place where you get to think outside the box and show your university's playful side.
The main rule by which to abide: Keep your content versatile. Play with style, including format (video vs. image) and length. Delight and entertain. And by all means, do not rinse and repeat.
Big Picture: the best use of SnapChat is for awareness: allow your current students to use the platform's geofilters to share an organic view of their experience to their extended audience. We go into this in more detail below.
So, enough with the rules. Let's spur more ideas.
Organic (read: free) content ideas
Behind-the-scenes. Take Snapchatters behind-the-scenes of campus events and programs to create a glimpse of the intelligent, interesting, and just plain fun things that are happening right now. Bring the camera into the President's office. Or the Admissions team to get the "uncensored" (but really actually quite censored) view.
Takeovers. Invite a current student or vivacious faculty or admin staff to "take over" your Snapchat account and share parts of their day from your institution's account. Who doesn't want to vicariously live the life of a collegiate reporter, a lab researcher, or tech-savvy alum? We bet that goes double for your prospective students.
Interviews. Interview premier people on campus who don't always speak with prospective students one-on-one. Think the Dean of Students, Basketball Coach, star students, and even your mascot.
Branded stickers. Create branded stickers and filters for users to apply to their own Stories. Here's one example of how Clemson University (@clemsonuniv) approached this idea:


Community geofilters. Geofilters are graphic overlays specific to a particular geographical location and time. Note: While geofilters are free to submit, Snapchat reviews them on a first-come, first-serve basis, and it can take several weeks to learn whether your geofilter has been accepted. That's why your institution may opt to pay for a Sponsored Geofilter, which we'll talk about in the next section. Here's an example of what a Snapchat Geofilter looks like: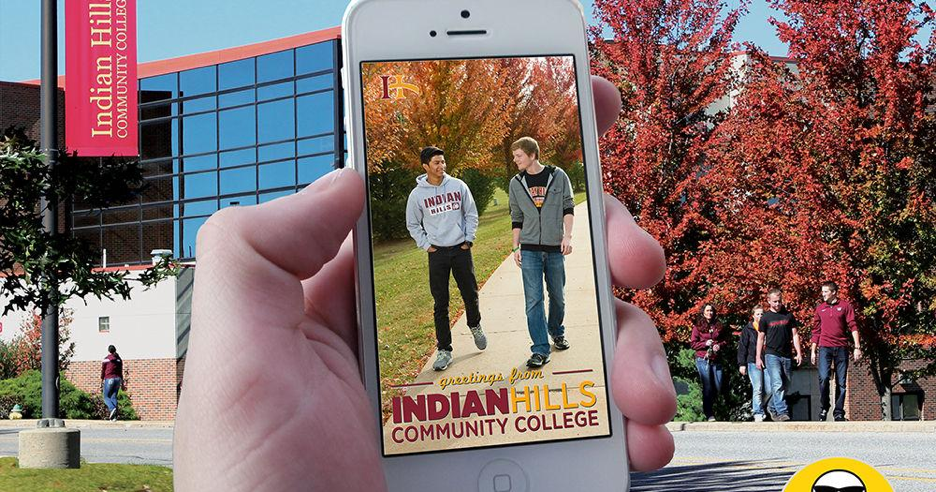 Snapchat ads (read: not free)
Since Snapchat rolled out its first ads in 2014, they've expanded advertising formats making their platform more accessible for smaller budgets. At the outset, they were prohibitively expensive.
How it works is Snapchat offers goal-based bidding, allowing brands to optimize their ad budget toward a specific goal, such as clicking a link, installing an app, or impressions (general awareness). You can also set daily budgets, lifetime budgets, and spend caps. It's an approach that your digital team is probably already using elsewhere.
Snapchat advertising also allows brands to target based on location, demographics, interests, and devices. You can create custom audiences, target customers uploaded from a list, lookalike audiences, and retarget Snapchatters who've already engaged with your website. Again, nothing new to learn here; your team is doing this on Facebook/Instagram already.
Ad content that reflects Snapchat's existing content tends to perform best. Making sure content is playful and authentic will yield higher engagement rates and ROI.
Top Snap Only ads, which display a single piece of content at the top of users' feeds, are one of the most common Snapchat ad formats. These ads can be in the form of images, GIFs, or videos, with a hyperlink to your call-to-action. Your call-to-action can be to link to your landing page, watch a long-form video, install an app, or swipe-up to text or call your institution.
As with all marketing campaigns, you'll want to define your goal and align your tactics and conversion tracking to that goal. If you're not sure what that means, you'll want to hire some experts (we know some ; -)
We mentioned Community Geofilters earlier. Snapchat offers a sponsored version of this feature, covering an area between 20,000 and 50 million square feet. The pricing of sponsored local geofilters depends on the desired location and duration of the geofilter. These are fun to play with. Consider a graduation overlay available on campus during graduation week, or school pride geofilter during your team's playoff game. Or perhaps doing something cool during the weeks when your prospective student campus tours are running consistently.
Many factors go into choosing where to study, but a primary one will always be culture. That's the beauty of tools like Snapchat. You can give prospective students a glimpse of what makes your institution so great in a format that makes sense to them and their sense of fun. Show off your culture.
Need help getting started or executing your plan? Be in touch.