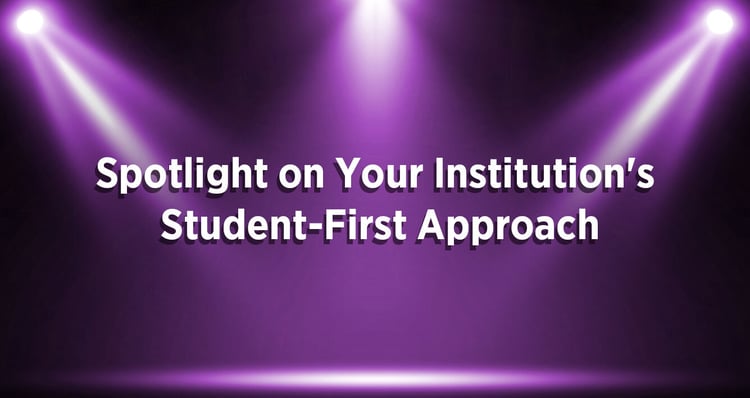 We recently talked with students past and present from Vietnam to Bangladesh and heard encouraging stories.
A professor hand-delivered a recommendation during the early phase of the pandemic.

A class specifically designed around a student's pursuits.

A helpful phone call to a trusted member of the international student services team when tragedy struck.
Stories that embody the kind of student-first experience we all imagine we provide to our students. It's the kind of experience we certainly all tell the world of prospective students (and parents) that we will deliver.
The reality, unfortunately, is often quite different. Blame branding or the bottom line (lack of resources), but the undeniable truth is that competing priorities often win out over the well-founded ideal of student-first.
Today's post is not a how-to on making your website user-friendly. Today we put a spotlight on the policies and actions that put students first. We're looking at what is undermining your institutional integrity and how you can address it. And trust us, students are well aware of how well your institution delivers on the promise of student-first. And they tell stories. So, yes, this post is enrollment marketing-focused.
When you delight, they gush with positive word-of-mouth support. And when you fail, they tell that story too.
To offer deep perspective on this topic, in addition to our own experience, we tapped a few colleagues who know more than a thing or two about fostering the student-first mindset:
David Hautanen, Vice President for Enrollment Management

at St. Mary's College of Maryland

Jessica Sandberg, Dean of International Enrollment Management at

Duke Kunshan University

Jewell Green Winn, Senior International Officer of International Affairs at Tennessee State University (and newly appointed chair of AIEA)
Brad Farnsworth, Principal of Fox Hollow Advisory and former Vice President at the American Council for Education (ACE)
They each had great perspective on the subject. We are so appreciative of their time and the insights shared. You, our readers, are the beneficiaries of their wisdom.
Read on to learn concrete actions you can take now to help ensure your enrollment program is student-first. Is this post a good one to share with your leadership? Uhm, yes.
Take Action: Student-First
A student-first approach is an institution-level decision. It goes way beyond marketing. It requires comprehensive policies that look at the entire student—their mindset and their experience, from the first point of contact through their role as a life-long alum of your institution. We are looking at a looooooonng term relationship.
Yet so many institutions operate in silos. And a student-first culture requires cross-departmental collaboration, an Achilles heel for sure. Though we are seeing great strides. Dare we thank CRMs and internal messaging tools (Slack anyone?) for pushing intradepartmental conversations?
There's also the challenge of staff and faculty development, or more to the point, lack of alignment on how to actually implement a student-first approach/policy/culture across the institution. So, while we need comprehensive cross-campus policy changes, we also need to teach members of your institution—newbies and long-timers—how to make sure ALL students—traditional, international, first-gen, et al.—are getting what they need out of the entire university experience.
Now that we've identified a few headaches, let's offer up some perspectives that could help yield real results for your students and your institution. These should not be bitter pills to swallow:
Action #1: Educate every campus department on the many personas comprising your student body.
"Students approach their academic journey differently in terms of their personal goals and aspirations, but also in terms of their academic preparation and background. It is critical institutions understand the latter to help each student achieve the former," David Hautanen of St. Mary's College of Maryland tells us.
In other words, one size does not fit all. One student archetype cannot be the sole influence on recruitment, enrollment, and student success programs. Cultural sensitivity, flexibility, adaptability – all important to your team's approach to student policies.
This is why it is so important to have conversations with students based on where they're coming from. This is how you help staff understand that the student mindset is not singular. And your recruiting approach to students should reflect this understanding. "In many ways I think of this as basic humanity. That education is a relational business. For us to be successful in meeting our institution's goals, we have to help students meet theirs." That's more of David's wisdom.
And this doesn't stop with recruitment. Over the past year, David and his team have hosted retention-focused town halls. One session for faculty, another for staff. During the town halls, retention is discussed as both a moral and economic imperative for students and the university. "We're very transparent about the impact students have on the bottom line, as well as the impact of students not making timely progress toward their degrees. Then we outline a number of institutional strategies we're putting in place to help our students be successful. In many ways, these discussions on retention help to inform and lead thoughtfulness in our approach to recruitment as well," David explains.
Action #2: Build accessibility and transparency into everything you do.
Jessica Sandberg with Duke Kunshan University sees student-first through the lenses of accessibility and transparency—especially key for Gen Z who show little patience with outdated notions.
For Jessica's team, this means finding new ways to make the admissions process more accessible to applicants. An example: use staff (not alumni) to conduct student interviews. Yes, this helps the institution assess the fit, but it's a two-way street that puts the student directly in touch with staff. This kind of accessibility is memorable and impressive. "We hear quite a lot that it was the most personalized part of the process," she said. Doubling down, the institution grants admitted students the chance to meet with a community member of their choosing. No surprise, time with a faculty member is the most frequent request.
Likewise, Duke Kunshan has also ramped up access for parents, creating space for them to connect with parents of other prospective students. Parents are also invited to meet one-on-one with the dean or director of international admissions. The university has even set up a well-received Facebook page for parents of admitted students. One benefit of building a dedicated online community for parents of admitted students is that it gives "overeager" parents a place to talk through their ideas and concerns. (Not to mention an opportunity for staff to address them in ways for all to see.)
Just as important as access is transparency—particularly as it relates to financial aid, scholarships, and selection practices in this test-optional era. "What it means for my operation is looking at practices and determining if we have policies to explain them. If not, let's get it onto paper. How do we make decisions? And how do we communicate the rationale for these policies?" Jessica says. That communication needs to be clear for the internal teams, the parents, and the students.
Action #3: Give students a seat at the table.
Dr. Jewell Green Winn with Tennessee State University is all about student agency and the student voice.
"We have to reach out to students in ways that attract them, in ways they're used to engaging. Take social media. Most are not on Facebook. We have to figure out TikTok, Instagram, Snapchat. We have to meet the students where they are and communicate with them in the way they like to be communicated with," she said. So, where do we find them? That's easy. Dr. Winn says to simply ask them.
"More than anything, we have to allow students' voices to surface. Often as adults, we make decisions and policies doing what we think is best without even asking students," she explains. And she puts this approach into practice.
Take recruiting fairs, which for Dr. Winn's team (and likely yours) are right now mostly virtual. She follows up with every participant and personally invites them to meet one-on-one with her and her team. On these calls, she opens the floor to them to ask any questions and air any concerns. Then, she offers to meet their parents one-on-one. This kind of personalized outreach works as an antidote for those painful group webinars where you ask if anyone has questions and all you get back are crickets.
But that's just one example of Dr. Winn's student-first practice. She's always seeking their voice, even making sure current students are active participants on advisory boards. This keeps their mindset and experiences always visible among the institutional administrators at the table—those stakeholders who need to hear it most. Surprising sometimes, how your peers will believe it when it comes directly from a student as opposed to hearing it from the enrollment marketing team ; -)
Action #4: Create equitable in-class environments with an easy ask upfront.
Yes, this has everything to do with current students, but their experience has everything to do with your ability to recruit honestly and effectively. Student-first does not end when students pay their first tuition bill.
Take international students. While many have spent significant time in the US and often speak perfect English, higher education is becoming more aggressive in its pursuit of a more diverse set of students. "That means we should expect many international students who are entering our classrooms to be brand new to the US experience and still be developing initial English skills. Faculty must prioritize drawing these students into the classroom environment. And not every professor knows quite how to do it," said Brad Farnsworth of Fox Hollow Advisory.
To help, some universities are making headway by asking students at the start of each term what it is they need to succeed in class. It's as simple as it sounds, but not done nearly enough. Their information can be shared anonymously and provides essential details relating to language barriers, disabilities, access to class materials, etc. It's an excellent student-first idea that is easy to implement and will make the semester so much better for the student and all of their educators.
Action #5: Track your students' experience and mindset.

We recognize students are over-polled these days, read: not responding at all. But polls are still really important to your institution. You need to know what students are thinking and feeling.
So, think creatively. Food is always a great motivator. Set up an ice cream social or picnic. Or try a Netflix Night. Advertise it as just that. They'll come. It's the oldest trick in the book, we know, but trust us, your response rate will be high if the focus of the evening is relevant and fun.
Then seed the room with your team who will be taking the pulse you're really after while casually enjoying a scoop of mint chip: "How are you feeling?" "Have you been able to find work on campus?" "How was the first week? Ddi you get out to any events?" "Which intramurals are you signed up for?" "Did you know there is a really cool dance recital happening next week?" "I was just talking to [insert name of another student] about how they were hesitant to use the academic support services, and you know what they told me about their experience…?"
You see where we are going with this. There is a social work role here that can be so helpful. Especially if it is not so "in their face." At the end of the evening, gather your team and do a quick debrief to find out what's working for these student cohorts and what is not. This is data collection at its best. Straight from the source.
Of course, you'll want more than anecdotes to track students over time. For this, make it a little more concrete. Yes, use your CRM. But you can get more personal than that. Randomly pick students and audit their campus activities, class attendance, gym usage, etc. Trace the way they interacted with the institution from their vantage point. Did they ask for help? Did they get it? When did they look into extracurricular activities? Go further back if you can: When did they first learn about your institution? What other institutions did they consider? Why did they choose yours? Encourage them to tell their truth so that they can help shape a better experience for students coming after them. You may be surprised how motivated they are to help those they see as following in their footsteps.
The good news is these actions really are easy enough to implement. They are low-cost, but time-intensive because they get to the core of student-first as opposed to band-aid solutions. You'll need strong leadership support from the top down and a talented team. Important to make the goals of your efforts clear to your team so they can make valuable decisions on the fly.
And, if you need some extra hands defining and executing on your student-first recruitment strategy, be in touch. We SO want you to succeed.