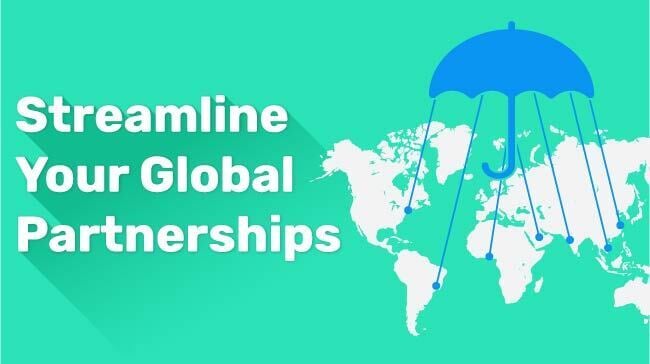 How many cooks are in your international-marketing-kitchen? Many universities work with a dizzying array of partners in their efforts to reach international prospects—an endless stream of specialized contractors all working in separate silos and in different regions.
We've seen universities that have hired many vendors under separate contracts:
A partner to build their international microsite

A freelancer to write the blog copy on that microsite

A partner to run a Facebook ad campaign in India

A partner to run Weibo accounts in China

A partner to run webinars in Vietnam

A videographer to shoot student testimonials

A graphic design firm to design brochures

A social media manager to run their WeChat account

A market research company to provide yearly research reports

An SEO specialist to help with paid search in Latin America

An agency to create the annual viewbook

Zzzzzzzzzzzzzzzz…sorry, we dozed off there. It makes us tired just to write out this list. And we didn't even include the many agent contracts most universities sign in their primary target countries.
Does international student recruitment have to be this distracting and exhausting ?
Read on for our advice on streamlining and helping you get back to your real job...
The short answer: No!
International student recruiting IS complicated and time consuming, no doubt. But it can be done efficiently and with fewer distractions. There are ways to make it easier, less of a lift.
In fact, we're willing to bet that you'll have both more success and fewer headaches if you take the time to streamline your marketing relationships – especially if you can put them under a single "umbrella."
Look, we'll admit we're not unbiased here: Intead is a full-service agency that could help you out with all of those many services listed above. We've built a global network of providers who are both vetted and trusted - so we can apply the marketing strategy to all your segmented audiences domestically and internationally. What we like about our global partners: they do what they say they are going to do. Which means, when you contract with us, you have access to that network and the results we can deliver with far less time commitment from you.
We genuinely want you to succeed, because that's how we stay in business.
But let's be clear, even if you don't hire us to be your full-service marketing agency, we really encourage you to find some partner who can check off more than one of your marketing needs. It simply makes more sense. You have more valuable recruitment activities to manage than keeping track of all those vendors we listed above.
Think about big global retail brands (you know their names) that streamline their marketing efforts under one Global Marketing Officer who ensures that:
their branding is consistent and effective worldwide

their ad campaigns are as effective in Thailand as they are in Brazil, oh and in San Francisco, New York, Austin, and Chicago.
You want to channel that same efficiency in your own global branding and recruitment efforts. Hiring partners who can handle more than one of your needs has four main benefits:
1. Centralized responsibility for delivering results across the board
A single point of contact with trusted, full-service agency centralizes the responsibility to deliver results for the many marketing and recruitment activities your institution undertakes. Think about your week and how much you have to manage. Think about having a trusted, experienced partner to take full responsibility for managing many or all of those global partners.
You're seeing what we see, right?
2. Cementing your relationships
Business relationships are like any relationship: they take time to develop. You can't form a meaningful partnership with a contractor you work with for a few weeks, have a couple of conference calls with, and send on their way once their deliverable has been received. The end deliverable may be perfectly fine—but it's going to be more of a hassle to get there than if you were working with a trusted, vetted partner you know well over the long-term.
Long-term, multi-job partnerships are great from an agency's perspective, obviously: our job is easier and more fun when we already are up and running with our partners. But it also makes sense from a client's perspective:
You don't waste your limited budget on calls and emails designed to get a new partner up to speed on the basics of your organization.

A long-term partner knows the "approved language" to describe your program and won't send you copy that rankles the faculty.

A long-term partner already knows that Larry in IT is the best guy to call to make a quick fix to that broken link that we identify just before the latest Facebook campaign launches. Even better, your partner knows that Larry is easiest to reach by email between 2-4, after lunch and before his end-of-day meeting with Phyllis.
Every time you hire a new partner, you are committing to investing time in ramping up their familiarity with you and your needs. Multiply that time commitment by multiple partners, and you're looking at a significant management load. Consistent partners are simply less work and produce more consistent results.
3. Simplifying your accounting
The fewer partners you need to hire, the cleaner your budget. The folks in accounts payable will thank you. And you've delegated a whole mess of project management oversight to your umbrella agency. Phew!
4. Maximizing success with a holistic view of all marketing activities
A full-service partner understands the interplay of different types of recruitment efforts and is informed by a diverse body of work – both other projects they have completed for you, and other projects unrelated to you.
To give you an example from our own agency's work: Intead has partnered with FPPEDUMedia to produce several Know your Neighborhood reports over the years. We survey millions of international students around the world about trending topics of interest to enrollment management leaders. We then write up our findings in a big ol' report. We've lost count as to how many downloads have happened globally! (No we haven't, we actually track everything ; -)
No one pays us to do this, but we do it anyway—for a few reasons.
One, because we enjoy it (data nerds unite!)
Two, because we think it's valuable to our readers - it furthers the professionalism of the field.
And three, because it is valuable to us.

When we develop targeted campaigns for our clients, we reach for our own research to inform the strategy and the creative work.
That means that even though our clients have not commissioned large-scale data analyses of international students, they still benefit from our research. Take this tidbit from our Winter 2016 Know Your Neighborhood report, for instance. Vietnamese students were more than twice as likely than students from any of the other 13 countries surveyed to include "alumni with jobs in my field" as one of the first three things they look for when selecting a university. You can bet that this information is on our minds when we're strategizing with clients on a Vietnamese recruitment approach. And yes, it is still relevant today, though other topics like visa denials, safety and health concerns play a much larger role than in the past.
Multi-disciplinary agencies will have a more rounded, better-informed, holistic approach to your global efforts. It would be impossible for them not to. Your institution benefits from the customized approach to each region and culture and the connections that can happen between these markets when appropriate.
Streamline your way to success
So your assignment for the week is to make a list of all of the partners involved in your international recruitment efforts. How many of those partnerships do you consider reliable and robust? Can you remember the name of your contact person at each of them? Do they proactively tap their deep knowledge of the field to offer you ideas and opportunities that improve your student enrollment processes and overall yield? Or do they wait for you to instruct them?
The BIG question: Could you do better work with a smaller number of quality, multi-service partners?