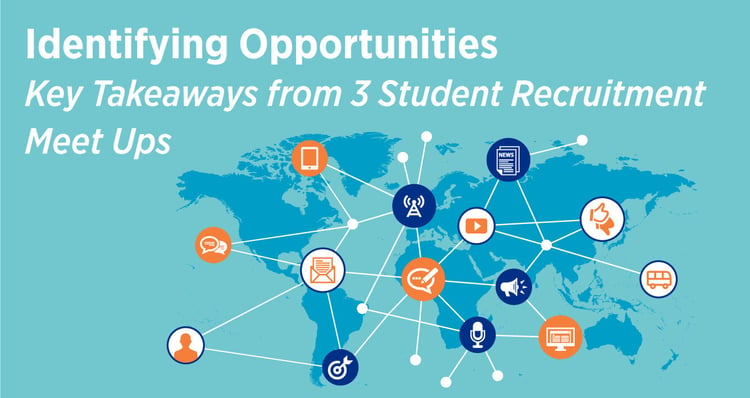 …It goes further than identifying opportunities. You also need to manage them. Perhaps a renewed focus on the mechanics will move the needle more effectively?...
Our full-day workshop at San Diego State University was a truly packed day. After initial conversations about the current student recruitment landscape and the data that informs smart enrollment decisions, we broke into 3 discussion groups talking about recruiting agent management, global digital marketing, and global partners.
Attendees were free to flow from one conversation to the other as our all-star faculty held forth using the Intead Global Marketing Workbook as a guide (available through our Intead Plus subscription). It was fascinating to watch the flow of inquiries and learning throughout the day as attendees tapped the expertise they needed to formulate their global marketing plans.
And we noted the praise for the faculty perspectives gathered. Based on the feedback, participants appreciated the highly productive series of deep conversations with the opportunity for detailed answers to specific marketing/recruitment questions.
We spoke to even more colleagues at the AIRC and ICEF conferences who expressed regret that they were unable to attend our workshop due to timing and work conflicts. If you share that perspective, please let us know. We are evaluating when we might hold this event again, on the East Coast or in other locations. Send us a note. Perhaps we can make this workshop accessible to you.
In the meantime, read on for quick notable ideas from our whirlwind trip westward for AIRC, ICEF, and our workshop in between. You'll be glad you did.
If you didn't attend AIRC, ICEF, or our workshop, allow these notes to serve as your fly on the wall. And perhaps as a bit of your 2023 recruitment compass, too. We'll be sharing useful slides and other content in the weeks ahead.
The things that make us lose sleep (and we need to figure out)
Tech platforms confuse the hell out of enrollment leaders. Many make similar promises and offer features that overlap (or do they?). Just way too confusing and unsubstantiated claims of success. Are they delivering quality leads? Are those leads converting? Are those students succeeding academically after they enroll?
Diversity of recruiting sources is more important than ever before.More institutions are prioritizing this, with investment in new global regions, for the first time in a long time.
Bifurcation of US politics is on everyone's mind. This affects student recruitment from some parts of the globe more than others. This reality reinforces the need for customized recruitment approaches(messaging, channels, etc) to engage different cultural perspectives rather than lumping all international students into the category of "international."
Faculty and alumni as underutilized assets. Their connections and influence are not being tapped by enrollment teams. Squandered opportunities here.
On the horizon we see…
A wider range of international students showing up (more diversity in incoming classes) following Covid disruptions, delays, and other influencers. Both applications and enrollments are rising from sources that were not very present on our lists previously.

Competition among English-speaking program destinations (US vs. Canada vs. UK vs. Germany vs. Australia) continues to grow. This has been a trend for a while now.

Student services (academic, career, mental health) require greater reinvestment to support student success and enrollment growth. Forward-thinking enrollment leaders know this. CFOs remain reticent to make the necessary investments due to competing financial priorities. Those CFOs and presidents seeing the light will see enrollment growth.
Overheard at AIRC and ICEF:
Most profound: An AIRC conversation with George Burke, "The focus seems to be on populating our inquiry bases and not paying attention to enrollment and admissions mechanics."
Most whimsical: Mitch Leventhal and David DiMaria offered a serious and also light-hearted AIRC session on Stoicism and the challenges of being an enrollment leader. "If everyone you meet is a buffoon, it might not be them, so much as you."
Best turn of phrase: Clay Hensley, Kirsten Fedderson, and Fiona Rees shared an AIRC session on data-informed marketing. "Seeking inclusive excellence." Love that phrase.
Most helpful perspective: Vanessa Andrade and Sean Cochran joined me in leading an AIRC session on how the student journey is more like a synaptic series of interconnected nodes rather than a straight line path. "Student decision success = understanding of inter-related and multi-touch conversion points." Examples:

How do your visa training guidelines relate to your academic program communications in terms of student decision influence?

Can one area of student marketing where you are crushing it (e.g. travel) compensate for another area where you are abysmal (e.g. admissions processing delays)?

Can student and parent testimonials give you a leg up on the competition?

Does your agent communications pattern change at different points in the admissions cycle/marketing funnel?

Most impressive demonstration of community problem solving: An AIRC Town Hall discussion led by Alexandra Michel and Steven Hales addressed the rising number of international students at some US institutions transferring to another institution upon arrival or after the first semester. A variety of issues at play here. An amazingly candid and impressive display of collegial dialogue among leaders responsible for institutional enrollment and recruiting agency administration. Well done, Alex, Steven, and AIRC members!
Most concerning storm clouds on the horizon: An ICEF discussion on the proliferation of platforms and agent aggregators. "Without India, the sub-agent aggregators would not exist." A collegial and challenging discussion about identifying and evaluating

the indicators of success with platform use. Also of concern: is there any level of sub-agent or agent accountability and provision of student support post-enrollment? The emerging student recruitment platform system is fraught with challenges and begs the question: which recruiting processes are putting the student first? Listen

HERE.
Best quip: Let's not define ourselves or our success by how many "likes" we have.
Favorite moment: in the lobby bar at the close of the AIRC conference while we were all watching an intense World Cup match, MacKenzie Zak's reply when asked which team she was rooting for (with fist in the air), "Go sports!"
Bottom line:
What students want has not changed: Life-changing critical thinking skills that lead to job connections and opportunities. Learning that will help them adapt to a changing world and work environment.
What has changed: How we capture prospective student attention and nurture them toward a decision that meets their individualistic needs.
We'll be here when you are ready to get serious about your global student recruitment plans. From the market research that leads to a strategy that guides marketing execution, our team is deep into this stuff, knows the field, and brings creativity, reliability, and results. And, well, simply a pleasure to work with.