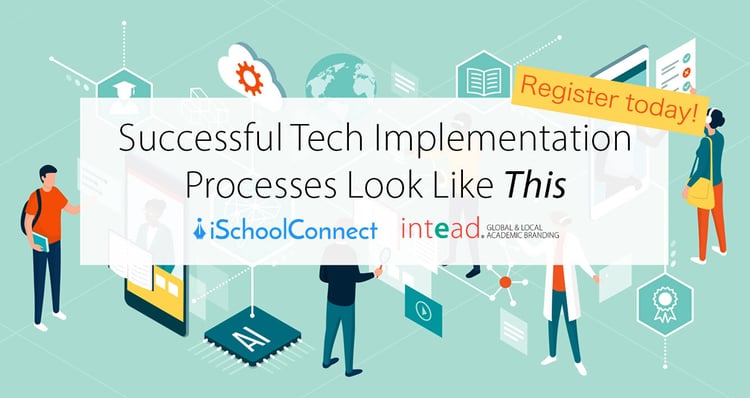 In last week's virtual event, "Using Tech to Thrive in a Volatile Time", Chronicle of Higher Education host Ian Wilhelm surveyed attendees with one key question —
Will the pandemic experience help your institution make better decisions about using technology?
The answer from respondents? A resounding YES.
But what exactly are those decisions? Who's making them? And most importantly, how will these decisions about technology made now lead to successful implementation and transformational change for your institution down the road?
On Thursday, February 18th at 2pm Eastern, Ben Waxman, CEO of Intead and Ashish Fernando, CEO of iSchoolConnect will be leading a follow-up webinar, "EdTech: The Road Map Has Changed. Successful Implementation Processes Look Like This" to further the valuable Chronicle discussion of last week.
In this "Ask Us Anything" conversation, we'll be getting practical, covering all things tactical implementation when it comes to technology on your campus. The key objective? Identifying how successful tech implementation really happens (despite the obstacles) and how you can create that new reality for your students, faculty, and staff. We want to discuss your specific case —wins, challenges, and all.
Adding valuable perspective to the event will be Jesus Trujillo Gomez, Strategic Business Executive for Higher Ed at Google Cloud, as well as other special guests from academic institutions across the country. Get those questions ready.
Registrants will receive access to the recording of this event, so if you can't attend live, never fear. (And if you want your questions answered but can't attend — let's chat.)
And if you missed last week's "Using Tech to Thrive in a Volatile Time" event, stay tuned in the coming weeks for the Director's Cut recording, as well as a download of the key takeaways, including Intead and iSchoolConnect's, "6 Insights in 6 Minutes." Exciting, valuable stuff to come.
Read on for a preview of the keys to tech implementation success. Plus, one of the most common tech myths, debunked.
We've said it before and we'll say it again: these institution changing technology integrations are complex, multi-year projects. But with the appropriate guardrails and benchmarks for success in place, these projects are manageable and affordable and drive real results.
Incremental investments with reliable partners produce the quick-wins that justify your next steps for your leadership team. Over time, these bite-sized (or is that byte-sized? 😉) improvements produce transformational changes that allow your institution to adapt more quickly to the changing student landscape - that means stabilized revenue streams.
When you talk to your CFO (you are talking to your CFO, right?), this is an essential part of the narrative laying out the way you plan to attract, recruit, enroll, and retain students — for good.
Consider this: Domestic students, non-traditional students, international students — they are not going away. There will continue to be a pool of interested prospects and applicants. Those institutions well-resourced with technology will be the winners as they segment these audiences and present the value of their institution's programs, faculty, research networks, and global career opportunities.
Myth Busting: Actually More Human, Not Less
Let's get one thing out of the way. The concern we've heard over and over again: What does a new technology mean for me and my job? We've got good news. The robots aren't coming for our jobs.
In our view, they never will.
But the job market will change. (Again, focus on adaptation of programs, research, and skills is critical.) But we digress. We're not talking about curricular advantages today.
The goal of technology improvements? Make your institution more human, not less. Your people? More critical than ever before.
While it may sound counter-intuitive, institution-wide technological implementations begin and end with the interpersonal. We're talking communication and collaboration with your trusted technology partners and your colleagues to build alignment up, down, and across your institution. And jobs that used to interface with computer screens and forms all day are repurposed to interface with your students, supporting them with everything from meal plans and housing snafus to academic success.
There are many demonstrated cases where this campus administrative transformation has happened.
And after the implementation? Improvements in your technology and the automation of menial tasks that take up your team's time and resources mean that you and your team can deliver more value, more connections with more students. Your team is more involved in delivering on your institution's mission in ways bigger, bolder, and more human than ever before.
So, with that pesky job-stealing robot myth out of the way, you're ready to deep dive into the nitty gritty of developing that tactical implementation plan.
Register for the discussion here, and let's move your institution forward.