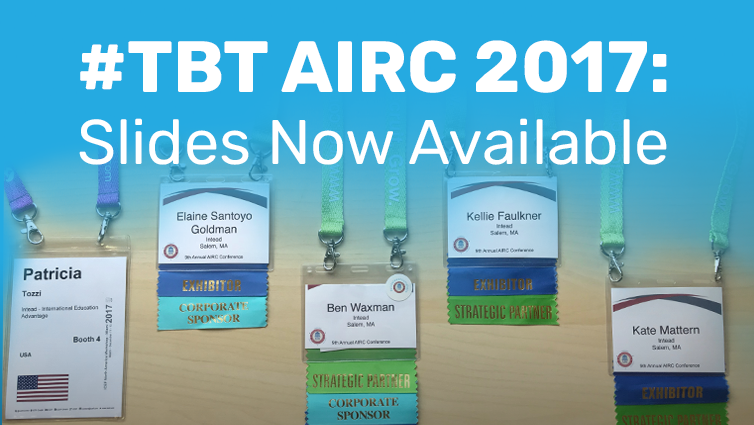 It's awfully cold up here in Massachusetts these days—but that's just one of the reasons we're daydreaming about the AIRC Conference in Florida this past December. As most of you know, the American International Recruitment Council (AIRC) conference is one of the highlights of the year for our professional community.
We have been attending AIRC for 8 years now, and every year we meet insightful industry experts with valuable perspectives to share. This is the learning and networking conference we enjoy most. We send a significant Intead staff contingent every time to get the most of what AIRC has to offer our community. International student expertise from all over the world gathers and shares their firsthand perspective and in-country student experiences.
This year, we were honored to share our own marketing intelligence with our colleagues from universities and other experts in the field on a wide range of recruitment topics. We saw many of you, our valued blog readers, on the conference floor, jotting notes in AIRC seminars or lounging poolside with a drink (don't worry we won't share any photos)—but if you missed it (or hey, just miss us!) our slides are here for your perusing pleasure.
Seats are still availble for the Intead/CGACC International Student Recruitment Bootcamp. Sign up while you still can. February 11-13 in San Diego. We can't wait for the warmth!
Read on for a review of our presentations and a link to the slides for each one...
This year, members of the Intead team proudly presented with some amazing partners at AIRC on the followig topics.
If you don't have time to click through our slides (we think you should—but we're biased!) here are the big-picture messages:
International student recruitment is competitive. You've got to get creative. Tap into student pools that you may never have considered. Some are already here in the US and looking for you.
You've got to make use of the resources you already have. That means tapping into your global alumni and making connections within your university. You can't go this alone.
Data is your friend (though it is often hard to find, collect and maintain). You can't create personas or craft effective recruitment plans without knowing more about your audience and what they react to.
There's no shame in asking for help—that's what we're here for! Give us a holler, and we'll work out your international student recruitment quandaries together.
Now to the slides...
International Recruiting...From Your Backyard
On a tight recruitment budget? Join the club! Intead's Director of Marketing Strategy Kellie Faulkner presented along Bill Mena, Director of International and Boarding Admission at Sandy Spring Friends School on how to minimize your spending while maximizing your international reach. The secret? Tapping into the potential of international students already living in your own proverbial "backyard". Check out the slides here.
Know Your Audience: Using Personas to Guide Your Chinese International Marketing Plan
Newsflash: China is a big, big place. Do you know what motivates and influences students from different regions of this international student behemoth? Are you confident that your current content is resonating with the Chinese students you're hoping to recruit? The key to developing a successful marketing plan starts with understanding and segmenting your audience.
Explore the slides here.
Intead's Director of Marketing Strategy Patricia Tozzi presented alongside Pat Colabucci, Director, UCLA Extension Business Development Manager, UCLA Global Online and Jessica Sandberg, Director of International Admissions at Temple University, and Gavin Newton-Tanzer, Founder and President of Sunrise International Education.
Who's Got Your Back?: Applying Internal Strategic Alignment Towards International Recruitment Goals
It takes a village! Trying to recruit and retain international students without internal alignment is a losing battle. You need a team in place to guide your efforts to success. But how do you make that happen—and what challenges should you anticipate encountering along the way? Find out here.
Intead's CEO Ben Waxman presented with Jon Stauff, Vice Provost for Global Education at Monmouth University.
International Alumni Relations: The Neglected Resource in Your Strategic Recruiting Arsenal?
We hate to say it, but it's probably true—you're ignoring some of the most important players in your international student recruitment efforts. Learn about the common problems and key strategies for success. If you liked our white paper on this topic, this presentation is for you (and if you haven't read that one yet, check it out! Global Alumni Management, The State of the Field in 2017).
Click here to download the slides.
Intead's Marketing and Communications Manager Kate Mattern presented alongside Gretchen Dobson, Academic Assembly's VP Alumni and Graduate Services, Managing Director Australia.
Transfer Students, Agents and You
Transfer students can be international students, too! Students already studying in the U.S. typically already have a visa—and more and more, international enrollment experts are understanding what a vital role these students may play in boosting their enrollment numbers.
But how do you navigate Title IV federal financial aid and the payment of international agent commissions? Intead's CEO Ben Waxman and co-presenter Andrew Chen, Chief Learning Officer at WholeRen Education have got you covered. Read more here.