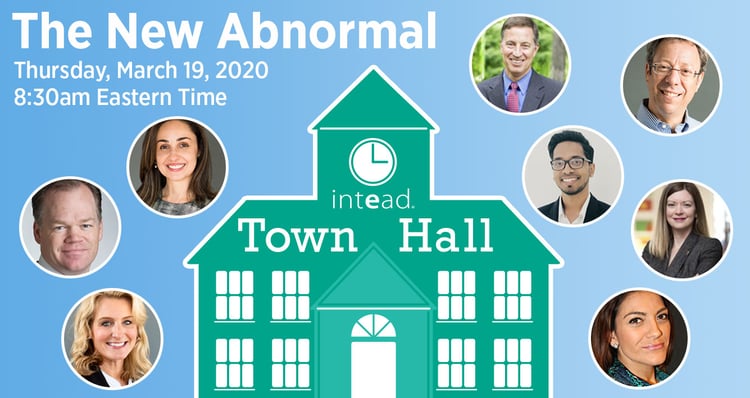 Intead will hold a Town Hall on Thursday, March 19, 2020 at 8:30am Eastern Time. We have a panel of experts with a world of travel and student experience under their belts. Please join us.
What's this all about?
Every 2 – 3 days our situation changes, globally, domestically. And it changes dramatically. This is the new abnormal.
As one of our wise Intead Advisory Board members shared recently, there is BEST PRACTICE and then there is ACTUAL PRACTICE. Let's all be real about what we can do and the fact that we put our best foot forward every day with good intent. In the new abnormal, best practice is going to be relative.
And putting our best foot forward is what we are all about right now. This is no time to become mired in anxiety and wait to act. Decisions need to be made quickly and in the face of massive ambiguity.
With campuses across the country and around the world continuing to pursue their education mission in new ways, we all have important ideas to share and new realities to adjust to. What better way to move forward than getting together…virtually, of course!
NOTE: A recording of the webinar will be shared with all who register, whether or not you attend.
This is a not to be missed event.
Joining our Intead Team as Panelists, we are honored to bring you:
Jessica Sandberg, Dean of International Enrollment at Duke Kunshan University
David Fleshler, JD, Vice Provost for International Affairs at Case Western Reserve University
Seamus Harreys, VP, Global Enrollment at CIEE
Angel Ahmed, CEO of GNET
Ashish Fernando, Founder of iSchoolConnect
Read on.
Having participated in a number of webinars over the past few weeks, I can tell you that some were exceedingly valuable as a way to understand our new on the ground realities and confirm that what we are facing is a shared experience. None of us is in this new thing alone.
From managing the devastating disruptions forced upon our study abroad students to the challenges of our crisis communications team, we are all working hard to ensure all constituents (students, parents, alumni, faculty, staff, vendors…) get the information they need and stay safe.
There is more to manage than ever. And we SO want to get all this right, or as right as it can be.
Right now, getting it "right" is relative.
What we do now, how we act, and how we communicate -- all of this speaks to our brand, the brand we've been building and nurturing, the promise our brand makes to our community. This is the time to show it.
How we do this will be remembered long beyond this abnormal period.
Intead's recent blog posts about near-term thinking and longer-term thinking are fast becoming two of our all time most clicked posts. Those working in our field are thirsty for ideas, approaches, forward and positive thinking.
This Town Hall, with your input, will be just such an event – forward and positive thinking. Join us for this rubber meets road conversation and add to it. We've already gathered some great ideas from a diverse set of colleges and universities, and we're eager to share them with you.
NOTE: A recording of the webinar will be shared with those who register, whether or not they attend.