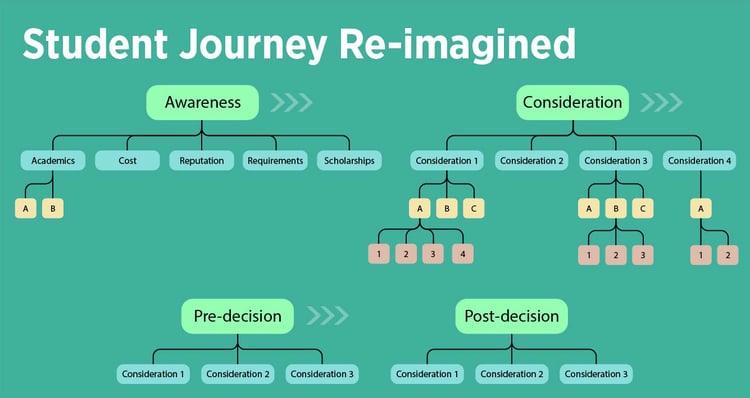 Customer journey mapping is an important thing as you build a digital marketing plan. How do customers first become aware of your brand? What do they consider along the way? What can you deliver to them to speak convincingly to those considerations?
We've done quite a few posts about micro-conversions (from our NAFSA session last year - among other posts). The idea is that you give your digital prospects the information they want at the right time to take them to the next step or next consideration in the process. You don't just push the "apply now" button at the get go.
So, with all that is going on with enrollment issues right now, why are we talking about customer journey mapping? Because the decision-making process for your students – both prospective and current, both international and domestic – has changed. A lot.
This is the right time to re-consider how your digital marketing (website, ads, social media) are speaking to your many student segments about what you have to offer, before they defer for the next year and the connection you've worked so hard to create dissipates and then disappears, along with the tuition payments.
Read on for tips and perspective on why this is so important.
Have you been keeping up with the data on digital marketing lately? Too much else going on for that, right? Not to worry, we've been monitoring it for you.
Here's the thing: NOW is the right time to build your infrastructure for recruitment.
Where to start? Well, consider the student journey from the beginning of the funnel to the end and all its many elements. Mapping it and developing the content to truly engage throughout that journey is critical. And as you know, that journey is entirely digital right now. That's not going to change any time soon.
Let's look at some fun data: From Google Trends this past week what is the world searching for online?
"PUA unemployment" up 500% in Massachusetts (PUA = pandemic unemployment assistance)
"How to make a mint Julep" up 60%
"How to make disinfectant wipes" up 40%
So, people want information relevant to what is going on. But, what about purchases?
Searches related to pizza: global all-time high. That is a "search, click and buy" customer journey. In other areas, the search and click is happening, but not the buy.
WordStream offers some great insights into consumer behavior. Folks have been stuck at home with very little to do. Searching for stuff and clicking on ads is up. However, purchasing is down, way down. Makes sense, right?
People are online so much more in a somewhat random way. An ad for some new shirt or gizmo pops up next to what you are looking at. Heck, why not click? Check it out. But this is not the time to buy. It's merely exploration time driven by boredom (and more hours spent at our screens).
Right now, your click rate may be rising, but your shopping cart purchases are far lower than they used to be (unless, of course, you're a site selling personal grooming tools.) To be fair, there are other items that are relevant to our new lifestyles that people are buying in quantity. But the data shows that the customer journey in so many areas has changed.
More germane to our line of work (from WordStream's report): "There's modest increase in paid search traffic for new careers and vocational training (+10% and +8%, respectively) in the past weeks, but that's largely aspirational for the moment, as conversion numbers haven't shifted noticeably." So, clicking is happening but conversions are not. Prospective students are interested in what you have to offer, but they are not making decisions right now. (Recall our post a couple weeks back citing the rising unemployment rate? Uncertainty breeds indecision).
Adobe, the makers of all the graphic design tools we love (Photoshop, Illustrator, InDesign, etc.), surveys senior level marketers every year. Their 2020 Digital Trends Report offers some interesting insights from over 12,000 marketers surveyed , including our favorite factoid: those companies that were able to move fast and focus hard on the customer journey were 3X as likely to significantly exceed their top business goals in 2019.
Here's what you probably know right now: Your website does not perform as it should.
The content and navigation have needed an update for the longest time. There is not enough video. And that's just cosmetic. Underneath, the tracking capabilities are weak and inconsistent. The tracking codes going out on social media channels are not even there in some cases. Your dashboards used to track and report on conversions and more? Well, your response is probably, "What dashboards?"
So, you really don't know what is working and what is not. We could go on…but the point is, now's the time to shore this stuff up. Make it work really smoothly so that as you do more and more online promotion and service delivery, you actually know what is working and what needs improvement.
There are many ways to collect the data you need to do customer journey mapping. We can really help you there. It's a great place to start this process of getting your digital foundation ready for the promotions that you are going to devote even more of your budget to in the years ahead.