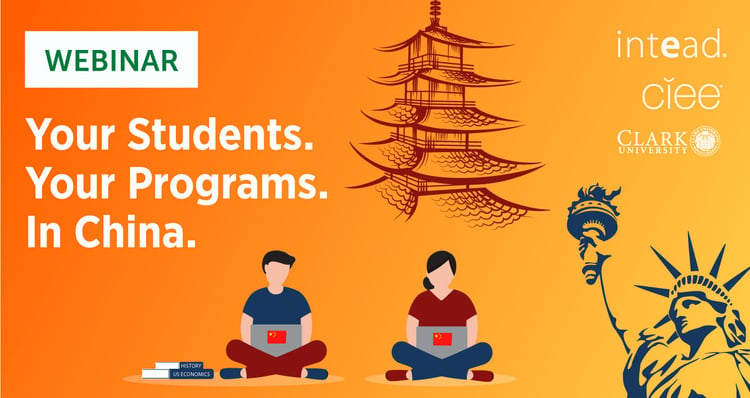 Struggling to define strategies that will bring back your enrollment from China? You're not alone.
But there's good news: Clark University met the needs of their Chinese students this past year with an innovative and quickly installed remote campus in Shanghai. Their story is full of instructive lessons. And our webinar tomorrow will enlighten (see link below).
And there is even more good news: Chinese parents are still eager to provide a US-style education for their child, with 97% of parent respondents in our latest market research citing the US as their first-choice destination for their child's education.
The short of it: opportunity for your institution is still out there. Chinese parents and students are ready and waiting for your message despite current travel restrictions, if only you could reach them…
As you plan your strategy for next year, consider this: CIEE has created a powerful option that has proven successful at helping US institutions meet their Chinese students where they are. And it is not just about enrollment. It is so much more, thankfully.
We're talking long-term partnership building in one of your key markets and a new pipeline that will foster both student success and help you reach your enrollment goals. We're talking International Campus Opportunities with your programs and your students — in China. Clark University was one of ten US institutions that acted fast and benefited from this innovative approach last year. Now, they will be sharing their story with you.
Join us tomorrow, Thursday, April 15th at 11am Eastern for a webinar event with CIEE and Clark to discuss the state of the Chinese market, the international campus experience, and the steps necessary to make this opportunity work for fall 2021 at your institution.
This event is for academic institutions only (.edu email addresses and other academic institutions).
Moderated by Ben Waxman, Intead CEO, the expert panel of your colleagues with a wealth of experience in higher ed and China will include:
John LaBrie, Dean of the School of Professional Studies and Associate Provost for Professional Education, Clark University
Jill Zhang, China-based Admissions Counselor, Graduate Admissions, Clark University
Seamus Harreys, Vice President Global Enrollment, CIEE
Brad Farnsworth, Principal, Fox Hollow Advisory, Former Vice President for Global Engagement at American Council on Education
Read on for a preview of the valuable topics to be discussed and how to continue leveraging your presence and academic programs in this challenging time.
Your institution's visionary need to establish and expand cross-border partnerships is more important than ever to maintain your enrollment and deliver the global education your mission statement promises.
But we also know that the conditions of our notoriously slow-moving industry don't always favor the bold strategy required to realize that vision, especially in times of market stress. This, right now, is one of those rare times when your immediate need (to overcome international student travel restrictions) feeds your future vision (to develop more substantial cross-border partnerships that support internationalization).
With their international campus opportunities, CIEE provides the experience and infrastructure to make turnkey innovation happen for your institution. A highly nimble opportunity, even for institutions that might not always have "nimble" in their vocabulary.
Trailblazing institutions such as Clark University have put this innovative new approach to work in the past year, using CIEE's international campus program to bridge the gap between their institution and students in China. Others who took this step? Babson College, Penn State, Syracuse, Tulane, the list goes on.
These institutions put their student-first vision to the test and have garnered appreciation from Chinese students and parents alike. Their programs have enabled students, hampered by travel restrictions but still eager to study in a campus environment, to continue to engage with their institution.
In tomorrow's webinar, Clark University will share their experiences delivering academic programs in Shanghai, including their challenges and wins in setting up the program in 2020, as well as their goals and expectations for 2021 and beyond. For them, the program is only growing.
Join us and learn about the value of these programs to Clark University's students and the institution at large. Our panel of experts will also be sharing the latest on the current Chinese market context — student demand, visas, travel restrictions, quarantines, and the like.
And if you're interested in this new approach to maintain and even expand your Chinese enrollment, we'll be getting specific with Seamus Harreys, Vice President Global Enrollment of CIEE about the exact steps necessary to make this work at your institution, fast. Hello, Fall 2021.
Trust us, you won't want to miss this discussion. And there will be plenty of time to get all of your questions answered, too. We look forward to seeing you tomorrow. Register now.