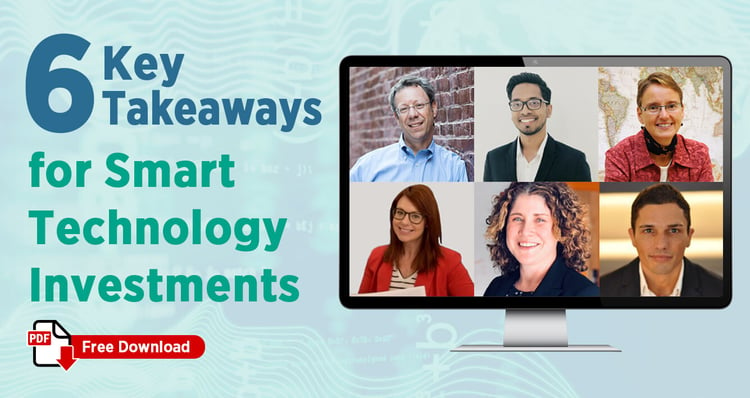 Our advice from a few weeks back: To survive current enrollment and revenue challenges, institutions must stop cutting at some point and invest in growth.
We know you have questions. How do you encourage a culture of innovation? How do you get a slow-moving institution to make smart, growth-focused investments? How do you manage the risks inherent in these investments? And, most importantly, what are the "smart investments" your institution should be making?
We've been doing the research and gathering the experts. On November 16th, Intead and iSchoolConnect hosted a webinar Predicting Revenue, Enrollment & Student Success to address these questions and more, with a focus on how investments in data and technology can help generate predictable revenue for your institution and pave the way for transformational growth.
In the webinar, Ben Waxman (CEO, Intead) and Ashish Fernando (CEO, iSchoolConnect) also introduced the new Intead / iSchoolConnect partnership -- a powerful relationship and suite of end-to-end admissions and student success-focused solutions that combine Intead's wealth of experience in market research and strategic digital communications with iSchoolConnect's Google-recognized technology services.
The webinar discussion tapped the wisdom and deep experience of:
Lisa Adams, MD: Associate Dean for Global Health, Director of the Center for Global Health Equity, Dartmouth Geisel School of Medicine
Jesus Trujillo Gomez: Strategic Business Executive for Higher Ed at Google Cloud
Kerry Salerno: CMO, Babson College
Hillary Dostal: Economics Adjunct Professor and Lecturer, Northeastern University and Endicott College
If you missed the webinar, you can watch the recording in full right here. You can also play it in the background while you work, but we like to think our bright, smiling faces bring some added value! : )
And if you haven't got an hour to spare, you're in luck — a new Key Takeaways PDF download is available for free at the end of this post. These insights shared by our panelists are just too valuable to miss. It is a quick and helpful read.
Read on for webinar highlights and the Key Takeaways download link.
Transactional vs. Transformational
You may have heard the terms "transactional" and "transformational" around here lately when it comes to classifying your institution's investments. In the webinar, panelist Hillary Dostal of Northeastern University provided valuable context around transactional vs. transformational business activities from her past work with IBM. Kerry Salerno, CMO of Babson College, also discussed two valuable strategic frameworks for decision making when it comes to institutional investments (more details on those in the download.)
Key Takeaway: Being good at your transactional work allows your institution to build a strong, reliable foundation of predictable revenue and serves as a launchpad for transformational innovations.
In the context of enrollment, a stream of transactional business, i.e. streamlining your admissions, opens up transformational opportunities such as using Big Data and AI for modeling your enrollment pipelines or identifying new student profiles.
Working with Your Existing Infrastructure
Large technology investments are not to be taken lightly and carry inherent risk. Panelist Jesus Trujillo Gomez, Strategic Business Executive for Higher Ed at Google Cloud (and iSchoolConnect partner), provided insights on what he is currently observing with senior leadership across the education market. He also shared a saying about the education market that is often voiced internally at Google…any guesses to what that could be?
Key Takeaway: Smart investments in technology mean leveraging your existing infrastructure, and finding partners who understand your needs and challenges, and offer flexibility to adjust as you go.
Cookie cutter platforms are rarely the answer for complex institutions. In this challenging year, senior leaders have been hesitant to make risky investments in IT. Instead, Jesus reported a shift in the market towards low-hanging fruit.
Quick projects with quick wins that work with your existing technology infrastructure bring significant value to your institution fast and with minimal risk. An additional benefit of these quick projects? Quick wins help build trust and campus-wide validation to move your institution forward and build toward those larger, transformational investments.
That is a step toward building a culture of innovation. Don't just talk about it, demonstrate it.
Technology Investments and Job Security
With any discussion of increasing technological investment and automation, comes the question on everyone's mind: What does this mean for the future of my job? Among our webinar panelists, the verdict on the effect of technical automation on admissions offices was unanimous…
The Key Takeaways PDF includes our speakers' perspectives on automation within their offices and across the market, as well as more on the practical use cases for AI in higher education and the unintended positive side effects of technological integrations. Plus, perspective on student success, COVID-19 and campus communications from Lisa Adams, MD, Associate Dean for Global Health and Director of the Center for Global Health Equity at Dartmouth's Geisel School of Medicine.
Putting the Key Takeaways to Work
Interested in setting your institution on that path to transformational growth through smart, quick-win technological investments? Schedule a free consultation with the Intead – iSchoolConnect team to learn more.