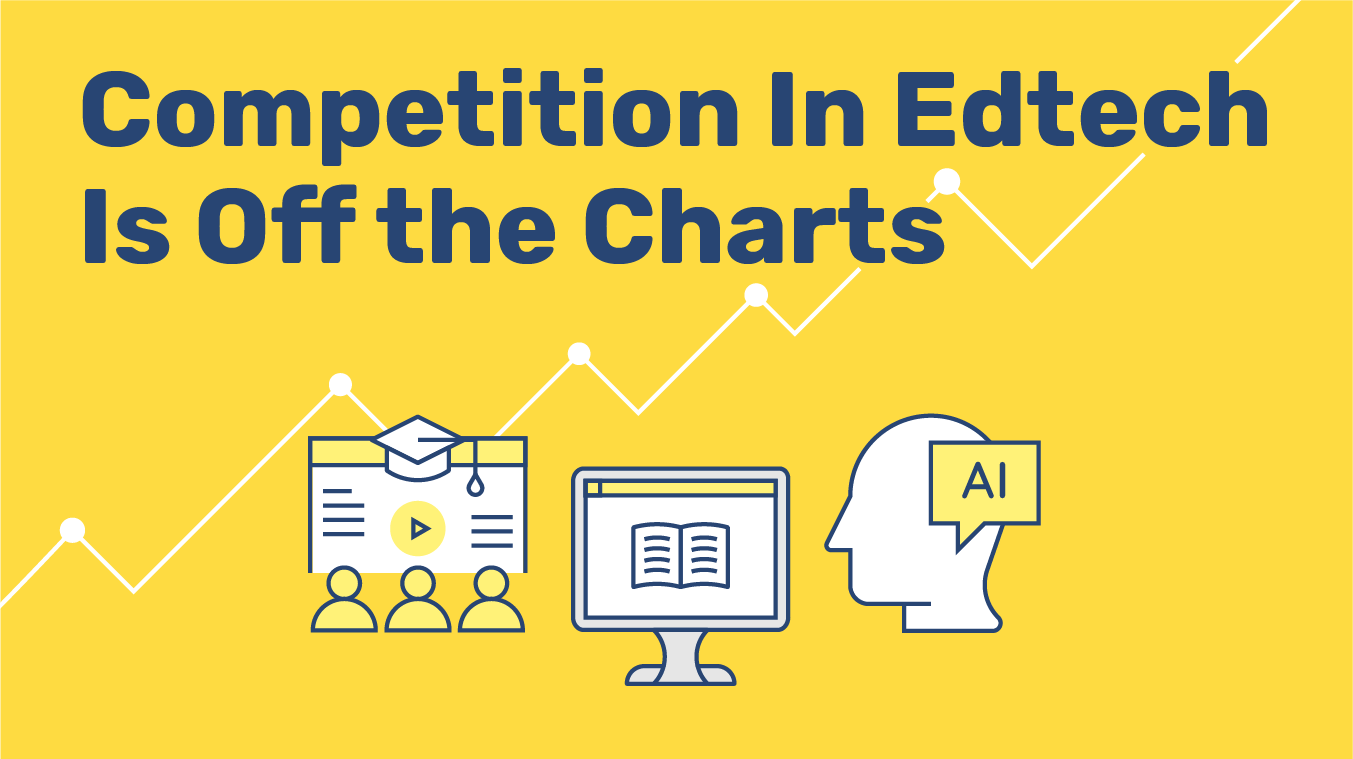 Every time we turn around there is another set of edtech companies showing off their wares. At NACAC, NAFSA and the American Marketing Association's Higher Ed Group, everyone has a tech solution.

We've been watching the rise of edtech and loving the growth and the disruption. From offering new ways of delivering educational content to how we confirm that students are absorbing that content, there are beautiful things happening. And the data being collected is going to help us all improve our education outcomes.


There are more than 15,000 companies in some form of edtech position. And by some estimates more than $50B (likely more) has been invested in making them grow. Some of the names are familiar to you and some are new to all of us.

But everything is not rosy here. All too often, the marketing for these companies shout out "Artificial Intelligence" and "Predictive Modeling," when they are anything but "intelligent" or "predictive." If you scratch the surface when you meet them at a conference, you'll find that their "predictive modeling" is simply filtering their list purchases in sophisticated ways. We're thinking their marketing pitch might be better termed "Artificial Modeling." To wit, they are selling stuff with no substance.

Intead will be doing a series of posts and webinars with industry leaders addressing edtech in the coming year. We're excited to shine a light on those that are doing incredible things. As always, our Intead Plus members will get the best stuff from us.

Please read on for a nice summary of the wonderful ways edtech will transform the classroom, our employees, and our lives in the years to come.

We just had the most amazing meeting of our Research Advisory Board last week. We evaluated our running list of research areas we believe will have real value to our field of student enrollment - global and local. This group of higher ed leaders (you've probably met many of them) has their fingers on the pulse of what is happening in the education marketplace here in the US and around the world.

I can't reveal all that we plan to do this year just yet, but let me assure you, the reports we are developing will be really helpful as you plan your recruitment efforts. Which tech tools? Which countries do they work in? What is the best approach for us? We're excited to gather the data and report on our findings with some great partners.

As we evaluated the opportunities out there, we returned to a favorite report from 2017 by Navitas and Quid (free download). So beautifully designed and the complexity of the edtech market so nicely conveyed. Here is our summary of their research. Many of these areas overlap into each other so the lines blur more than our simple table conveys.

15,000 companies worldwide fall into 8 areas and roughly $50B in funds invested as of 2017.
Edtech Areas
Funds Invested


(Billions - USD)

1. Create Learning Content: think curriculums and online courseware

~

$4.5
2. Manage Institution Activity: think enterprise software for student and faculty management

~

$7.0
3. Discover Educational Opportunities: think enrollment marketing platforms for students searching, applying, and financing for their education (education financing represents more than 50% of this investment area)

~

$7.5
4. Connect Students to Resources: think learning management systems and social learning

~

$4.3
5. Experience Immersive Learning: think classroom technology and online resources (mostly K12) and virtual reality learning

~

$3.1
6. Learn Through New or Flipped Models: think MOOCS, proprietary online learning (Lynda.com), coding bootcamps

~

$9.5
7. Credentialing: think test prep, certificate validation, testing and badging

~

$3.0
8. Advancing Careers: think career planning, job connections and internships

~

$7.0

There is so much to discover here. Each of these areas will be disrupted over the next decade (higher ed is really still very slow to react to market changes). We're eager to do some intelligent predicting to let you know where the industry is going and why you might want to go there too. We're just getting started. And we're glad you are along for the ride.
Share your market research interests in the comments below. Perhaps we can address them in a future blog post, report or webinar.