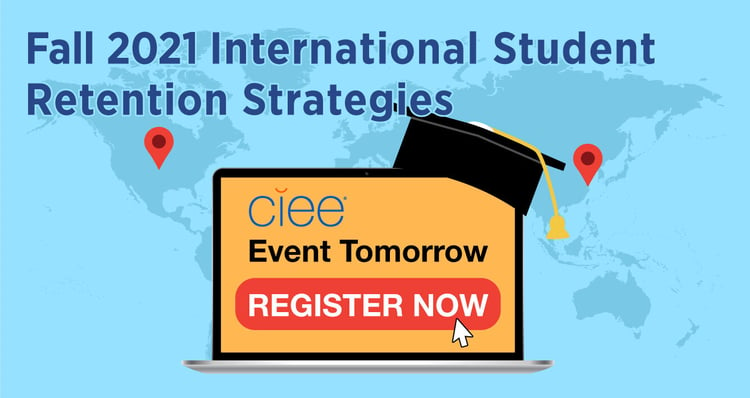 Today's international enrollment challenges demand innovative solutions.
However, those innovative solutions are often easier said than done and more resource-intensive than you expect. But not always.
Enter: CIEE's custom global programs.
We're talking your curriculum and educational experience delivered in major international student hubs such as Shanghai and Seoul to students that can't physically be with you on campus. And with CIEE's robust infrastructure to support both academic and student life already in place in cities across the world, all that's needed is you.
Intrigued? Join CIEE's "Fall 2021 International Student Retention Strategies" webinar discussion tomorrow, Thursday, Feb. 25th at 12pm Eastern to discover how institutions across the US are already using CIEE's global programs to attract and retain international students.
Specifically, you'll hear from Penn State and how they created a custom, cohort-based international student program with CIEE for fall 2020 and spring 2021 in Shanghai. The result: innovative and proactive efforts that retained tuition revenue and the student relationships that will result in continued retention.
(Note: the webinar is open to anyone working for an academic institution)
Clear Benefits and Opportunities
While student retention was a driving factor for the institutions that set up these programs in 2020, they also found surprising growth in:
Parent engagement - word of mouth promotion from parents who were thankful the institution was responding to the pandemic with strong and thoughtful student-first efforts.
Increased brand awareness - as students and parents excitedly talked up their ability to study in an American-style classroom despite travel restrictions.
New enrollments - from new prospective students who heard about the programs and wanted to take part in this experience rather than study from home online in China.
Fast acting and well equipped to deliver student experiences, CIEE leadership worked with institutions such as Tulane, Babson, Clark, and Syracuse during 2020 and 2021, serving more than 2,100 students in custom programs in China and South Korea.
And there's still time for your institution to join this trailblazing pack for fall 2021 if you sign up by May 1st.
When student mobility isn't a given and competition for international students is fiercer than ever before, you must take your student-first philosophies to the next level if you want to stand out and continue to deliver on your institution's educational mission (and preserve your revenue streams).
This is how you do that.
Read on to learn more about this flexible, innovative solution to shore up your international enrollment this fall and beyond. This is far more than just a quick band-aid solution.
For our regular blog readers, the global campus concept might be ringing a few bells. Our May 2020 blog post in which we introduced this approach and our partnership with CIEE was one of our top 10 blog posts of last year. We're serious about this, and from the number of eyes on that post, it seems you are too.
Innovation made easier with a strong global partner, what's not to like?
Student Life, Secured
With this past year of long-distance learning, students' need for support and connection to your institution is stronger than ever. And while your institution may have adapted to the delivery of academic content to far-away students, the social intangibles of a fulfilling higher education experience: student activities, career development presentations and excursions, meaningful conversations with peers both in and out of the classroom, likely proved difficult to achieve at a distance.
We are anticipating a significantly higher than normal melt rate this fall and retention of current students is going to take a hit as well. There is a fair amount of student dissatisfaction in the air these days.
Remember all those questions during 2020 about whether online learning and reduced campus activity would be worth the tuition? Domestic and international students and parents now have an answer to that and enrollment leaders are not going to like it.
The global campus concept provides a solution that brings the campus experience back to life with CIEE's infrastructure and comprehensive offering of student services, including extracurriculars, student support and advising, tutoring, orientation, and student housing if you need it. The flexible program allows institutions to select just those add-ons they need.
With over 70 years' experience delivering academic programs and having grown to 30+ global locations, CIEE has adapted quickly and seamlessly to the new realities of international student education. And as an industry leader in global Health, Safety and Security (HSS), you can trust that the program design and delivery will align with region-specific COVID-19 protocols and practices.
Custom Programs for the Nimble
When it comes to academics, CIEE's programs are fully customizable to your institution's needs. That includes flexible program structures for in-person, hybrid, or fully online delivery taught by CIEE faculty (and/or your own) with either CIEE Courses or courses from your own institution. All academic programs are accredited through Tulane University, CIEE's institution of record.
If your institution would accept a transfer student transcript from Tulane, then it will accept this course work as well.
Programs can also be customized according to your level of international enrollment (small institutions welcome!), as well as for a range of student audiences including both undergraduate and graduate, with specialized programs (and orientation) available for first-year students.
The structure of the program is yours to create, but you don't have to do it alone.
Get in touch with us if you would like to evaluate the options together to craft a custom international plan for your institution. Through our partnership with CIEE, we'll ensure that the content of your program is tailored for your specified regional audiences, levels, and locations, as well as your institution's specific international enrollment and retention goals.
While the location is turnkey, clearly there are faculty, curricular, and logistical aspects to define and coordinate. These do take time and focus. Start the discussions now to make this fall a success.
And with CIEE's help, the institutions involved are looking at how this program set up can translate into a longer term internationalization program. There is so much room for growth here.
And if you'd like to hear from your peers who are already making this work, register for tomorrow's event. We look forward to seeing you there.