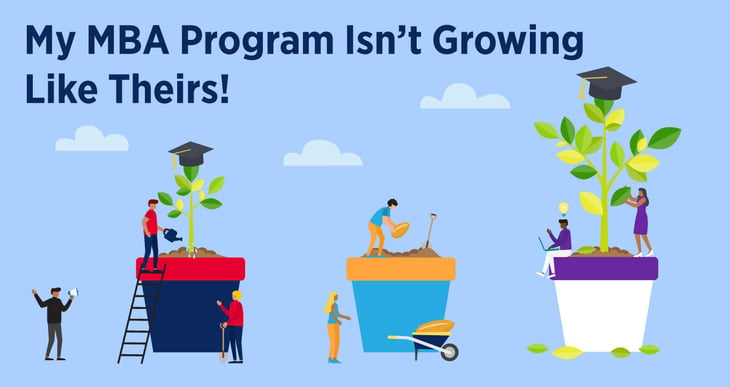 Your MBA program had been a sure bet for years. So, why the more recent application declines?
The latest data from Graduate Management Admission Council's Application Trends Survey – 2022 Summary Report offers a clue. According to the report, which collected data on applications received by graduate management education programs for the 2022-23 academic year, 76% of professional MBA programs in the US saw a decline in applications, as did 75% of part-time MBA and 67% of executive MBA programs.
Those are some significant across the board declines. So, clearly you are not alone.
The only outlier: flexible MBAs. Just over half of these programs, which allow students to change between full-time and part-time status, reported application volume growth. An important indicator of the flexibility the current cohort of MBA students find important to their decision making.
If you'll be at the AGB Conference in San Diego on April 1, 2023, please reach out. Happy to buy you a cup of coffee and talk about best practices in leading in internationalization.
As we've reviewed the data and the global landscape, we can see there are opportunities for programs that focus on market demand (as opposed to "doing what we've always done").
So maybe it's not the sky that's falling on the MBA, it's the student landscape that's shifting – as it tends to do. Read on for a link to the GMAC report and our take on what you can do to boost your MBA enrollment rate.
The MBA remains hugely popular – even in the midst of waning interest among traditional market segments – which is why more than 1,000 US institutions offer this type of degree. So, ya, you've got some competition. But you've got this.
Dig further into the GMAC report (available here) and the data can start to feel bleak for US graduate school admissions teams. Among US programs that responded to GMAC's survey this year and last, there was a 25% decline in domestic applications. At least now you know it's not just your yield.
Thankfully, there's more to the story. Because those same responding institutions also saw a 19% increase in international applications. And these applicants are especially keen on specialized programs like Masters of Supply Chain Management, Masters in Marketing, and Masters of Data Analytics.
Another bright spot: 52% of responding US programs experienced stable or growing application volumes from underrepresented populations. Per the report, this group is increasingly looking for Masters of Data Analytics, Masters in Management, flexible MBA, online MBA, and Masters of Accounting programs.
For what it's worth, the GMAC report notes that, per U.S. News & World Report ranking, fewer responding schools in the top 50 reported total application increases (39%) than those ranked 51-100 (47%) or unranked (42%). As one school said, "Yielding candidates was our biggest challenge this year. Not only were we competing with peer schools, we are also competing with employers to retain their talent."
In this type of landscape shift, we'd hedge our bets by widening the range of target markets and encourage your MBA admissions team to think the same way. Look beyond the US to find real prospects with real interest and the real ability to apply now. Here's how:
Step 1. Find your target markets.
We're not saying that you should abandon tried and true markets. But broaden your target range with a strategic focus.
Ask your team: In which countries do you have strong connections with alumni, government, and other associations?
Ask your data analysts: Which countries are already showing interest online in your program? Which countries offer the best job opportunities for graduates of your program? Which countries or regions have the least hurdles to enrollment? Which countries already offer strong MBA degrees that compete with yours? Note: MBA programs in the two top sending countries, China and India, are gaining momentum.
The answers to these questions, along with your budget, are your guideposts for selecting your new target markets. The gist: Think broad, narrow the focus on high-value markets, stay practical about what you can follow through on with a quality approach.
Step 2. Get to know your prospects.
Take that advice literally. Once you identify your target regions, start talking to the prospective students who live there now and to alumni who are from these regions.
Ask your prospective students: Who are they? What are their goals? Can they achieve them close to home? What is their financial situation? What programs are they interested in? What careers do they dream of having? What are their pain points? Why?

Ask your alumni: Where do they work? What are their career plans and aspirations? What did the degree from your institution do for them? Is there an alumni network they relied upon? Are they interested in helping/supporting current and new students?
Step 3. Have your prospects get to know you. And then nurture them like you mean it.
Once you get to know the various personas within your target regions, it's time they get to know you. This is all the stuff that's in your recruitment team's wheelhouse: digital campaigns, in-person events, webinars, videos, one-on-one conversations, employer partnerships, agent training, etc. All those pipeline development tactics.
Talk to them directly. Address their needs. Domestic applicants are struggling with the ever-present time crunch (not new, but more extreme the way we live our post-covid lives now). Many of your international student prospects are having visa issues right now. How can you be helpful to all of your market segments with the right information and the right support?
Show them the programs you offer that are meaningful to them with the flexibility they want. Tell them about your international student services. Show them real student outcomes. Put them in touch with students in their programs of interest. Have them talk to faculty members and alumni.
What we know is our team has never met a shifting landscape we didn't want to evaluate and wrangle to the ground. We love this stuff. And if it's wrangling with the new terrain your MBA prospects are traversing, well, be in touch.