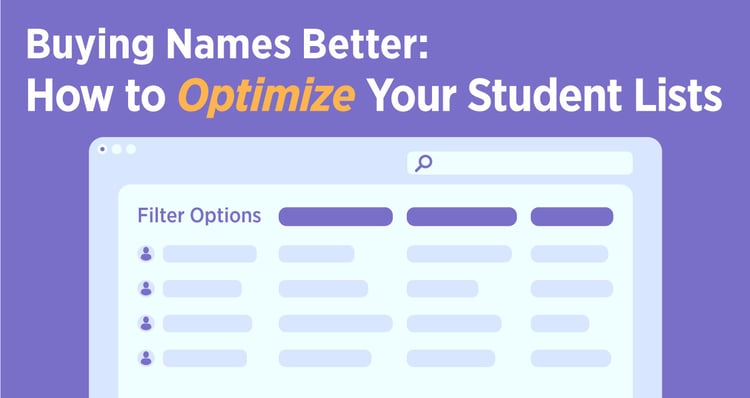 Lead generation is more critical, and more complex, than ever. If you don't get the top of the funnel right, it's difficult to fix it further down the enrollment stream.
Likely your institution is already licensing significant numbers of student names through lists from vendors like College Board, ACT, Education Testing Service (ETS), Hobsons, Niche, EduCo, among others. These lists have value. However, your institution may not be leveraging the full benefit.
There is tremendous upheaval impacting the lists: dramatically shifting demographics, changing patterns of student behavior, severely reduced participation in testing programs, and changing policies related to student privacy.
Accumulating the names is the easy part. But with a bewildering array of names and filters available for searching, the challenge is to identify, target, and – ultimately – convert prospective students that are the right match for your institution.
How can you best navigate these platforms to license and leverage the leads for right-match prospective students?
Intead can help:
We're talking a fresh, more focused strategy to your list approach, both internationally and domestically, that can transform your lead generation process for the next recruiting cycle.
Tailoring and refining your outreach is as important as acquiring the lists. And, in this particularly challenging and dynamic year for student decision-making, the need for an innovative approach is even more urgent.
What you can achieve:
Increased conversions
Lower CPAs
Greater diversity in your application pool
We spoke with someone who knows these platforms inside and out: Clay Hensley, former Senior Director of International Strategy & Outreach at the College Board (and Intead Research Advisory Board member). Having represented the College Board and its programs to international constituents for more than 20 years, Clay's deep product and market knowledge is an invaluable resource for your institution as you take a fresh look at how you acquire and nurture leads.
Pair that expertise with Intead's capacity to analyze your institution's enrollment and paid social media data, website traffic, and census and other demographic data – and the results you can achieve will raise eyebrows and produce smiles.
Read on to learn how your institution can avoid common pitfalls, boost the utility of those licensed names, and make the data work for you. Spoiler: The expertise you need is just an email away.
The first step of effective and efficient list purchasing boils down to one thing: precision.
"Many universities are licensing names too broadly and getting to students too late," says Clay. Common stumbling blocks include institutions automating "rolling list" purchases without specific filter criteria, focusing too much on a single test such as the PSAT/NMSQ, and overlooking other valuable indicators of program interest such as relevant AP Exams taken. And this is a big one: neglecting putting a cap on student score ranges, which results in poor conversion rates as institutions pay to attract students who will never give them a first, much less a second look.
"Without a sophisticated approach, you are likely paying for a lot more student names than you can properly tailor your outreach to," Clay cautions. "And many of these students, data would show, are not likely to be realistic prospects for your institution."
A lack of precision in initial names licensed has a ripple effect, especially if you're hoping to produce highly segmented campaigns with relevant messaging that does actually convert.
The Tools at Your Fingertips
With the wealth of list data and filter criteria at your disposal, there can be an overwhelming number of variables to consider when developing your list strategy, both pre- and post-purchase. Those filters are not always easy to understand and users sometimes default to simplicity rather than taking the time to understand how powerful reporting and filtering tools within the various databases really are.
"There's often data right under your nose that you can use to tailor your outreach, and to measure results that can inform your enrollment practice," says Clay, citing valuable data points such as demographic information, score range, interest inventories, and self-reported GPA that are embedded in institutions' existing list files but often go unused and overlooked in analysis.
This data that the lists provide can be incredibly valuable to your institution, but it's also important to remember that the lists are only a starting place for your recruitment approach. "It's both how you use the list and how you supplement, build, and learn from it that will determine your results," says Clay. Blanket emails and upbeat postcard mailers typically end up in the same place (translation: they are not being read by your target audience).
There is another approach.
Fortunately, with a more tailored and nuanced use of the available tools, institutions can spend less on licensed names to get a more qualified list. Those recouped funds can then be applied to targeted digital and direct mail campaigns that reach the prospective students you truly want to reach...with more engaging content.
Here's the thing: From analyzing your current enrollment and Google analytics data to inform your filter criteria for the names you do choose to license, to identifying opportunities in the data already at your fingertips to tailor your outreach and understand your institution's position against competitors, the Intead team takes a comprehensive approach to optimize your list usage from end-to-end. And yes, that includes developing those targeted messaging campaigns to efficiently engage those new leads and creating a feedback loop from that performance data to inform your future purchases.
This stuff isn't easy (if it were, everyone would be doing it!), but it can produce transformational results for your recruitment strategy when done right.
Fewer Names. New Possibilities.
Despite fewer test takers in the year of COVID-19, the growing movement of test-optional/test-blind policies, and more students opting out of information sharing, there is still immense value to be leveraged from the student lists available.
Intead can help your institution navigate this new frontier with a sophisticated approach and the full suite of various database tools available, increasing the value of all of your leads, both domestic and international.
Get ready to discover how powerful your list data can be, and get in touch when you're ready to make this work, better.