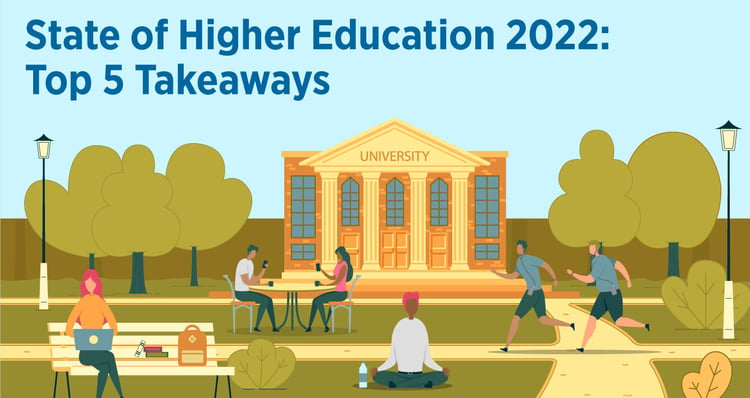 Your campus may feel a little cozier this fall as housing units start to fill up again. Welcome news, right?
The enrollment dip we've been living through could rebound to pre-pandemic levels, meaning we may see nearly 1 million more enrolled students aged 18-24 in 2022 than in 2021. This is according to analytics giant Gallup.
Likely your team is seeing a positive shift in inquiry and applications. (No? Then be in touch).
The big question still is whether all that activity results in actual enrollments. There is reason to be skeptical at many institutions.
In Gallup's recently issued The State of Higher Education 2022 Report, done in partnership with Lumina Foundation, we see some interesting results. The central goal of their work: to help inform institutions how to better support current and prospective students. The survey included adults aged 18+ who have completed high school and are living in the US.
Many survey participants are currently pursuing a degree, others unenrolled from their certificate or degree program since Covid. Many others are prospective students who never enrolled in a certificate or degree program after high school.
We are thrilled to have these insights in advance of #NAFSA22 to inform our discussions with all of you. If you've not yet scheduled a meeting with us at the conference, please be in touch quickly. Our schedule is nearly filled up. You'll be receiving a summary of our 4 NAFSA don't-wanna-miss-em presentations by email.
From Gallup, we took special note of the finding that despite the many (many) disruptions caused by the pandemic, US adults (aged 18-29) remain interested in pursuing higher education. There have been many stories of the growing anit-higher ed sentiment. So how do we lock in on those with high intent?
If you haven't read the report, it's one you won't want to miss. Read on for a link to the report and the top 5 takeaways we think will be the most valuable to your team…
To read the full Gallup report, download it here. And if you are short on time, we found the following stats to be particularly valuable as we think holistically about our student recruitment efforts domestically and globally:
Encouraging: Demand for higher education is high
About half

(44%) of US adults who are not currently enrolled in a college degree or certificate program report they have considered enrolling in the past two years (during COVID). 85% of those recently enrolled in a certificate or degree program, but stepped out during the COVID pandemic, have considered re-enrolling.


To Do: Point very clearly to the career connections and opportunities your institution provides.
Challenging: Cost is the most significant factor for the unenrolled
More than half of students who unenrolled from a degree or certificate program prior to the pandemic (59%) or during the pandemic (52%) say cost is a very important reason they remain unenrolled. Of those who never enrolled, 54% cite cost as a very important barrier.
To Do: How flexible can you be with payment schedules and other helpful financial tools to improve access? We see a valuable conversation with your CFO here.
Opportunity: Associate degrees and short-term credentials are the most popular pathways among the unenrolled


20% of all individuals who are not currently enrolled report they have considered an associate degree. And, 19% have considered an industry certificate in the past two years.


To Do: Identify the local, regional, national, and international pathways you can leverage to build this recruitment pipeline.
Troubling: Current students are about as likely to have considered withdrawing as they were in the early months of the pandemic.


Why? 71% cite emotional stress, a stat that has risen 34% and 39% respectively for bachelor's degree and associate degree students.


To Do: In your messaging, point to student services that confirm the strength of your institution. Be sure you are able to deliver on your promises or you will only make matters worse.
Messaging: Financial aid and perceived degree value have served as important retention tools for those who remained enrolled


About half of currently enrolled students (52% seeking bachelor's degree, 48% seeking associate degree) report the financial aid they received was key to staying enrolled in 2021-22. And about half report their confidence in the value of their degree or credential as being impactful (48% seeking bachelor's degree, 40% seeking associate degree).


To Do: tell the real stories of students who pulled it off with your help. Inspire all those prospective students who are sitting on the fence.
What we can say unequivocally is prospective students are now ready to receive your messaging — your newbies and those once-enrolled. Lean in with promoting your shorter-term programs, financial aid, student and career services, and student success stories (with an eye on community building and emotional support).
Then, be prepared for the inquiries. More specifically, be prepared to respond to those inquiries.
How you engage with prospects is everything. We can't tell you how many students have told us they ultimately chose their institution based on the quality of interactions they had with the admissions team. And how many were turned off simply by poor communication and follow-up from the admissions team.
If you're going to put in the work to market your programs, put in the work to create meaningful, reliable, authentic follow-up processes. That's the point of conversion you need.
And, if you need a partner to help you define your strategic position vis-a-vis the evolving student mindset, and build the processes that lead to conversion, well, we know just the team.