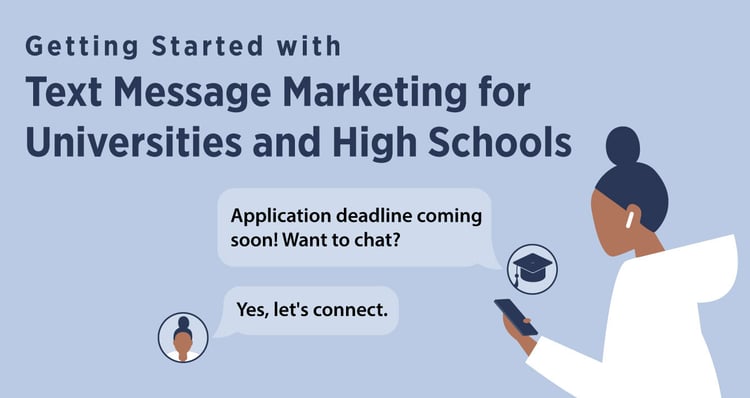 Surveys from Mongoose (a popular SMS provider) tell us that a full 80% of students want to receive text messages from academic institutions. The caveat: they only want messages that matter. No fluff. We get it. We bet you do, too. And, the return on well-executed texts is more than worth the careful content planning effort.
SMS marketing is proving to be a direct, cost-effective way to recruit and retain students. If your institution hasn't explored SMS marketing, now is the best time to start. It's a little like the question, "When is the best time to start exercising?" The answer is always, now!
For those of you in the know, Slate added text messaging in early 2020 as one of their marketing features. There's a reason for that. Important to note that the feature will not allow you to send messages through WhatsApp at this point.
Read on for the answers to Why do it? How to get started? And, what are the best practices for effective execution? The short answer: spot on content drives results.
Why universities adopt text message marketing
It's engaging
While emails can sit in students' and parents' inboxes for days, your institution's text messages have a much higher chance of being opened immediately; the average text message open rate is 99%, with 97% of messages being read within 15 minutes of delivery. (Important: don't abuse the opportunity lest you invoke the swipe of deletion prior to reading.)
It's effective
55% of Gen Z-ers use their smartphones for 5 or more hours a day. What better way to get in front of your target audience than to meet them where they're already spending the most time? And those prospective students who opt-in demonstrate a high intent. (Yes, opt-in is a critical element, see Getting Started, below).
It's personal
73% of Gen Z-ers use their internet-connected devices primarily for texting and chatting. SMS marketing makes it possible for your school to communicate to students in the same place they chat with family and friends, which helps to foster a more personal connection. And that connection is the recruitment sweet spot.
Getting started with SMS marketing for your institution
Get permission
Before you begin sending text messages to your students, you first need their explicit permission (this is required by law). The best ways to get students to opt-in to SMS messages are through your existing marketing channels like email marketing, social media, and on-campus activities. Make sure to include a link so students can easily opt-in to text messages. Give them a compelling reason or incentive to subscribe. This is an opportunity to get creative. The data shows that if a student shares their cell number with you, there is very high demonstrated intent. Yield rates among this student segment are higher than those who do not want to opt-in. Seems obvious, but here's the important part: what you share with those who opt-in is extremely important. You don't want to lose them.
Find an SMS marketing platform
Research various SMS marketing software (such as Omnisend and Avochato) to help you streamline your text messaging campaigns. Look for a platform that will allow you to automate messages, segment your audience, and give you data on how your campaigns perform. In 2017 we predicted growth in this sector and it has matured considerably as the laws around text message marketing have evolved. See this well-received post for more perspective.
Compose compelling messages
Smartphone users receive an average of 46 push notifications per day - make sure to keep your message concise and valuable, so you don't run the risk of getting opted-out. Mundane content will lose you an important opportunity. Keep in mind, every text is an important piece of content that either brings your prospect closer to you or pushes them away.
As with all marketing communications, we recommend personalizing text messages whenever possible. Use a familiar tone of voice as you would in a regular text message, and include the recipient's first name whenever appropriate. Emojis play a big role as well, but you knew that already, right 👍?
The best ways to use SMS to market your institution
Once you've gotten a student to opt in to SMS notifications, what should you send them?
Send reminders
SMS is the perfect channel to send time-sensitive reminders. This could be alerts about important admissions deadlines and dates for prospective students, or reminders about parent visiting days and school closures for current students. Ask them if they are on top of a particular deadline by seeking a simple Y/N text response. You see the nurture opportunity here, right? Give them the opportunity to reach out with questions with these alerts. Be brief.
Share content
Have a great video to educate prospective students about campus culture, or highlights from a recent playoff game? Text fun highlights to students, but make sure to send in moderation. The fun factor in your content stream is important to building engagement. Have a diverse set of Gen-Zers on your content team to help you know what is hot (or not).
Run contests
Because of its high conversion rate, SMS is the perfect way to encourage participation in university-wide surveys, treasure hunts, and other engaging activities. Offer rewards or points toward a bookstore item. You are building affinity.
Customer service
Related to chatbot services, SMS offers a convenient way for students to initiate or continue customer service questions. Be available and responsive.
Emergency alerts
Text messages are the perfect way to quickly get out emergency alerts about weather, security issues, and pandemic protocols to prospective students, current students, families, and faculty. The platform you use should have this feature.
Final word
It will take time to set up these campaigns including thinking creatively about the content flow and response processing. If you need a bit more time or talent to pull it together, you can reach us right here.